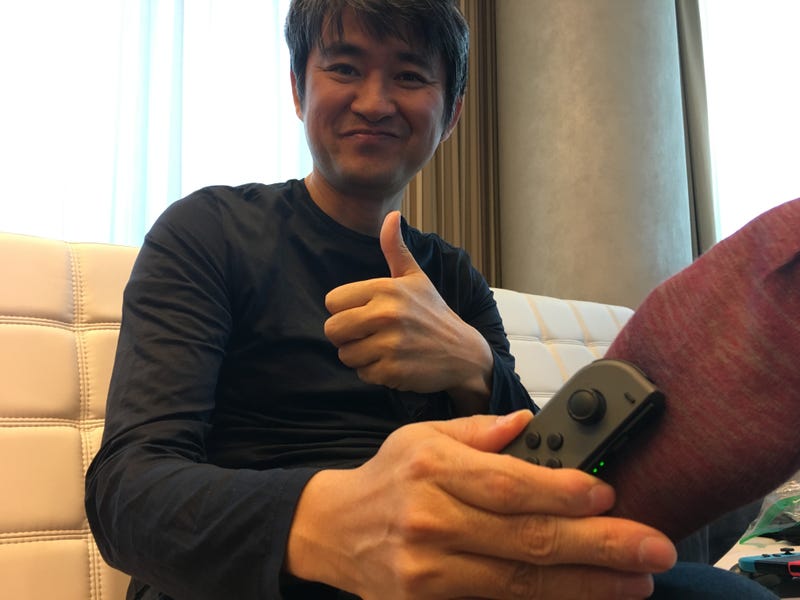 Ever since the days of Rez, Tetsuya Mizuguchi has always wanted you to not just play his games, but feel them, too. Should I have expected Lumines Remastered on Switch to be any different? Should I not have assumed I'd be taking my shoes off and putting Joy-Cons on my feet?
If Nintendo is short on Labo ideas, which I doubt, here's one from Twitter user Colonel Odonger: a cardboard grasshopper.

In the past, Nintendo has been synonymous with baffling business decisions and out-of-touch thinking. While that Nintendo still exists, the Japanese company has also started to reinvent itself this generation—and it's all because of the Switch. The Switch actually feels cool in a way that the Xbox One and PS4 don't.
If you, like me and several other Kotaku staff, have run into a consistent left Switch JoyCon signal issue, don't worry: Nintendo says it's not in fact a hardware problem, but a "manufacturing variation." The company also says to contact them for a fix if you're running into the problem.

After only a weekend, I'm still forming my opinions about the Nintendo Switch, but I do know that I love the Joy-Con controllers. Some of my co-workers aren't as jazzed as me, however. So I did what anyone else would do: demand to measure their hands so I could see if their feelings about the Joy-Con were based on…