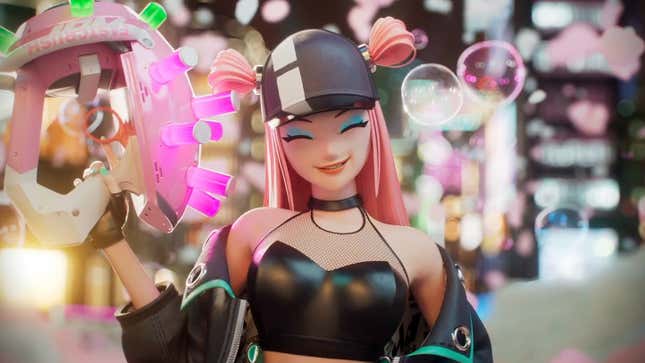 Today, May 24, Sony held its first large-scale PlayStation Showcase since all the way back in September 2021. These events have tended to be bigger than Sony's smaller-scale State of Play streams and this one was no exception, bringing a load of new trailers and reveals, including our first look at Alan Wake 2 gameplay, Spider-Man 2's Venom suit in action, Bungie's next game, and a lot more.

A Foe From The Next Team Ninja Game Is Giving Me Sekiro PTSD
Here's everything Sony announced and showed during today's PlayStation Showcase which was about 60 minutes long. Or if you want full dose, you can also watch the entire presentation:
Wanna hear about everything Sony showed? Read on.
---
Fairgame$
The first trailer of the show featured a group of young people who—upset about all the rich assholes in the world—decide to grab cool weapons and rob a fancy factory. But wait, is that another group of disenfranchised youth robbing the same place? Time to fight!
---
Helldivers 2
Super Earth needs your help once again to spread "prosperity, liberty, and democracy" across the galaxy by killing everything. Helldivers 2 is out next year on PS5 and PC. Unlike the original game, which was a top-down shooter, this newly revealed appears to be a third-person shooter.
---
Immortals of Aveum
Sony and EA showed off a new trailer for Immortals of Aveum that featured a ton of first-person-wizard combat. Looks interesting, but that name is still bad. It's out soon on July 20, 2023.

---
Ghostrunner II
Out 2023, Ghostrunner II's new trailer featured a motorcycle driving down a building. Rad shit! It reminded me of Kinecta, an old PS2 game I played once at a friend's house. Someone should make a new one. Anyway, Ghostrunner II is out this year.
---
Phantom Blade 0
Phantom Blade 0's first trailer shows intense third-person action gameplay that looks like a mix between Sekiro and Ghost of Tsushima. Shame he only has 66 days to live.
---
Sword of the Sea
From the same folks who made Abzu, Pathless, and Journey comes this cool-looking game featuring flying dolphins, hoverboarding in a cool-looking desert, and even ancient half-pipes. No idea what this is, but I'm intrigued!
---
The Talos Principle 2
I was a big fan of Croteam's—the folks behind Serious Sam—2014 philosophical puzzler, The Talos Principle. So I'm definitely pumped to play the just-announced sequel. It's out in 2023.
---
Neva
From the creators of the hit indie game Gris comes Neva, a new game that appears to be very sad. Not sure I can play this one. It's out in 2024.
---
Cat Quest: Pirates of the Purribean
Wanna play a cute game where you play a pirate cat robbing other pirates? Good news, you should play Cat Quest. Bad news, you gotta wait until 2024. Sorry. It's coming to PS5 and PS4.
---
Foamstars
Apparently Square Enix wants to make its own Splatoon-like shooter. But instead of paint and squids it's anime pop stars and foam. Not much info on this one, but the Foamstars trailer looks fun at least. How long will the servers hang around after release?
---
The Plucky Squire
During the event, we got a new trailer for Plucky Squire, a game that mixes 2D and 3D visuals in a wonderful-looking action fantasy adventure that can't come out soon enough. It only has a release date of 2023 and is coming to PS5, other consoles, and PC.
---
Teardown
The voxel-based destruction puzzler, Teardown, is coming to PS5 later this year.
---
Metal Gear Solid 3: Snake Eater remake
After weeks of rumors swirling around the internet that Konami was making an MGS3 remake, we got our first tease of it today via a short but cool CG trailer featuring animals eating each other. It's coming to PS5, but had no release date. So expect to wait a bit for this one.
---
Towers of Aghasba
Does the world need another survival game? No idea. But this one, Towers of Aghasba, does feature gorgeous visuals, base building, underwater exploration, and giant creatures. Will that be enough to help it stand out? We shall see when it comes out at some point in the future.

---
Final Fantasy XVI
Square Enix came and showed yet another trailer for its Game of Thrones-inspired big fantasy sequel, Final Fantasy XVI. I was already going to play this, but still, neat trailer. FFXVI is out on June 23, 2023 on PS5.
---
Alan Wake 2
I've been waiting a long time for Alan Wake 2 and this first real trailer for the game showed off our first look at how this new horror-focused sequel will actually play. It appears at certain points you'll play as another character, an FBI agent hunting Alan Wake after the events of the first game. I can wait. Alan Wake II is out October, 17 2023.
---
Assassin's Creed Mirage 
It was just a few hours ago that a leak spoiled the surprise, but yes, Ubisoft's next big Assassin's Creed entry—Mirage—is dropping on October 12. This time around the game is going to be smaller and more stealth-focused compared to past titles in the series. Sounds good to me!
---
Revenant Hill
Developed by the Glory Society, this cute-looking game is about a cat named Twigs trying to become a witch's familiar. Coming to PS5 and PS4 in the future.
---
Granblue Fantasy: Relink
The next entry in the Granblue Fantasy series, Relink, is out winter 2023 and will feature co-op. It's being developed and published by Cygames.
---
Street Fighter 6
I wasn't expecting people to be so pumped for the next Street Fighter, but it actually seems really cool and the beta got a lot of positive reaction from fans. Don't have to wait long for this next big fighter as it's out June 2, 2023 for consoles and PC.
---
Ultros
I love a fun cartoon action-platformer and this one, Ultros, has a really trippy and colorful style that looks like a 1960s concert poster come to life. It launches in 2024.
---
Dragon's Dogma II
Finally, Capcom has shared our first good look at the upcoming and much anticipated action-RPG sequel, Dragon's Dogma II. It looks great! Sadly, no release date. But it seems to be coming together nicely.
---
Five Nights at Freddy's: Help Wanted 2
The Five Nights franchise continues on, this time with this VR sequel to the first-person spin-off, Help Wanted. This new entry in the series is out "Late 2023" and—holy shit that jump-scare in the trailer was not cool. I'm trying to work here!
---
Resident Evil 4 VR mode 
Not many details on this new virtual reality mode coming to Resident Evil 4's remake. But previous VR modes in Resident Evil games have ruled, so I'm excited to see more.
---
Arizona Sunshine II
The original game became an early standout and favorite among virtual reality players hopping in for the first time. So it makes sense we are getting a bigger and better sequel. It's out this spring for PS VR 2 and PC.
---
Crossfire: Sierra Squad
The extremely popular free-to-play shooter series Crossfire, from South Korean devs Smilegate, is making the leap to virtual reality in a new PS VR2 game called Crossfire: Sierra Squad. It looks like a VR spin on a realistic and tactical shooter. No release date was given.
---
Synapse
Look, another VR game where you run around shooting people. Could be fun. I don't know. It's releasing on July 4.
---
Beat Saber
One of the best VR games ever made— Beat Saber—is coming to PS VR2 and PS5. The rhythm game has you using legally distinct laser blades to hit musical notes. Also out today: a Queen-themed music pack.
---
Marathon
Bungie is making a new Marathon in the year of our lord 2023. What the hell is happening? No idea. It looks very colorful and cool. And that's about all we officially know at the moment, though the game's website has confirmed it will be an extraction shooter of some kind.
---
Destiny 2: The Final Shape
Destiny 2's next (and last) big expansion, The Final Shape, appears to be bringing back Cayde-6 after he died a few years ago. How? I don't know. But I'm happy to see the guy back. This big finale for Destiny 2 is getting its own showcase in August where we'll learn more about how Bungie plans to wrap up its 10-year Destiny saga.
---
Concord
No idea what this is. It seems like a Destiny thing, but its being developed by Firewalk Studios and appears to have no connection to Bungie's massive MMO shooter. There's not much more info on this upcoming PvP shooter beyond its release window of 2024. It will be released on PS5 and PC.
---
Project Q + new PS5 earbuds
Sony doesn't want to be left out of the Steam Deck wars and during today's event showed off Project Q, a handheld gaming device that is built around streaming PlayStation games via your console and remote play. It also showed off some new fancy earbuds that will likely cost way too much.
---
Marvel's Spider-Man 2
The big ending for today's show was a long look at the upcoming Spider-Man 2 from Insomniac. In the trailer we see Kraven the Hunter defeat a random person before asking his team to find him a better, more worthy foe. So that leads them to New York, where we join Peter and Miles hot on the trail of the Lizard, a classic comic villain.
The trailer then switches to our first real look at how this blockbuster game is going to play, and we get to see Peter use the dark Venom suit and its powerful abilities. We also see Miles, and confirm that the game will let you switch between them during big setpiece moments. All in all the gameplay looks really good and wilder than anything in either the first game or the Miles Morales-led spin-off. It's coming fall 2023.
---
A very good showing, in our estimation. What stood out to you?