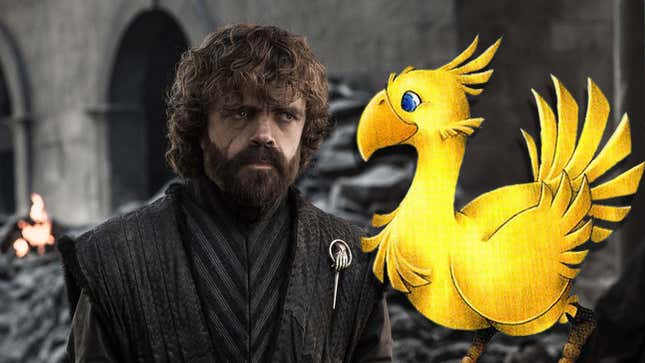 Final Fantasy XVI is the next mainline entry in the long-running RPG series and it seems to be going for a radically different tone compared to past entries. We definitely got some Game of Thrones vibes from past trailers. And in retrospect, that's not surprising, as the developers working on the game were "required" to watch HBO's popular fantasy series before development began on FFXVI. 
These Anime Moms Deserve All The Flowers For Mother's Day
Launching June 22, 2023 exclusively on PlayStation 5, Final Fantasy XVI takes place in the world of Valisthea, which is entering its "twilight." Natural resources are dwindling and war is brewing, threatening to plunge rival nations into chaos. How this will all works out will seemingly be decided by the Dominants, main characters who glow weird colors, and Eikons, familiar summons like Ifrit and Bahamut that the Dominants can transform into. And while some of this connects back to the classic, often medieval-themed FF games, the overall tone of trailers and recent previews feels darker and more mature.

This newly dark tone compared to past games isn't a mistake, according to FFXVI's producer Naoki Yoshida.

In an interview with Eurogamer, Yoshida says that as he's grown older he finds himself liking fantasy that's "based more in reality." He explained that when they saw how Game of Thrones and the books it was based on had really "resonated" with people, he knew FFXVI should go a similar route. To make sure the game had a similar "feel," the first people working on the game had to watch the show.

"When we first started creating the game," Yoshida said, "We had our core team of about 30 members very early on buy the Blu-ray boxset of Game of Thrones and required everyone to watch it, because we wanted this type of feel."

Final Fantasy XVI is heavily inspired by western fantasy, like Lord of the Rings
When Eurogamer pointed out a scene they saw during their preview reminded them of a scene from the Lord of the Rings films that featured Gandalf and the Balrog, Yoshida admitted he had read the novels and seen the films "multiple times" but didn't realize how similar the scenes were until it was pointed out. "But now that you mentioned it, it really does look [similar]."

It's another example of how the team seems to be inspired by western fantasy, like Game of Thrones and Lord of the Rings. FFXVI's art director Hiroshi Minagawa told Eurogamer that looking at these franchises made sense, as that was the type of style and feel they were aiming for.

"If we want to create something that has that kind of western feel, we have to look to the west for that kind of inspiration," said Minagawa. "And so things like Game of Thrones are things that we look to because that type of stuff does not exist where we live in Japan."

Now, were the devs required to watch the final season of Game of Thrones, and if so, did they get hazard pay?
.