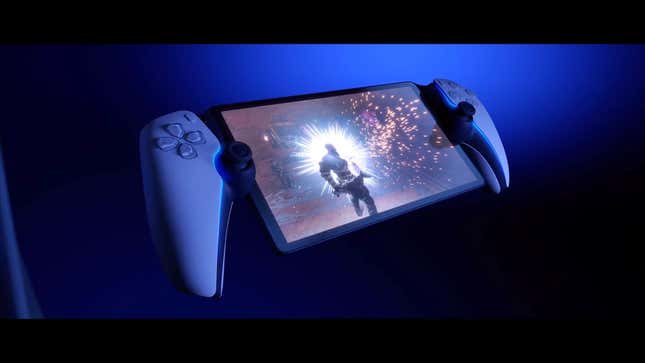 Well, it finally happened: Sony's got a new handheld on the way. It promises all the features of the fancy DualSense PlayStation 5 controller on an 8-inch high-definition screen. The only catch? It's a Wi-Fi streaming-only device, pulling directly from your PS5. Sorry, Vita fans.
Thank You, PS Plus, For Making My Backlog Even Bigger
Sony hasn't offered a portable console since the ill-fated, but fondly remembered, PlayStation Vita in 2012. Instead, Sony's chosen to offer portable experiences via Remote Play, which streams content from a more powerful console to a smaller one. That's been a function ever since the days of the PSP; in recent years, Remote Play allowed you to run a game on a PS4 or PS5 and stream to a mobile device or PC. But now, Sony's taking it a step further with Project Q, a new device featuring what looks like a sawed-in-half DualSense controller and a tablet Ultrahanded in the middle. PlayStation CEO Jim Ryan took to the virtual stage during the May 24 PlayStation showcase to show it off, promising a launch date later this year.

Rumors about a new Sony handheld aren't new, and they often came with the caveat that the alleged device wouldn't have enough horsepower on its own to run something. True to those rumors, Sony's upcoming device will be streaming only. And, as indicated during today's event, the device will use Wi-Fi, with no indication about cellular broadband functionality.
Kotaku has reached out to Sony for comment.
Details during the PlayStation showcase were sparse, though the device does look rather snazzy—and more comfy to wield than a Switch. But that wasn't all.

Sony also showed off its upcoming earbuds, highlighting compatibility with PS5 and PC. They will also work on your smartphone via Bluetooth, which is promising. And, you'll certainly look cooler wearing these in public than when I used to walk around wearing the PS3 Bluetooth headset connected to my cellphone.