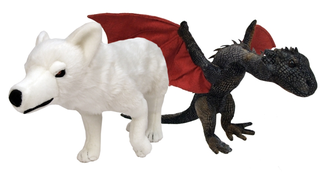 When Factory released their first Direwolf Puppy plushes, we were wounded innocents still in a post Red Wedding haze. But we've grown up, as has Game of Thrones - and thus, so must the plushie merchandise.
When Marvel announced that its next round of movies would include a Captain Marvel movie, we were thrilled. Yes, a major Marvel movie featuring a popular and wonderful female superhero. But amidst that celebration, let's not forget there are still tons of worthy female superheroes who would make excellent movie…
In the colorful world of Nintendo's Mario franchise even the tortured spirits of the undead are cute and cuddly. Let's see how they react to a real restless torture spirit.
Nowadays, comics publisher Dark Horse gets most of its buzz for its top-selling Buffy series that continue the TV show's continuity, Mike Mignola's Hellboy books and various official Star Wars works. (They also do the Mass Effect comics, too) But, about 18 years ago, the Portland company tried its hand at launching a…
Minecraft creator Notch announced via Twitter that the new screenshots from Minecraft beta 1.7 contain hidden information about the upcoming update. While Notch referenced only two screen shots and the changelog, Notch posted five pictures total. One picture was said to be a correction of a previously posted image,…
Our second look at Ghost Recon: Future Soldier, a year after it was first revealed, shows a much-changed, much more tech-heavy, augmented-reality shooter than what we remember seeing in 2010.
E3 is right around the corner, and the big publishers are rolling out lists of what they'll be bringing to the show. Ubisoft's list includes Assassin's Creed Brotherhood, Shaun White Skateboarding, Tom Clancy's Ghost Recon: Future Soldier, the next installment of the Driver series, and "many other titles" that haven't…