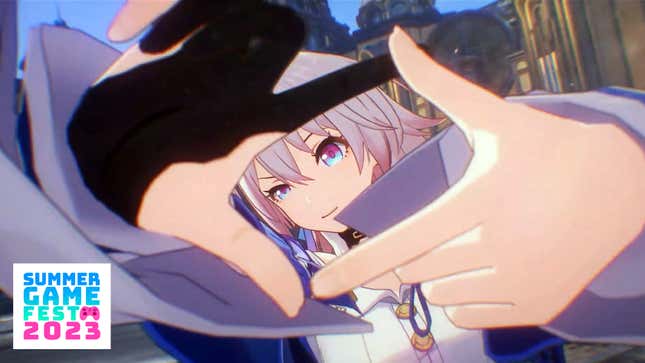 Summer Game Fest is now the big gaming event of the summery season. With E3 seeming ever-more-unlikely to return, the world turns to Geoff Keighley's schmooze-a-thon alone for all the big game announcement news. And we have this year's show covered , with every single game announced, shown, or even mumbled under someone's breath, in one handy place. Read on for everything we saw in Summer Game Fest 2023's opening showcase.
This Halo Infinite Map of Zelda's Kokiri Forest Is Absurdly Detailed
---
Mortal Kombat 1
Officially Earth's dumbest game name ever, Mortal Kombat 1 is somehow the title of the 12th game in the Mortal Kombat series. It's even stupider than when they called the ninth game "Mortal Kombat." Yup, this is the third first Mortal Kombat game, and nothing means anything. You may as well go steal from a police station. Anyway, that aside, tonight they showed people finishing other people, but not in a sexy way.

Read More: Watch Mortal Kombat 1's Brutal Gameplay, Fatalities In First Trailer
---
An extraordinary 13 years later, we've finally seen proof of life for Alan Wake 2, Remedy's follow-up to its 2010 Pacific Northwest spook-me-do. The Stephen King-inspired writer-turned-monster-killer returns, and he's got his flashlight. And a friend—the game is split between two characters, Alan and Saga, the latter of whom appears to be trapped in a horror fiction written by the former. Honestly, he really needs to get a job at Starbucks or something.

Read More: Alan Wake 2 Seems Like The Next Big Horror Game In New Footage
---
Final Fantasy VII Rebirth
Squeenix has so much Final Fantasy on the go right now, and you can add another to the list. The rumored Final Fantasy VII Rebirth is real, and a whole bunch of in-game footage got shown at the event.
Read More: Final Fantasy VII Rebirth Teases Wild Twist In New Deep-Dive
---
Marvel's Spider-Man 2
We knew Venom was coming, but we now know it's a new, original Venom, with a new origin story and person under the symbiote. We also have a release date they're "very confident" about. October 20. Sadly, no new footage.
Read More: Marvel's Spider-Man 2 Out For PS5 In October, Teases Cool New Art
---
Final Fantasy VII: Ever Crisis
It's even more Final Fantasy VII, but made for mobile, releasing later this year in monthly installments.
---
Banishers: Ghosts of New Eden
It's a lovey-dovey tale of beating the crap out of monsters, coming from Don't Nod, the people who brought us Life is Strange.
---
Like A Dragon Gaiden: The Man Who Erased His Name
This Yakuza spin-off's appearance had the Kotaku Slack all abuzz with excitement. It will fill in what happened to Kazuma Kiryu between Yakuza 6 and Like a Dragon 8.
---
Under the Waves
With very strong Subnautica vibes, Under the Waves looks like it has a much greater focus on its narrative. It's out in August.
---
Sand Land
From the creator of Dragon Ball, Akira Toriyama, comes Sand Land—a very Borderlands-looking game, based on his 2000 manga of the same name.
Read More: Dragon Ball Z Creator's Other Classic Manga Finally Gets A Game
---
Prince of Persia: The Lost Crown

A new 2.5D Prince of Persia was surprise announced during the show, and it wasn't the conspicuous-in-its-absence Sands of Time reboot. The Lost Crown looks like something a lot closer to the series' roots.
---
Path of Exile 2
It's been all-quiet on Path of Exile 2 for two years, even while new updates are released for the first game. But at least we've seen some footage, and it's a beauty. Take that, Diablo IV!
---
Dead By Daylight: Nicolas Cage
Showing up on stage, Nick Cage explained that he's going to be showing up in Dead By Daylight, playing a heightened version of himself. Which I'm pretty sure is how Nick Cage lives the rest of his life, too.
Read More: Dead By Daylight Confirms Nicolas Cage As New Survivor Character
---
The Witcher Season 3
There was a trailer for the Netflix TV show's third season. Please do not get confused and think the graphics are photorealistic.
Read More: Your First Look At Henry Cavill's Last Season As Netflix's Witcher
---
Witchfire
It's an ongoing war between witches and the church, played out as an FPS. Weirdly, you play as someone working for the Vatican, attempting to take out the witches, which isn't how I'd have approached it.
---
Yes, Your Grace: Snowfall
The side-scrolling pixel game is back, yet again, and this time it's snowy.
---
John Carpenter's Toxic Commando
Finally the horror master is turning his love of games into helping make games, with this completely bonkers-looking FPS. Real Serious Sam meets Evil Dead vibes.
---
Baldur's Gate III
A new antagonist is announced for the long-in-early-access RPG. Jason Isaacs is playing Gortash, and you can see him chatting away below.
---
Palworld
How can I improve on Geoff's description? It's Pokémon with guns. It's way more violent than you're already thinking.
---
Stellaris Nexus
Paradox has taken Stellaris, and made it much more accessible, with a 4X game designed to be played in short bursts. It's multiplayer, against up to five other people, and games are designed to last no more than one hour.
---
Lysfanga: The Time Shift Warrior
Team up with clones of yourself in a hack-n-slash action game, where you can also apparently rewind time.
---
Fortnite Wilds Gets Transformers
The new season means a new cinematic trailer, including fish riding dinosaurs, and the peculiar conflation of Mayan-like ancient temples and Optimus Prime.
Read More: Fortnite's New Season Sees Island Collapse, Transformers And Dinos Take Over 
---
Immortals of Aveum
A man gains the ability to control magic, and finds himself part of an "everwar." It looks like a fun, gimmicky FPS. Geoff would very much like you to know it has "high production values."
---
Space Trash Scavenger
A super-sweet-looking game about gathering items in space and building a base, with a bit of combat thrown in too.
---
Star Trek: Infinite
Resistance is still futile, no matter how many times those poor Borg are nerfed. Star Trek: Infinite is a new game from Paradox, and not much more is known. Although given it's Paradox, there's a fairly good chance it'll be strategic.
---
Fae Farm
Yet another cutesy farming game, making it the 892th to release in 2023.
---
Marvel Snap
The wonderful card game revealed a new mode due next week, designed for...losers?
---
Wayfinder
An MMO featuring some really bold colors, like a super-modern World of Warcraft, with all the battling that you'd expect.
---
Black Desert Online: Land of the Morning Light
Because you were craving some Black Desert Online update news, right? Right?
---
King Arthur: Legends Rise
A squad-based RPG set within that most mined of legends, it's coming to mobile and PC, focused on exploring and boss battling.
---
Warhammer 40K: Space Marine II
A sequel to the surprisingly decent hack-n-slash third-person shooter from 2021, this looks true to form for the OTT franchise.
---
Throne and Liberty
Yet another Korean MMO being brought to the world by NCSoft, this was once a Lineage sequel, but morphed into its own thing.
---
Warhaven
There's a demo due in Steam's Next Fest on June 19 for this fantasy brawler, which appears to involve hitting a lot of people with great big hammers or magic spells.
---
Crash Team Rumble
The 4v4 multiplayer battler revealed its first in-game footage tonight, with the news that the entire first season's content will come with the purchase price of the game.
---
Honkai: Star Rail
MiHoYo's game that isn't Genshin Impact, this is another gacha RPG that's been out for a couple of months now.
---
Remnant 2
Gunfire Games' soulslike Remnant is a cooperative shooter, and Remnant 2 is that but again. It's due out toward the end of July.
---
Sonic Superstars
The blue spacehog is back, after last year's somewhat disappointing (or actually pretty good, depending who you ask) Sonic Frontiers. So is the plan to try again at an open world, another foray into the ill-fated 3D realms, or perhaps a trip back to its 2D origins? Iiiiiiiit's... 2D!
HD 2D, coming out this fall.
Read More: Here's The Next 2D Sonic Game With A Classic Vibe From Sega
---
Call Of Duty Season 4
There was no news announcing Modern Warfare 3 as the next CoD, so we still don't know that thing we already know. But we did see all the news for season 4.
---
Lies of P
Worry not, terribly named Lies of P, you're protected from mockery by the event's inclusion of Mortal Kombat 1. In this action-RPG, you play as Pinocchio, exploring the city of Krat, and just like in the original tale by Carlo Collodi, you use a range of weapons to fight biomechanical enemies. There's a demo out today.
Read More: That Bloodborne-Looking Pinocchio Soulslike Has A Demo Now
---
Exoprimal x Street Fighter 6
Capcom's in-house third-person multiplayer shooter is due out next month, but that doesn't mean we don't still need to see new footage of dinosaurs being gruesomely slaughtered by people doing Iron Man cosplay. And tonight they announced a Street Fighter 6 collab!
Read More: Street Fighter 6 Collab Makes Ryu A Sexy, Dino-Fighting Robot
---
And that's everything so far! Anything catch your fancy?
---
Kotaku is covering everything Summer Game Fest, from the main show on Thursday to other events happening throughout the next week. Whether you're into larger-than-life triple-A games or intimate, offbeat indies, you can keep up with all things SGF here.