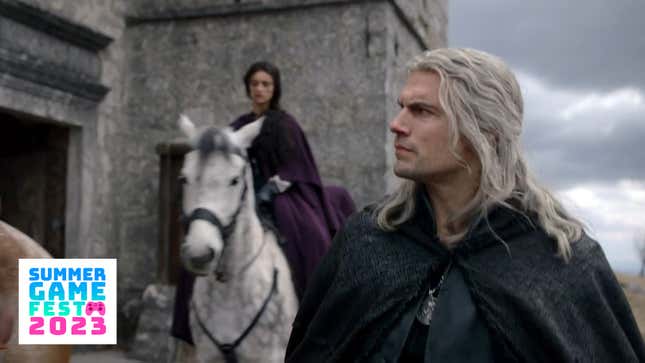 Fans got their first sneak peek of season three of Netflix's The Witcher during the Summer Game Fest livestream. The latest chapter in the streaming adaptation of the fantasy books turned hit open-world role-playing game is shaping up to be a wild, messy ride.

The Witcher 3 Meets Tense Roguelike PvE Card-Battling In Rogue Mage
The new season three trailer shows Geralt slitting throats, Yennifer shooting fireballs, and Ciri grappling with the tragedy she leaves in her wake before kicking some ass of her own. There are monsters, labyrinths, a dress-up ball, and my favorite use of Radiohead's "Burn The Witch" yet. Here's a look:
Season two wrapped up back in December 2021, so you'd be forgiven for not remembering everything that Geralt, Ciri, and Yennefer have been through thus far. The final episode included a ton of big revelations, and suffice it to say, the political and metaphysical shit is finally starting to hit the fan. The Elves want Ciri's Elder blood to rebuild their civilization, and the Northern Kings, Nilfgaard Emperor Emhyr, and the Wild Hunt are also after her, leaving the rag-tag surrogate family on the run.
In addition to hopefully delivering on some of the slow-burn buildup that's occurred over the first two seasons, season three will also be the last time fans see Henry Cavill as Geralt. While rumors and conspiracy theories about why he and the Netflix show parted ways still abound, the messy split involved Cavill making a surprise cameo as Superman in Black Adam only to immediately lose the red cape again when the DC cinematic universe was rebooted shortly after amid a bloody corporate post-merger makeover at Warner Bros.
He's now set to star in an Amazon streaming adaptation of Warhammer 40K, a sci-fi fantasy miniatures tabletop game the actor's long had a very public affinity for. The role of Geralt, meanwhile, will pass over to Liam Hemsworth at the start of season four. The jury's still out on whether he'll be able to muster the same quizzical himbo charm.
Season three of The Witcher launches on June 29 but has been split into two parts. The second one, which includes episodes six through eight, won't go live until July 27. Or Netflix could just make life simpler and release weekly episodes like the other big streaming platforms do.
---
Kotaku is covering everything Summer Game Fest, from the main show on Thursday to other events happening throughout the next week. Whether you're into larger-than-life triple-A games or intimate, offbeat indies, you can keep up with all things SGF here.