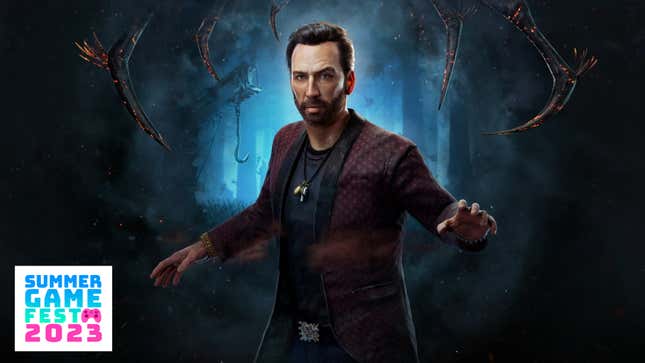 Nicolas Cage is coming to Behaviour Interactive's asymmetrical survival horror Dead by Daylight, the developer confirms at Summer Game Fest. The reveal comes three weeks after the publisher was pushed to reveal a teaser trailer following an inopportune leak.

The 3 Best And 3 Worst Korok Challenges In Tears Of The Kingdom
That teaser trailer was more of a sniff than a full taste, though.


"The fact that we don't even know if he's gonna be a Survivor or Killer says enough about Nick," its top comment on YouTube aptly observes.

Turns out the man who has endured a bee helmet and the worst national security efforts is playing a Survivor character—more specifically, "I play this heightened, exaggerated version of a film actor called Nick Cage," Cage said on stage at SGF. Ever heard of him?
Cage's fictionalized self will think he's working on a new movie, only to find himself shrouded in The Fog, a transportive mist responsible for taking all characters in the horror game to their dark trial grounds, where they face off with flesh-obsessed Killer characters. The real Cage called the scenario "amusing."
The gameplay Behaviour revealed at SGF doesn't show much aside from standard Survivor capabilities; Cage is able to block off passageways, start up generators, and distract Killers with a flashlight the way all Survivors do.
But Cage is prepared for his character to leave an intimate impression on the game's players.

"Everything I say, from the scream [...] down to the most minimal, exasperated expression of a sigh, it's my voice," he said on stage. "So that we are fused." I always knew this day would come.

---
Kotaku is covering everything Summer Game Fest, from the main show on Thursday to other events happening throughout the next week. Whether you're into larger-than-life triple-A games or intimate, offbeat indies, you can keep up with all things SGF here.