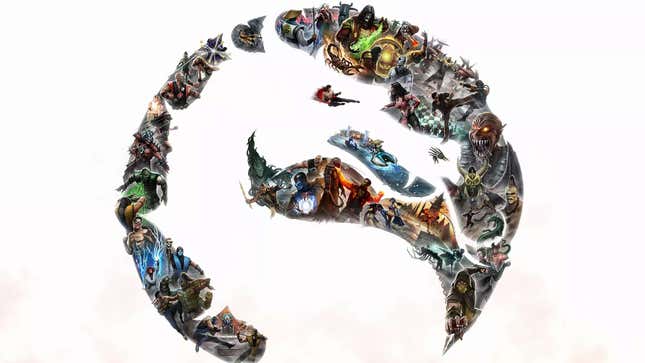 On Wednesday, the official Mortal Kombat Twitter account uploaded a video teasing the latest entry in the gory fighting game series, Mortal Kombat 12. Although the trailer was quicker than a hiccup and didn't showcase any of the game's characters, it did tease that the game's story would reset the Mortal Kombat timeline once again.
What You Should Know About Mario Strikers' Big Free Update
Keeping in line with Mortal Kombat 12's quiet confirmation—Warner Bros. president and CEO David Zaslav let the announcement slip during Warner Bros. Discovery's fourth-quarter earnings call in February—the teaser video lacked the usual fanfare that might accompany a full-fledged trailer littered with screenshot-worthy moments from its diverse cast of characters spectacularly kicking ass. Instead, the 17-second video displayed the minute hand of a clock tick from nine to 11 (y'know, like Mortal Kombat 9, Mortal Kombat X, and Mortal Kombat 11) before skipping directly back to one. If the simple symbolism bears out, it seems likely Mortal Kombat 12 will be resetting the series' timeline once again.

"It's almost time," the Mortal Kombat Twitter account wrote alongside the clip.
Read More: Mortal Kombat 11: The Kotaku Review

Unlike Capcom's penchant for releasing Resident Evil spin-offs that endlessly mine the narrow time frame around Raccoon City's zombie apocalypse, MK developer NetherRealm Studios' narrative bread and butter is to reset its universe at the start and end of its more recent games. In Mortal Kombat 9's story mode, a pre-murderized Raiden tasked his past self with altering major moments from the first three games to prevent a cataclysmic end to the universe. Ultimately, future Raiden's vague AF "he must win" message confused even his past self as to whether he should aid Shao Khan or Liu Kang in winning the tournament and marred his reputation as a wise deity, resulting in a yet grimmer universe reset after a bunch of (unintentionally?) hilarious misunderstandings among Earthrealm's heroes.

Mortal Kombat 11's ending, on the other hand, cemented Liu Kang as an all-powerful god-like figure before teasing him un-screwing big bad Kronika's "Agatha All Along-ing" of their timeline. It should be noted that the domino trail leading up to MK11's finale tragically involved the outright jobbing of the once-promising MK10 standout, Kotal Kahn. Sad.

Mortal Kombat 12 is projected to release sometime later this year, according to loose-lips Zaslav.