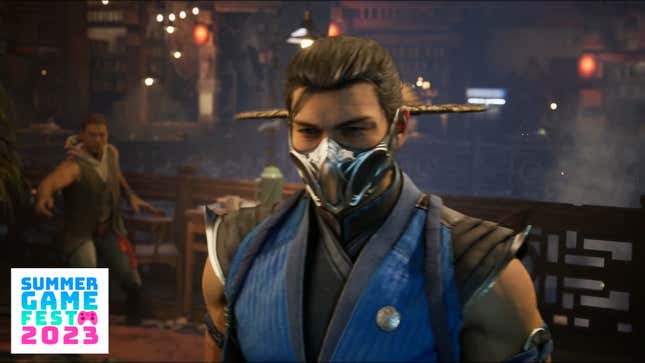 Back in May, NetherRealm Studios revealed what's in the works for the Mortal Kombat franchise. To the surprise of many, the next game is a reboot, bearing the name Mortal Kombat 1. The reveal promised some new features for the series, but until today's gameplay reveal, little else was known.

This Halo Infinite Map of Zelda's Kokiri Forest Is Absurdly Detailed
News of the next Mortal Kombat game broke when Warner Bros. CEO David Zaslav just nonchalantly said that the next Mortal Kombat title would launch in 2023 during a call. But while everyone's first thought was that the game in question would be Mortal Kombat 12, the official announcement trailer revealed otherwise. Launching on September 19 for Nintendo Switch, PlayStation 5, Xbox Series X/S, and Windows with cross-play and cross-save, Mortal Kombat 1 is a full-fledged reboot of the series. Playing around with timelines is nothing new for the long-running franchise, and while the new trailer was exciting, many questions about the roster and new game systems remain. Thanks to today's gameplay reveal, however, we now know more of what the game will be like to actually play.
The trailer revealed some gorgeously detailed environments and some delightfully gory and quick combat. The story features a rebooted universe that turns many existing rivalries and alliances on their heads.
But perhaps most interestingly, the game's "kameo" system gives you an additional assist character who'll fight alongside you.

Those familiar with the Mortal Kombat franchise will already have spotted key characters in the initial announcement trailer. For now, the following characters have been confirmed:

Johnny Cage
Kitana
Kung Lao
Liu Kang
Mileena
Raiden
Scorpion
Shang Tsung
Sub-Zero
It's worth noting that Shang Tsung is only available via pre-order. And during his on-stage conversation with Summer Game Fest host Geoff Keighley, Mortal Kombat creator Ed Boon also told audiences that Johnny Cage, the series' movie star character, would be played by the Muscles From Brussels himself, Jean-Claude Van Damme.
While timeline magic is inherent to Mortal Kombat, there's definitely a lot more going on here. With a new, older-looking setting, the impending doom of what seems to be some kind of world-ending cataclysmic event, and Liu Kang possessing godhood status, Mortal Kombat 1 might have more than a few narrative surprises up its sleeve.

Despite new story directions and gameplay features, the game looks set to deliver more of the visceral gore and lethal fatalities the series has been cherished for over the years. Mortal Kombat 1 releases on September 19, 2023, with beta access available in August for those who pre-order.
---
Kotaku is covering everything Summer Game Fest, from the main show on Thursday to other events happening throughout the next week. Whether you're into larger-than-life triple-A games or intimate, offbeat indies, you can keep up with all things SGF here.