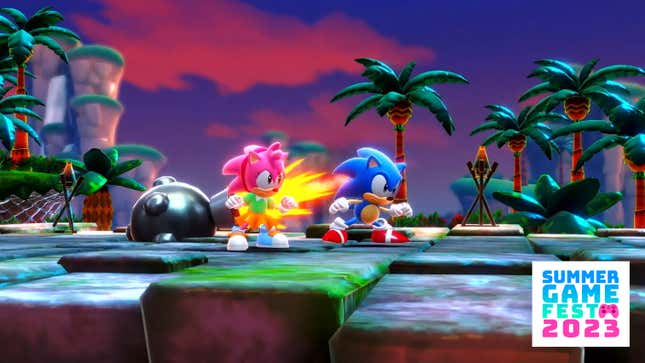 Sega announced Sonic Superstars at Summer Game Fest, and with it, the company is delving back into 2D Sonic. That's good news for anyone who has been feeling nostalgic for the classics lately.

This Halo Infinite Map of Zelda's Kokiri Forest Is Absurdly Detailed
Unlike recent 2D entries like Sonic Mania and Sonic Origins, this new entry is an all-new game from Sonic Team that will have new levels and content, rather than repackaging or retooling old ones. It's been a hot minute since Sonic fans had a wholly original 2D game, with the last one being Sonic the Hedgehog 4: Episode II in 2012. Sonic, Tails, Knuckles, and Amy will all be playable through four-player co-op, and I have to ask: Where is the love for Shadow and Rouge? What about those of us who had emo tendencies during our formative years and liked the edgier Team Dark? Must I be forced to play these dope 2D tributes as the blue guy when I simply desire to skate around and be angsty?
While Sonic has been trying out new things with the open-world Sonic Frontiers, these retro re-imaginings have become part of the series' pipeline at this point. Between Sonic Mania and, more recently, Sonic Origins, fans of classic 2D Sonic are eating pretty well. But what we can all agree on is that we need another Sonic murder mystery game.
The games are one part of the Sonic universe right now, yes, but the series has expanded out into a ton of other media. The live-action movies are doing very well, the Sonic Prime Netflix series has new episodes coming out on July 13, and the movie universe is getting a Peacock series focusing on Idris Elba's Knuckles. But the actual most exciting thing is that Shadow the Hedgehog is gonna be in the third movie. Don't talk to me about anything else.
---
Kotaku is covering everything Summer Game Fest, from the main show on Thursday to other events happening throughout the next week. Whether you're into larger-than-life triple-A games or intimate, offbeat indies, you can keep up with all things SGF here.