---
The world of video games is full of mighty people—people whose mere whims control what video games we play, what we play games on, how we buy them or even what games are like.
We've often wondered who the most powerful person is in video games. And we've wondered who the second is, the third and the 38th.
Now, we bring you the results. Our results of the top 40. Our current results.
The Kotaku Power 40 is a monthly listing of the 40 most powerful people in video games.
Who picks the Power 40? We do.
What will change the rankings? The events of the next month (and just maybe any well-argued messages that explain how we totally got this wrong).
G/O Media may get a commission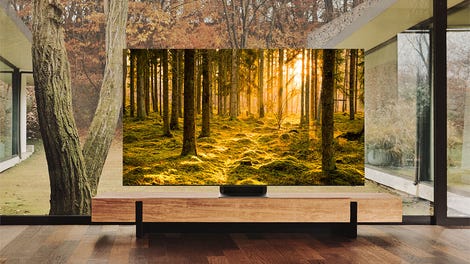 Up to 40% off
Samsung Smart TVs
---
• 01. Tim Cook, CEO of Apple
July 3, 2012 Update: Still holding strong at the top spot, despite recent Apple statements that they're not interested in making a console. As long as iPads and iPhones keep flying off the shelves and attracting tons of gamers and game companies, it's hard to argue that Apple doesn't have a ton of power and momentum in gaming as well as an ability to move game-playing hardware that is surely the envy of the traditional video game hardware manufacturers.
Apple may not make many overt efforts to lead gaming, yet somehow they remain a gaming power-player. Note that in the wake of E3, we see Microsoft, Sony and Nintendo beginning to gain momentum. We consider the gap narrowing and Microsoft or Nintendo bigwigs poised for the top spot here. Facebook/Zynga people are stumbling and Sony, while they have great resurgent potential, still seems to have a longer road to the top.
May 30, 2012 Update: Apple is known as a powerhouse for mobile gaming, but Tim Cook went on record to say that the company is not interested in moving to the console platform.
March 27, 2012 Update: The new iPad officially launched, and already reached 3 million units sold after just one week from its release. The CEO of Apple firmly remains at number one.
Feb 20, 2012 Update: Speculation of the iPad 3 being just around the corner further reinforces Apple's stance in the gaming market, particularly if the new hardware narrows the gap even more between iPads and home consoles.
Why He's Powerful
Tim Cook holds the future of gaming in his hands. But does he know it?
In just four short years, iOS devices—iPhone, iPad, and the iPod touch—have become arguably the world's largest gaming platform. We're talking a quarter of a billion devices sold, the lion's share of which can run any of the tens of thousands of games on the iTunes App Store.
All without a concerted effort towards gaming by Apple, which seems content to let the app developers themselves duke it out.
With a possible iOS-based Apple television on the horizon, as well as baby steps being made to allow iOS devices interact seamlessly with existing televisions, Apple could begin to threaten dedicated set-top gaming consoles—almost accidentally.
Even more harrowing for the traditional game industry is the App Store's lure to small- and medium-sized developers. There's a finite amount of engineering and artistic talent on the planet. The traditional gaming work environment has been long hours for modest pay. Yet the App Store is minting millionaires working out of their bedrooms.
It's the '80s all over again—good news for everyone except a gaming industry still in denial that the game they created has been changed by an adventitious kingmaker.
---
• 02. Don Mattrick, Microsoft's Xbox Chief
July 3, 2012 Update: Microsoft announced a new tablet, Surface, that got people saying they were going to be able to take a bigger bite out of Apple. Mattrick and Xbox aren't exactly a part of the Surface world, but the Xbox is clearly an increasingly integral part of all of Microsoft business. Combine that with positive buzz on Microsoft's code-named Durango successor the Xbox 360 and a solid if non-revolutionary E3, and Mattrick can consider the gap between him and Cook narrowed.
Feb 20, 2012 Update: Strong holiday sales of the Xbox 360 allowed Mattrick's team to brag that the Xbox 360 ended 2011 as the hottest-selling home console of the year.
Why He's Powerful
Don Mattrick is Mr. Xbox and the president of Microsoft's Interactive Entertainment Business. That means he's got the top gaming console in the United States right now, the one that used to primarily be a Halo and Call of Duty-playing device.
Now, the Xbox 360 is this thing that about 15 million people plug Kinect sensors into and that 40 million use for Xbox Live. It's a Netflix streaming device, a UFC viewing portal, and, if you buy Microsoft's marketing, it's a voice-controlled futuristic machine for watching and participating in interactive versions of Sesame Street.
Mattrick's Xbox portfolio is impressive, though it's thin on in-house development studios. His crown jewel is the untested 343 Industries who are hoping to make this fall's Halo 4 return Master Chief's series to its former glory. Microsoft mostly depends on third-party developers to make Xbox hits and pays those people extra to put some of their content on Xbox first. Right now, who'd say no to Microsoft's money?
Bonus power factor: Mattrick has an awesome house.
---
• 03. Satoru Iwata, CEO of Nintendo
August 1, 2012 Update: Nintendo revealed the 3DS XL, which recently launched in Japan to an impressive roughly 200,000 sales in its first two days. New Super Mario Bros 2. launched in the country on the same day, selling over 430,000 copies in its first two days.
July 3, 2012 Update: The Wii U had an okay showing at E3. It didn't generate the buzz that the Wii did when E3 attendees first got their hands on that console, but it didn't flop either. Nintendo has gathered, at minimum, improved short-term third-party support for Wii U and has demonstrated, with MiiVerse, the first online Nintendo service that ever seemed comprehensive enough to succeed. Nintendo's 3DS had a solid showing at E3, and, post-E3, the company revealed a 3DS upgrade, the 3DS XL, which is getting extremely positive early reviews. All in all, a good month for Nintendo, if not the kind of blockbuster that would vault Iwata over Mattrick.
April 27, 2012 Update: Those huge losses that were expected back in february hit an official report of Nintendo's first ever annual loss.
Feb 20, 2012 Update: Not good: Nintendo posting an annual loss. Good: 3DS reaching five million units in Japan faster than any other gaming machine, ever. Let's call it a wash. Position holds.
Why He's Powerful
The former head of HAL Laboratory and the most powerful man in gaming who ever actually made a video game, Satoru Iwata is the president of a Nintendo in transition.
Under his leadership Nintendo revived itself and thrived for most of the past decade with the Nintendo DS and the Wii. His company still boasts the most popular roster of characters in gaming, including Mario, Zelda and the Miis. It still publishes Pokémon. But its new 3DS has met doubters in this age of smart-phone gaming and its Wii U currently suffers as much skepticism prior to its late-2012 launch than the Wii before it.
The gaming industry knows it is unwise to doubt Nintendo, but whether to follow them in the months ahead is a question back up for debate.
Iwata can at least be confident that, since the fall, the 3DS has been hitting its stride.
---
• 04. Bobby Kotick, CEO of Activision Blizzard
July 3, 2012 Update: Activision teamed up with Tencent to bring China it's own Call of Duty game. That's big. But Kotick's rise is also due to the drop by Blizzard chief Mike Morhaime, whose previously can't-miss half of Activision Blizzard has had a strangely rocky time managing Diablo III since the always-online game launched.
May 30, 2012 Update: Activision maintains their grip on the Call of Duty franchise, announcing Black Ops II and giving press a sneak peek at what's to come.
Why He's Powerful
Even if you ignored all the other game franchises under Bobby Kotick's control, simply being President and CEO of the company that owns Call of Duty—the world's largest entertainment property—would put him and Activision Blizzard high on our list.
But the Activision part of Blizzard Activision is more threatened by the movement of casual and subscription games than Mike Morhaime's Blizzard division. (Even if, technically, Kotick rules the entire roost.) It's not entirely clear that Kotick has the leadership to steer the company through the upheaval that's transforming the video game industry, especially as nascent subscription experiments like the company's Call of Duty: ELITE have been half-baked.
---
↑ 05. Mike Morhaime, CEO of Blizzard
August 1, 2012 Update: Blizzard finally announced a release date for the next expansion in World of Warcraft—Mists of Pandaria—introducing a new race and other features to the massively popular MMO.
Mike Morhaime also publicly admitted Diablo III's imperfections, explaining that the company is committed to maintaining loyal gamers rather than just breaking launch records.
July 3, 2012 Update: Maybe Diablo III sold well, but it's rocky launch, buggy patches and continued antagonism of some fans with its online requirements makes Morhaime's previously can't miss studio seem a little less wonderful a role model for other development houses to follow. He drops a few spots.
May 30, 2012 Update: Even with the controversy over a shaky launch, Blizzard saw a great success in the long-awaited release of Diablo III, even if they don't know exactly how much of a success it is.
Why He's Powerful
When Blizzard Entertainment merged with mega-publisher Activision in 2008, some worried that the company would be fully subsumed, losing the spark that made Blizzard's pathologically polished games—World of Warcraft, Starcraft, and Diablo—so addictive. No worries so far—Blizzard co-founder Mike Morhaime appears to have kept the reins firmly in his mailed gauntlet.
While the rushing torrent of subscription money that is World of Warcraft is slowing down ever so slightly, the upcoming release of Diablo III will almost certainly be a massive hit. And there's a massively multiplayer follow up to World of Warcraft code-named "Titan" waiting in the wings. Unless unseen creative calamity strikes the company, the brands under Morhaime's control are set to continue making billions of dollars in revenue for years to come.
---
↓ 06. Kaz Hirai, Sony President and CEO
August 2, 2012 Update: Sony posted an over $300 million loss for their first fiscal quarter of the year, resulting his Kaz's move down one position.
July 3, 2012 Update: Kaz refocuses his efforts at Sony, but we know he's a PlayStation guy and that PlayStation remains a bright spot for the company. We also see Sony's purchase of cloud-gaming service Gaikai as a sign that Sony might be about to transform the way PlayStation gaming works—and how widely it spreads across various devices—as we know it. It's been a while since Sony led the rest of the gaming industry; could they be on the verge of doing so?
Feb 20, 2012 Update: The PS Vita is off to a predictably-shaky start with hot sales in Japan cooling and a global launch so recent it's hard to assess how the new handheld will do. But things are dandy for Hirai, who now runs Sony. Congrats on the promotion, Kaz. We promoted you, too.
Why He's Powerful
When new PlayStation hardware is revealed to the world, it is revealed in the hands of Kaz Hirai.
The former head of Sony's U.S. PlayStation division was promoted to oversee all PlayStation business in Japan a few years ago and, in early 2011, got a promotion from that. He's now the man that runs all of Sony. That may remove him from most of the day-to-day operations of the PlayStation business, but he's still the main man when it comes to showing what's next for the console and handheld gaming giant. Under Hirai is one of the most successful brands in gaming history.
Some may see Sony as weak right now. They certainly don't have the power they did in the PlayStation and PlayStation 2 eras, but even in third place this generation, their PlayStation 3 has sold millions. Their first-party development studios have strengthened year by year. They now rival Nintendo's in terms of overall quality. The crown jewels in the studio system include Uncharted and The Last of Us studio Naughty Dog and the God of War crew at Sony Santa Monica. Sony's Japan studios, including Gran Turismo house Polyphony Digital and the team behind the long-awaited Last Guardian may be struggling to keep up with the pace of modern big-game development, but a global network of studios that also includes Guerrilla, Media Molecule, innovative Sony London teams, Sucker Punch, Zipper Interactive and more prove that Hirai has the ability to see more exclusive games on his machines than his Nintendo and Microsoft rivals. And he's guaranteed several hits from a team that rich in talent.
The new PlayStation Vita, now released in all of Sony's major gaming markets, will show how well Sony can still compete in the handheld market. The PS3, meanwhile, has to withstand a surging Xbox 360.
---
• 07. Gabe Newell, Boss of Valve Software
August 1, 2012 Update: Gabe Newell went on record to say that Windows 8 is a "catastrophe," and further expressed his opinion that he'd like to see an investment in Linux for video games instead.
July 3, 2012 Update: Valve releases an open source filmmaker so that fans can make their own videos.
Feb 20, 2012 Update: Grew beard; would maybe make gaming hardware. Steam hack in 2011 may have compromised credit card info. No move up or down.
Why He's Powerful
Five years ago, who would have guessed that Valve Software's most important franchise wouldn't be a video game?
Managing director Gabe Newell continues to experiment with pricing and sales schemes on the company's PC/Mac game download service Steam, as well as fearlessly tinkering with pricing formula in the company's home grown titles like Team Fortress and Portal. Under Newell's leadership, Valve has remained both artistically innovative and fiscally unorthodox.
And if that weren't enough, Newell is also sitting on the announcement of Half-Life 3, the conclusion to one of the most beloved PC game franchises in the world.
---
↑ 08. Eric Bright, Wal-Mart Game-Buyer
Why He's Powerful
Eric Bright isn't a familiar name to most gamers—nor should he be. As the Senior Buyer for all video game software at Wal-Mart, the world's largest retailer, Bright is the single point of entry to a wide swatch of customers, especially in the parts of the country where Wal-Mart is the only electronics retailer.
Before Bright took over video game software, he was in charge of video game hardware and accessories buying for Wal-Mart. The number of cords and cables this man has put in the hands of gamers would reach from Bentonville to the moon. (Probably.)
---
↓ 09. John Riccitiello, CEO of EA
August 2, 2012 Update: EA ran into some problems with BioWare's Star Wars: The Old Republic, meeting dipping numbers with a turn to a free-to-play model.
Even with the announcement of the return of Army of Two as well as new Mass Effect 3 DLC, EA moves one position down to reflect the heavy hit on SW:ToR.
July 3, 2012 Update:Not the greatest E3 for EA, but the company's FIFA and Madden series look strong and a continued push into Facebook and mobile gaming still feels like smart, early work that lays a foundation rivals will envy in the coming months and years.
Feb 20, 2012 Update: That risky Star Wars MMO of EA's already has 1.7 million paying customers. Riccitiello is holding steady.
Why He's Powerful
The former Sara Lee and Pepsi executive is in his second tour as CEO of Electronic Arts. Under his leadership the company has won more hearts and minds of gamers than an Evil Empire is supposed to.
They're allegedly not evil anymore, and to those who point out that the stock price is not what it was several years ago (i.e. two-thirds of its all-time high), have you seen the quality of their games? Have you played the Dead Spaces and Bad Companys, FIFAs and Mass Effects? Have you played their Facebook games or tried the best of the bunch coming from EA acquisition Chillingo?
They make lots of money. They appear to toss some of it away by backing questionable efforts like EA Partners' Alice: Madness Returns. But, look, the economy is bad and they're still a juggernaut. EA is now the most diversified company in the business, with big bets not just in console gaming but in Facebook gaming, iOS gaming... you name it, EA is trying to make a hit there. Plus, the company is the leader in sports gaming on any turf other than the basketball court. And if they weren't going to take a risk on a game like Alice, who was?
Riccitiello is a prophet of saying games should be treated like ongoing services, and no one denies he's smart about that kind of thing. But what happens if Battlefield never dethrones Activision Blizzard's Call of Duty, Star Wars: The Old Republic doesn't knock off World of Warcraft and the world falls out of love with Facebook gaming?
EA has the most ways to succeed and the most ways to fail. On the eve of a console transition it also has an opportunity to reassert its might for a new generation of gamers.
---
• 10. Yves Guillemot, Ubisoft Boss
August 1, 2012 Update: Ubisoft's PC game service, Uplay, ran into major security issues that allowed outsiders to breach users' computers.
July 3, 2012 Update: Ubisoft's boss moves up five placements to reflect a very successful E3, with impressive showings of out-of-nowhere Watch Dogs, some Wii U games that outshined many of Nintendo's own, an impressive demo of Assassin's Creed III and an all-around awesome press conference.
Feb 20, 2012 Update: The confirmation of Assassin's Creed III for October 2012 is not enough to bump Guillemot up, and a partnership with Japanese mobile phone power player GREE—which is making inroads to the West later this year—is probably better for GREE now than it is for Ubi. We'll see.
Why He's Powerful
People who work for Ubisoft know that their company is a little weird. Ubi is a large corporation that acts as if it is an artist's collective—pay no attention to all those sequels they like to churn out. They are a quirky outfit and not one to be trifled with under the leadership of their long-standing boss Yves Guillemot, who helped start the company 25 years ago.
Ubisoft boasts massive development studios in France, Canada and China and an enviable knack for making hits. One year, they're creating Assassin's Creed, the most successful new high-definition franchise of this generation, give or take Gears of War; two years later, Just Dance comes out of nowhere and becomes one of the hottest series on any platform, even outselling most of Nintendo's best on the Wii. Guillemot has managed to run a powerhouse publisher that is willing to take countless creative risks, but he routinely flirts with disaster, supporting risky experiments that flop and testing the limits of mass-produced quality by throwing hundreds of developers on annualized sequels.
Ubi's best strengths are its numerous brands, ranging from Rayman to Trackmania to Assassin's Creed to Splinter Cell and the rest of the Clancyverse. His company also often finds a way to thrive on new platforms, putting the ever-experimental Ubi in a prime spot to capitalize on the launch of the Wii U in 2012.
---
• 11. Jeff Bezos, Amazon Founder
Feb 20, 2012 Update: No huge changes yet, but what's with Amazon hiring a bunch of game developers? Hmm. Power play coming?
Why He's Powerful
Jeff Bezos' Amazon is a triple threat: powerhouse retailer with a wonderful games loyalty program and release-day shipping; the proprietors of the only other credible tablet in the Kindle Fire; and overseers of the powerful Amazon Web Services platform on which a large portion of the internet's cloud services operate.
Gaming has never overtly been Bezos' passion, but he has been known to make small investments in social gaming startups.
Whether he actively makes gaming power-plays or not, it doesn't matter. Amazon is a mighty force in the medium.
---
↑ 12. Paul Raines, Used GameStop CEO
Feb 20, 2012 Update: Given how much money GameStop likes to rake in from the sales of used games, Raines better hope that the next Xbox's possible blocking of used games doesn't become a reality. If it does, he drops. For now, it's unconfirmed.
Why He's Powerful
Nobody's saying video game retail is fun. But there's only a single real dedicated gaming brick-and-morter chair left, and that's Gamestop, helmed by the relatively green Raines.
Although GameStop has struggled to remain relevant as gamers increasingly avail themselves of online distribution platforms, Raines is slowly stockpiling digital distribution into Gamestop's arsenal. And never forget that Gamestop owns Game Informer, the last remaining print magazine with serious clout in the industry.
---
↑ 13. Shigeru Miyamoto, Lead Game Designer at Nintendo
July 3, 2012 Update: No offense, Mr. Miyamoto, you had a solid E3. But Ubisoft had a great one, and so their boss' surge is pushing you and a lot of the people near you on the list down.
Feb 20, 2012 Update: We admit it. We put him too low last month. Miyamoto's genius has still been absent from the public eye—and will probably continue to be until E3. So while Nintendo's 3DS hardware may be finally selling at decent rates, and Miyamoto may well still be exerting much influence over the hardware and software designers of the 3DS and forthcoming Wii U, until we see some of the fruits of that labor, the power he exhibits right now will continue to be, in our eyes, mid-list-level.
Why He's Powerful
He is, with little argument, the most creatively successful and influential video game designer of all time.
The inventor of Donkey Kong, the chief architect of Mario and Zelda's first adventures, he has been a creator with a golden touch, maintaining his relevance and design genius despite generational changes in taste, the rise and fall and rise of his own company and the inevitable effects of age that can dampen one's spirit or corrode skills wielded better by younger minds.
With the possible exception of Rockstar's Houser brothers, he is the only game designer whose departure from a game company could shake both its fans and its shareholders. (In fact, we already got a test-run of that when a December 2011 report of Miyamoto's "retirement"—later refuted by Nintendo—cut Nintendo's stock by 2%.)
There's a major "but" to all this: Shigeru Miyamoto, a good showman every year, hasn't unveiled a hit of the high caliber he's renowned for, since 2008's Wii Fit. This is partially because it his lieutenants running the Zeldas or 3D Marios occasionally get the spotlight they've long deserved. But as Nintendo shifts from the highs of the Wii years to the skepticism of the emerging 3DS and the forthcoming Wii U, the question to ask will be: Does Miyamoto still have it? The direction of that answer is the weather vane for Nintendo's future.
---
↑ 14. Mark Rein, Epic Games Vice President
July 3, 2012 Update: Unreal Engine 4 looked fine last month. It'll likely be a big deal next-gen, keeping Epic very relevant. An investment in Epic by Chinese gaming giant Tencent is useful, too, but Rein goes down a notch to make room for the surging chief of Ubisoft, which had an incredible E3.
May 30, 2012 Update: A first tease at Unreal Engine 4 shows impressive imagery from Epic's new engine, promising a reveal in the works that could impact developers and their future games. The company also dodged fines in a court case against Silicon Knights.
Feb 20, 2012 Update: He drops primarily because others have leapt over him. Epic is holding steady.
Why He's Powerful
The vice president and co-founder of Epic Games doesn't make the company's Gears of War blockbusters nor their surprise iPad hit Infinity Blade. He doesn't design Epic's ubiquitous Unreal Engine. But the man is everywhere, pockets bulging with devices he is eager to show you will also run some great new version of Unreal's graphics tech.
If Rein and Epic have their way, the Unreal Engine will power every hit made by every major video game company working on iOS, Android, gaming handhelds and the next generation of console games. Good luck getting Nintendo or Rockstar or Bethesda to make their games in Unreal (hint: they won't), but Rein and co. still have most of the gaming industry ready or able to work with Epic. And with a new generation of consoles now in the works, Epic just might have significant say about how much technical muscle Sony and Microsoft put in their next boxes.
Just remember: Epic wasn't the first video game company to have a popular graphics engine. That perch is by no means permanent and if they fall, they have far to go.
---
↑ 15. Yoichi Wada, CEO of the Square-Enix-Eidos Empire
July 3, 2012 Update: Square Enix bumps up quite a bit for the month of June, with an impressive E3 line-up including Tomb Raider and Hitman, two games that have been the subjects of recent heated conversations.
Square Enix's CEO also gets the increased placement for the unveiling of an impressive new engine.
Why He's Powerful
There was a time when Final Fantasy was the biggest of deals. In that era, Yoichi Wada would have been a Power 40 top five.
Then there was Final Fantasy XII. Then XIII. Oh... XIV. Final Fantasy is no longer a video game main event.
Square-Enix does make Dragon Quest, too, which is still the biggest of deals in Japan and the smallest of curiosities in America. Cue the Konami-style fade of another proud Japanese game company.
But wait! They bought Eidos. Those Eidos people made a wonderful new Deus Ex in one of those great, giant Canadian-subsidized Montreal game development studios. Eidos has top people cracking away on a Tomb Raider revival that looks great. They've got multiple teams making multiple Hitman games.
Naturally, only the announcement of The World Ends With You 2 could vault Wada-san to the top of the Kotaku Power 40, but his company is, oddly, a Japanese publisher on the rebound. The steam lost in being a primarily-PlayStation-oriented studio going into the current generation has been regained with a diversification of content and the smart nabbing of Eidos. They're on the verge of making juggernauts again, even if the Square part of the company is, well, far less cool than it used to be.
Bonus power factor: They're all over iOS and other mobile platforms, which is good and all, but they're the masters of charging $5-$10 more for their games than you would expect to. This makes Yoichi Wada's rule seem brazen if a bit... unrealistic.
---
↓ 16. Mark Zuckerberg, Founder of Facebook
August 1, 2012 Update: Facebook's stock continues to plummet since it went public, even recently facing its biggest one-day loss at a drop of 12%. This resulted in Facebook's market value losing $34 billion, as well as Zuckerberg's position moving four slots down.
July 3, 2012 Update: Social-network video games are still very popular, but Facebook is a wounded company now, still stumbling after a debacle of an IPO and, in general, seeming more vulnerable, more prone to be challenged by a rival, than ever before.
May 30, 2012 Update: Since Facebook opened up to the public and settled in with Nasdaq and their very own IPO, troubling reports have surfaced. Though Nasdaq initially went on record to say they were at fault for the resulting glitches, speculation that Facebook had been hiding and falsifying information has resulted in a class action lawsuit. We'll have to see how this progresses and continues to affect Facebook's stock, but so far it does not bode well for early investors.
Feb 20, 2012 Update: Leapfrogged by new Sony boss Kaz Hirai. Facebook may still be a juggernaut, but in preparation for going public, the company revealed just how much it depends on Zynga, one company that generated 12% of mighty Facebook's revenue. What if people lost interest in Zynga games?
Why He's Powerful
The boy king of social holds 800 million people in his hands, making Facebook the largest connected gaming platform in the world. Granted, it's a platform that hasn't been exploited to its full potential—Zynga's Everythingville iterations notwithstanding—but as 3D-capable, browser-based games mature, there's little to prevent Facebook from becoming the one-stop gaming platform of the future.
He can afford to treat Facebook like a gaming platform. And who could stop him? Which game company wouldn't want to access Facebook's more than 800 million of users?
We see increasingly-impressive video games running in browsers. We see increasingly-impressive games running in Facebook. Mark Zuckerberg could make Facebook the power-player in video games, if he wanted to. The question is: does he?
---
• 17. Markus 'Notch' Persson, Who Invented Minecraft
May 30, 2012 Update: The release of Minecraft on the 360 was met with strong sales, and even bumped Call of Duty from the Xbox charts. Call of Duty!
Feb 20, 2012 Update: He had a big month, but with all the movement around him he stays put. The power he wields continues to be evident, though. His fans have turned official Minecraft LEGO sets into a reality, and his mere Tweet that he might fund Psychonauts 2 turned into, if briefly, a real conversation about funding a game that industry favorite Tim Schafer has struggled to get greenlit (it's still far from a sure thing). Oh, and in one weekend a charity drive by Notch's company earned almost half a million dollars.
Why He's Powerful
Twenty million registered users of Minecraft. That's all it takes to make Markus "Notch" Persson one of the most powerful people in gaming. The Swedish indie games developer's success with a seemingly simple premise—Minecraft is essentially a virtual building blocks game—has shown that there's still millions of dollars to be made in video games by the garage developer who strikes ludic gold.
Will Persson be able to roll the success of Minecraft into something more lasting? His quickly-growing company Mojang continues to announce new titles like Scrolls and Cobalt. For thousands of game developers in the world, Persson has shown the way toward financial and critical success outside the confines of traditional game publishing. And that was before his game even came out. He even had his own convention in Las Vegas last year—and that too was a hit!
Now Minecraft is in the hands of other developers at Mojang. Notch is dreaming up his next great video game.
Here's a wrinkle, though: Could Minecraft, which is full of user-made content based on pop culture copyrights, survive if the U.S. government passes the Stop Online Piracy Act (or its Senate counterpart, the Protect IP Act), which could crush well-meaning Internet sites in the name of defeating online pirates?
---
• 18. Strauss Zelnick, Chairman of Take Two
August 1, 2012 Update: Take Two cited an underperformance from both Spec Ops: The Line and Max Payne 3 in their first quarter fiscal reports.
July 3, 2012 Update: X-Com: Enemy Unkown was a stand-out at E3 and Borderlands 2 and NBA 2K13 looked good, but, overall, not a brilliant E3 for Take Two. No reason to bump him up the way we did the bosses at Square-Enix and Ubisoft.
May 30, 2012 Update: Strauss moves down 3 positions, mainly because others have leapt over him.
Feb 20, 2012 Update: Max Payne 3's delay from March to May reduced the odds of the game's developers at Rockstar getting Grand Theft Auto V out for Take Two this year. Borderlands 2, however, is now targeted to September. Zelnick drops, partially to make room for Shigeru Miyamoto advancing above him.
Why He's Powerful
He'll never live down being the only gaming bigwig to show off his muscles on the cover of a men's fitness magazine (please don't take that as a challenge, rival execs), but what does he care?
While flashier third-party publishers EA and Activision battle for market share and headlines, the not-tiny Take Two Interactive takes its time preparing to launch potential games of the year, from BioShock: Infinite and the next NBA 2K game to, of course, anything Take-Two-owned Rockstar Games makes, like, you know, the upcoming Grand Theft Auto V. Take Two's deep bench of hit makers also includes Sid Meier's Civilization (and X-Com) crew at Firaxis.
Successful as some of its games are, the company doesn't have much to boast about in categories some of its rivals consider to be the most important markets: social gaming, mobile gaming or even, outside of the Borderlands series and Rockstar's almost-there efforts, a powerhouse online game.
---
• 19. Sam and Dan Houser, The Brothers Rockstar
May 30, 2012 Update: Even after getting hit with a delay, the release of Max Payne 3 was received highly, including by us.
Feb 20, 2012 Update: Max Payne 3 slipped from March to May. Delays of Rockstar games usually lead to very good games, but they also tend to lengthen the wait for the next one, likely knocking GTA V out of any crystal balls that pegged it for 2012. GTA III on iOS is a hit, though, and now the original Max Payne is en route. Signs of a new platform for Rockstar to rule?
Why They're Powerful
Somewhere right now the Houser brothers are being taken for granted. They stay out of the spotlight, expecting their work to speak for itself. And does it ever. The brothers' Rockstar Games are responsible for the king-maker franchise Grand Theft Auto, the stunning 2010 creative and commercial success Red Dead Redemption, plus a line of buzz-worthy games that has included Manhunt, Bully and even a table tennis game.
There is no studio more unpredictable than Rockstar, and there is no better studio at making sure that every single one of its games—even the oddball ones—is a big deal. They made a mid-20th-century detective story a major game release in 2011 and intend to make a revival of Max Payne a huge deal in 2012. Their newly-revealed Grand Theft Auto V brought the Internet to Apple-keynote-level attention with a single teaser and its possible 2012 release would challenge Halo 4, the next Call of Duty and the Wii U as the biggest gaming happening of the year.
But even tallying all that past and probably future success is taking the Housers for granted. Which studio sets the standard for.. soundtracks? Cut-scenes? Writing? Voice-acting? It's the one run by these guys. They keep Rockstar vital year after year, as one of gaming's most intriguing brands. All they are on the verge of is potentially the biggest Rockstar year yet.
They have power, the we-can-do-whatever-we-want kind of power.
---
↑ 20. Robert Altman, Head of Zenimax
August 2, 2012 Update: QuakeCon 2012 had a strong showing with an announcement of Rise of the Triad and Dawnguard releasing for PC, and therefore moves one position up.
July 3, 2012 Update: Dishonored is looking fantastic. But this is feeling like a quiet year for for company that brought us Skyrim and Fallout 3.
May 30, 2012 Update: Earlier this month Zenimax revealed a big announcement: They will be releasing an Elder Scrolls MMO by the name of The Elder Scrolls Online.
Why He's Powerful
OK. He's a money man. He may not know a thing about games. The most intriguing detail in his bio might be that he's married to Lynda Carter. But have you been paying attention to the private gaming empire his Zenimax is building? Let's go with a more familiar word here: Bethesda. And another: id.
Zenimax is the company whose studios brought us Skyrim—the hottest game not called Modern Warfare in 2011—and who will bring us Doom 4 some time in the future. They're in acquisition mode, and going about it in the most curious way. It's one thing to buy Doom-makers id. It's another to then also buy the studio of Shinji Mikami, the man who made Resident Evil and Devil May Cry amazing. Zenimax has others, including a mysterious MMO studio and Arkane, but it's the culture-crossing breadth of its prestige studios that hints at how broadly significant the company that's rolling in Skyrim money is going to become.
At this point, which game studio wouldn't want to be acquired by Zenimax. And who couldn't they afford?
---
↓ 21. Mark Pinkus, Zynga Czar
August 1, 2012 Update: The end of July did not mark a pretty month for Zynga. Since going public, Zynga's stock has dropped by 41%. Shortly after this report was sent to investors, multiple law firms announced that they'd be investigating the company to find out whether or not Zynga insiders were aware of the company's condition when they sold off their shares. Mark Pinkus therefore moves down one position.
July 3, 2012 Update: Suddenly, this guy is in desperate need of a hit. Zynga revealed FarmVille 2 and a new game called The Ville. But are the days when Zynga games ruled Facebook over? The company seems to be slipping as more competitors, big and small, fill the Facebook gaming charts.
April 27, 2012 Update: Zynga's domination from March is met with an obstruction in their path as they are hit with an $85 million loss.
March 27, 2012 Update: Zynga continues in their dominating path with a purchase of OMGPOP after their pictionary game, Draw Something topped the iOS charts and raked in over 37 million downloads.
Feb 20, 2012 Update: They pulled in a billion dollars in revenue last year. But without a breakout new hit, he's stuck at 19.
Why He's Powerful
Are the mighty already falling?
Maybe in terms of games. Zynga was supposed to launch with a stock offering that would raise a billion dollars. They were sure of it. They went public, selling stock. It was going to be great! The maker of FarmVille, CityVille and Adventure World couldn't lose! That's why they bought more than one video game studio a month in 2011. That's why the Words with Friends people sold to them and why the Drop 7 people did too.
ONE BILLION DOLLARS!
Zynga went public in December. As of January, it is worth: over $6 billion. Their market cap is now at $4.5 billion. Very good. Smaller than EA and Activision, but very good.
But their shares were supposed to be going for $10 and are now going for $9-something. The bloom was falling. Their shares are now up to $12.
That doesn't mean 10s of millions of people don't play Zynga games. Most game developers would love to have as many players enjoying their stuff as the average Zynga game creator does. And Zynga's games are gradually getting more sophisticated.
It's just that... maybe all that energy-using, click-farming, play-then-wait-or-pay stuff is... a fad?
---
• 22. Ken Levine, Leader of Irrational Games
May 30, 2012 Update: BioShock Infinite is delayed until 2013.
Feb 20, 2012 Update: Down to notches, because, well, we think we over-rated his level of power last time. Our mistake. Sorry, Ken!
Why He's Powerful
With Will Wright lowering his profile in the game development scene lately, Ken Levine has emerged as probably the most celebrated game design visionary at least in America and possibly in the world. Levine's reach isn't as broad as Shigeru Miyamoto's nor is his resume yet as impressive. But ask most people who follow gaming news or who makes video games which 2012 game they're most excited about, and the odds are good the answer will be BioShock Infinite. That's Ken Levine's game, the product of a long development cycle at Irrational Games.
Developers may wish they had Notch's bootstrap success, but to many who toil in big gaming companies, the better role model is Ken Levine. He works for one of the biggest publishers in the world, but, like Rockstar, does whatever he wants to do. That may not make him a leader of game development trends, but that sure is power.
No one expects BioShock Infinite to outsell all the other games of 2012, but many expect Levine and Irrational's project to simply be one of the smartest and best games ever made. No pressure! All he needs to do is make a masterpiece and, what do you know, that's what people are expecting.
---
• 23. Robert Khoo, Penny Arcade Maestro
August 1 2012 Update: Penny Arcade launched a Kickstarter to wipe ads from their site. The Kickstarter has since broken 400k.
Feb 20, 2012 Update: He got the city of Boston to sign on for the PAX East convention through 2023, and Penny Arcade's new games journalism wing, the PA Report has already come out swinging as a potential player in the gaming press.
Why He's Powerful
Jerry "Tycho" Holkins and Mike "Gabe" Krahulik have created the sort of organically-grown gaming community that corporate media outlets would kill for. 50 million pageviews a month—not to mention the tens of thousands of gamers who attend the bi-coastal PAX expositions. Penny Arcade is one of the clearest, most authentic voices in gaming fandom.
But they wouldn't be half the powerhouse they've become—a brand with attendant publishing projects (both books and games), apparel and other merchandise, as well as the highly-profitable PAX project—without the guidance of Robert Khoo, the President of Operations who is just as commonly known as "the guy who actually made Penny Arcade into a business".
---
• 24. Jen-Hsun Huang, CEO of Nvidia
Feb 20, 2012 Update: It's not entirely clear how recent dips in sale expectations will impact Nvidia's future market, but the company cites an issue of a lack of disc drives due to a flood in Thailand. Sales of the Tegra chips have fallen an uncomfortable 42% while the company struggles with slow growth, but the upcoming Tegra 3 still holds promise.
Why He's Powerful
Someday Intel's gonna be in trouble. And Jen-Hsun Huang's Nvidia might be the rascals giving it to them.
Nvidia doesn't just make discrete graphics cards for PC gaming powernerds (although they're still taking AMD and Intel to school on a regular basis). Their "Tegra" line of mobile chips are in millions of phones and tablets. That makes Nvidia incredibly well-placed for the future, with a thriving desktop and laptop business as a partner to Intel—and a mobile business that's aiming right where Intel should already have been.
Plus he's from Oregon. Oregonians are crafty.
---
• 25. Daniel Kim, CEO of Nexon
Why He's Powerful
Nexon hasn't made a huge splash in America compared to some—although 21 million players in North America is nothing to sneeze at—but the Korean company's free-to-play titles were years ahead from a revenue standpoint.
Thirty-nine-year-old CEO Daniel Kim came from a design background (he worked with the original team that helped design the groundbreaking Handspring Treo smartphone at Ideo) but moved to Nexon in 2006 at the Korean HQ.
Giants like Maple Story are contributing to the company's year-on-year revenue growth—29% as of third quarter 2011—and Kim is helping shepherd at least one new property like the role-playing Dragon Nest online each year.
---
• 26. Jason Rohrer, Developer of Unusual Video Games
July 3, 2012 Update: Strategy game Diamond Trust of London is finally coming out this year, thanks to none other than Kickstarter.
Why He's Powerful
When people want to hang video game art in a museum, they hang Jason Rohrer's games. His simple, short game Passage evokes more discussion and emotional reaction than most other games. His Sleep is Death is the multiplayer breakthrough—one player has 30 seconds to craft a section of a game; the next player has 30 seconds to play it; and then the creator-player goes again.
The power he has isn't to greenlight games or market new consoles. He, moreso than some of the other bright, young creators of finely-authored video games, has the power of influence. He has the power to stir other developers to make games that come from their hearts.
Jason Rohrer may not have asked to be video games' most admired creator of what one might call artsy video games, but he also didn't ask to be the tallest person on the Kotaku Power 40. But in both regards, we think he is.
---
• 27. Pony Ma, CEO of Tencent
July 3, 2012 Update: Tencent's CEO goes up two placements for two reasons: 1) acquiring a stake in Epic Games, and 2) that new Call of Duty game they teamed up with Activision to make for China.
Feb 20, 2012 Update: Tencent will soon bring EA's The Sims Social to China. Have fun, China! But that doesn't merit Pony Ma an up or down move on the list. Not yet.
Why He's Powerful
We'll be honest. We weren't sure who to put here. But we were sure that someone in China is mighty-powerful vis a vis video games.
It could be the head of Tencent, we thought, because that company is quite large. They're a big Internet company in China. They've got 711.7 million IM accounts, when last they bragged about it in an annual report. They have an online games site they describe as making "mini casual" games (which we're sure sounds cooler in Mandarin and/or Cantonese). That site is called QQ Games, and they say they have had eight million simultaneous users on it.
But maybe Tencent doesn't deserve the high honor of being in the Power 40. Nay, perhaps it is Netease that deserves it, since they manage World of Warcraft in China.
Or maybe Hu Jintao, president of China should get this spot, since his government sets policies that have long affected which non-Chinese companies can even get a foothold in the market for video games and anything else. Or should we be giving it to Chinese premier Wen Jiabao?
We asked smart people. They said: Tencent. We're going with that.
Bonus Power Factor: Tencent owns Riot Games, makers of League of Legends.
---
• 28. Ophir Lupu, Video Game Agent, UTA
Why He's Powerful
There was Ophir Lupu at the blackjack table a few years ago, a wad of bills in his hand. There was Patrice Desilets, then the creative director of the multi-million-selling Assassin's Creed series, sitting next to him. Ophir wanted to play. It was time to make money.
A few months later, Desilets left the company for whom he made the Assassin's Creeds. It seems that they didn't pay well enough. He was off to THQ to make something new and most certainly get paid more for it. Ophir got Patrice a better deal.
That's what an agent does. Back when Ophir Lupu was at Hollywood power-house CAA, that's what he was doing for a who's who of all-star game developers. He makes the lives of star game developers better. He makes the publishers sweat.
In late 2011, Ophir left CAA. He's at United Talent Agency now, and with the man bringing most of his all-star clients with him, publishers will be sweating some more.
---
• 29. Michel Guillemot, CEO of Gameloft
Feb 20, 2012 Update: They did just post record Q4 sales. And they did sign a deal to bring their games to the platform of Power 40 powerhouse Gree. We'll see how that goes. Not enough going on here for a move on the list. Not yet.
Why He's Powerful
Michel Guillemot used to run France's most famous development studio, Ubisoft, before realizing there was money in mobile gaming—before there was money in mobile gaming.
After over a decade of mostly terrible games for underpowered handsets, Guillemot's Gameloft has come into its own as iOS and Android handsets have brought real computational power to the masses. Gameloft has partnered with outside brands to create licensed products—LEGO and Avatar, for instance—but it's Gameloft's knock-offs of more mainstream titles (sorry, Michel!) that have taken the company to its current heights.
Gameloft isn't setting the gaming world on fire, but they've made a tidy company that's just one truly original title away from blossoming into an honest-to-god mobile gaming innovator.
---
↑ 30. Peter Vesterbacka, Chief Angry Birds Marketing Officer
August 1, 2012 Update: Vesterbacka moves up one position for a successful launch of Amazing Alex, which invaded the top charts on iTunes.
July 3, 2012 Update: Rovio announces a new game and, get this, it stars a human and not birds.
May 30, 2012 Update: Angry Birds Space hit 10 million downloads in three days. But as of May 9, Rovio announced that the game has been downloaded over one billion times. There are 7 billion people on Earth. Wow.
March 27, 2012 Update: Last month's boost to the Angry Birds chief marketing officer continues with an impressive number of downloads on Angry Birds Space thismonth: a whopping 10 million after just three days of its launch.
Feb 20, 2012 Update: We were ready to knock Vesterbacka and his team's Angry Birds right off the list. But then they went and announced Angry Birds Space. They may well be surging again and the sign that ABS is coming in March convinces us that his power is ascendant now. He bumps up two spots.
Why He's Powerful
There's no question that Angry Birds is a phenomenon—just check your local bodega or five-and-dime for all the plush bird knock-offs. And it's a fine game that keeps making money for the Finnish mobile developer Rovio, thanks largely to the efforts of chief marketing officer Peter Vesterbacka, who keeps Angry Birds in the news and negotiates the surprisingly lucrative partnership deals.
Rovio's success is the envy of any developer—over 12 million sold for a game that cost only an estimated €100,000 ($127,000) to develop; they even turned down a multi-billion dollar offer from Zynga.
---
↓ 31. Andrew Wilson, Head of EA Sports
July 3, 2012 Update: Adding UFC to EA Sports' roster can't hurt.
Why He's Powerful
He's only spent a handful of months on the job, so this listing may be more about the influence of the office than the man who holds it. For now.
In years to come, Andrew Wilson's priorities and the decisions he will make as the head of EA Sports will have enormous influence on the choices available to millions of video gamers. Wilson rose to the top job from the development ranks, notably as executive producer of its FIFA series during a resurgence that's become as much an aspirational model for other publishers as for its siblings within EA Sports.
If it stood on its own as a publisher, EA Sports would, every year, have at least two of the top 10 selling titles (across all platforms)—FIFA and Madden. Both broke sales records this year, with FIFA pushing 3 million copies sold in its first week and Madden selling 1.5 million in its. That's to say nothing of heavyweight franchises like NHL, NCAA Football, Fight Night, and Tiger Woods PGA Tour, which face no direct competition. EA Sports is the top carnivore in its ecosystem, with no natural predators. (Except in basketball, of course, where EA has retreated while Take Two's NBA2K series surges.)
The man who runs EA Sports not only sets much of the agenda in an entire publishing sector, he plans the menu for video gaming's sports fans all over the world.
---
• 32. David Perry, Founder of Gaikai
Why He's Powerful
David Perry was the founder of Shiny Entertainment, the studio behind games like Earthworm Jim, MDK and Enter The Matrix. But roughly a year after the company's merger with The Collective to form Double Helix Games, Perry moved on to form Gaikai, a streaming service for games.
Perry had big plans for the service, expecting to offer it to publishers rather than to compete with them, like the position OnLive seems to place themselves in, which lets players play major, modern video games in weird places like in their browser window, thanks to tech that streams the game's graphics and sound to the player while sending the player's controller inputs back out to a server. Think of it as playing a PlayStation game, but with the PlayStation's controller cord extending 100 miles away to a one PlayStation in a room full of PlayStations. This cloud-gaming approach, Perry's been saying, is the way gaming is going. No discs needed. No consoles may even be needed, not in your living room.
Sony announced that on June 29th the company had bought Gaikai, for $380 million. Offering the cloud-streaming service for the PlayStation has some interesting implications for the future.
---
• 33. Martin Tremblay, President of Warner Brothers Interactive Entertainment
July 3, 2012 Update: A less than stellar E3 from the company that brought us Batman: Arkham City last year. Their big holiday games are... a Lord of the Rings DoTA, another Lego game and Scribblenauts on the Wii U. It sure feels like something's missing.
May 30, 2012 Update: The president of WBIE moves down one position to make room for Peter Vesterbacka and impressive Angry Birds Space download numbers.
Why He's Powerful
Who?
Oh, it's Martin Tremblay, president of Warner Brothers Interactive Entertainment.
What do they do again?
Batman. The Arkham stuff. Three years ago WBIE may have been another joke branch of a major media company, this one trying to convince innocent people to play wretched Watchmen games because some suit (Tremblay!) thought it was a good idea. But then Rocksteady Studios made an awesome Batman game.
And then an independent studio called 5th Cell made an ingenious game called Scribblenauts, giving WBIE one of the hottest games in Nintendo DS history. So WBIE goes and buys Rocksteady, who make another excellent Batman game. They also buy Traveller's Tales who make increasingly good and absurdly popular LEGO video games. The classic arcade company Midway folds, WBIE swoops in and buys Mortal Kombat and the people who made that franchise. Somehow, WBIE and the developers make Mortal Kombat cool again.
This Tremblay guy is figuring it out. But it's not all fantastic for WBIE, because, if it was, they wouldn't have been shrinking their Seattle studios last fall. And they would have found a way out of making Green Lantern video games.
---
↑ 34. Perry Chen, CEO of Kickstarter
August 1, 2012 Update: Kickstarter proves to be a powerful platform for some intriguing companies, and therefore moves up 3 positions. A new console maker appeared from the woodworks, revealing a $99 console running on the Android platform with a focus on free gaming, and which they claim will be completely hackable. After just eight hours on Kickstarter, the company already met its goal of $950,000. The first official title revealed for the upcoming console is by ex Call of Duty exec Robert Bowling.
Other popular Kickstarters have also since launched, including an impressive virtual reality gaming headset, and boasts the support of both John Carmack and Gabe Newell.
March 27, 2012 Update: Kickstarter continues to see the growth of many otherwise unfunded games, including Wasteland 2 that seemed fated to development hell but raised half a million in just 24 hours on Kickstarter.
Why He's Powerful
The crowd-funding site, Kickstarter, has been offering individuals and independent teams an opportunity to see their ideas grow into tangible projects. When game developers Tim Schafer and Rob Gilbert announced their intention for a collaborative effort to develop an adventure game, the Internet's ears perked up.
Although they only posted a goal of $400,000 that they hoped to earn in a month, they cracked a million bucks in 24 hours. The Kickstarter campaign broke records for highest number of backers and most funds raised in 24 hours. In fact, they reached their goal in just over eight hours, and are currently sitting on over $2 million—a whopping 511% funded pledge—to complete their project.
Tim Schafer's Double Fine Productions is the first well-known studio to enter the Kickstarter ring, but Kickstarter has helped enable the success of multiple game projects that would otherwise likely not see the light of day. Projects like storytelling spy boardgames and other genres of interest can be found on the Kickstarter Games section, and supporters can even choose to fund events like Kill Screen Magazine's indie showcase that expand gaming to new groups of people.
---
↓ 35. Min-Liang Tan, Creative Director of Razer
May 30, 2012 Update: The Creative Director of Razer moves up one position due to the shift in this month's list.
Feb 20, 2012 Update: Razer's vaunted Blade gaming laptop is now a reality. And, if you're willing to spend for portability as much as you would for performance, you'd like it. But until we can tell how it's selling, we can move Razer's mastermind up or down on the Power 40 list.
Why He's Powerful
One of two co-founders of the PC gaming accessories giant—and the only company since Logitech to establish any real brand equity in the space—Tan's contribution to PC gaming's future has recently taken a proactive turn with the announcement of the Razer Blade, a high-end gaming laptop developed in conjunction with Intel. Using a standardized set of hardware as well as a highly configurable integrated touchscreen (the utility of which remains to be seen), Tan's work on the Blade may point the way forward for future PC hardware, which is under assault from less expensive but increasingly powerful mobile hardware from the likes of Apple.
Is it a sure-shot? Not even close. But adopting a more standardized platform for PC gaming hardware is surely one way that Intel can showcase how much more powerful its x86-based hardware can really be when the limitations of supporting literally billions of combinations of disparate hardware are removed.
Oh, and then there's Project Fiona, which is supposed to introduce tablet gaming to the concept of dedicated controllers.
---
↓ 36. Jane McGonigal, Optimistic Game Designer
July 3, 2012 Update: Jane McGonigal speaks at a Games for Change conference in NY, bringing up some interesting and powerful discussions.
May 30, 2012 Update: Jane McGonigal teams up with Oprah to make a game.
Feb 20, 2012 Update: She spoke at the World Economic Forum in Switzerland in late January. No one else on this list did that.
Why She's Powerful
Although some have criticized McGonigal's sometimes tenuous connections between games and "gamification" (the process of overlaying game-like influences such as achievements over more mundane aspects of daily life), there aren't very many other people in the industry getting to talk about video games on The Colbert Report. (And technically speaking, she considers herself against gamification.)
McGonigal routinely promotes her belief that gaming is good for people and for society, and that making a game out of ordinary or even unpleasant activities is a great motivator. She's made a game out of solving the oil crisis and a game that enabled players to camp out at the New York Public Library and somehow collaboratively write a book in the process. She's routinely dreaming up new projects like this and consistently can draw attention to her unconventional, civic-minded creations.
Her scholarly work at The Institute for the Future has helped her stand astride the pop academic world of TED and Silicon Valley as she leans into the mainstream. Modern video gaming has surprisingly few mainstream voices these days. McGonigal is one of the most conspicuous.
---
↓ 37. Yoshikazu Tanaka, Founder of Gree
May 30, 2012 Update: Gree's founder lost roughly $700 million after Japan outlawed the premium model used on their social games.
Feb 20, 2012 Update: Gree's social gaming platform is coming to the west in Q2 2012, so we'll soon see what this company is all about and if they can be a contender outside of Japan. In the past month they announced a partnership with Ubisoft and Gameloft, which will get them an Assassin's Creed.
Why He's Powerful
At this year's Tokyo Game Show, the biggest booth didn't belong to Capcom, Konami, or Sony. It belonged to Gree, a Japanese social networking company that offers thousands of game for member's to download and play. Gree is the brainchild of Yoshikazu Tanaka, who at 34 is Japan's youngest self-made billionaire. Behind Mark Zuckerburg, he's the world's second youngest.
Yoshikazu Tanaka developed Gree, a social gaming platform, in his free time and released it in early 2004. By that spring, Gree boasted over ten thousand. In March 2007, Gree reached a million, and now there are over 26 million Gree members in Japan. Not bad for something that started as a hobby. Not bad at all.
---
• 38. Tim Schafer, Founder of Double Fine
March 27, 2012 Update: Tim Schafer's movement down a position is solely the responsibility of Kickstarter's growing success in proving it's not just a one-trick, Double Fine-fed pony.
Why He's Powerful
Current founder of Double Fine Productions, Tim Schafer, gained recognition for his time at LucasArts, where he contributed to fan favorites such as Monkey Island and Grim Fandango. When Schafer left LucasArts to start projects of his own at newly-founded Double Fine Productions, he brought his legacy with him to new creations.
The new team is well-known for projects like the uniquely creative Psychonauts, Brutal Legend and Costume Quest. An overwhelming fan clamor for Tim Schafer's popular adventure games inspired the team to look to Kickstarter to fund a new one. This is a break in the traditional procedure of game development in which developers have to center their projects around the needs of a publisher. And, look at that... they broke Kickstater records, busting their $400,000 30-day goal in well under 24 hours. They're up to $2 million and counting.
Schafer also had the one and only Notch, of Minecraft fame suggest publicly that he'd help Double Fine fund a much-asked-for Psychonauts 2. Notch isn't promising it's going to happen, but, for a few days, Schafer and Notch had the gaming world abuzz that these two fan-favorite developers could make a dream project a reality.
On top of this, Schafer is one of the few game developers capable of making gamers laugh at his games. Intentionally.
That's scary power.
---
• 39. Ryozo Tsujimoto, Capcom Hit-Maker
April 27, 2012 Update: Capcom makes a return to Power 40. Resident Evil 6 is shaping up to hopefully be a solid title in the much-loved franchise, while March's release of Operation Raccoon City was met with strong sale numbers.
Why He's Powerful
His dad is the CEO. His brother, the president. You'd think with family ties like that, game producer Ryozo Tsujimoto could phone it in. This Tsujimoto does anything but. He produces one of Capcom's, and perhaps Japan's, most successful games, Monster Hunter. While his father seems more preoccupied with his winery, Ryozo is all about making games.
Internally at Capcom, staffers whisper that Ryozo has the golden touch. Monster Hunter is nothing short of a cultural phenomena in Japan. The MH games have sold over 19 million copies, the lion's share in Japan. While Monster Hunter never conquered the West, it is such a huge game that the mere announcement that Monster Hunter 4 was 3DS, and not PS Vita-bound, provided a glimmer of hope for 3DS owners during an otherwise-ominous early autumn.
And for Capcom fans, the possibility that this Tsujimoto—a producer with a stellar track record making games and not just business deals—could helm the company should provide a glimmer of hope for them.
---
• 40. BioWare Doctors Ray Muzyka and Greg Zeschuk
August 1, 2012 Update: Star Wars: The Old Republic faced challenges with subscriber numbers dropping, and has since gone to the free-to-play model.
Why They're Powerful
The BioWare doctors are at the forefront of popular franchises like Baldur's Gate and the more recent Mass Effect. Their latest release, Mass Effect 3 has been the topic of heated fans' dislike for the infamous (famous?) ending.
The controversy and push-back proved to be enough to start change at BioWare, when the company announced that they'd be releasing a DLC with several new ending options. It was powerful enough for us to include the addition of BioWare fans as a candidate on the Power 40 list. The fans had their say. Now, BioWare is having its. The pendulum of power has swung back their way.
These guys would be be higher if they had some announced games, but BioWare more or less no-showed E3, and continued support of Star Wars: The Old Republic and Mass Effect 3 as well as an unclear amount of involvement with the next Command & Conquer is all these folks have announced. That's too little to rank them higher for now.