Brian Fargo had given up. He'd spent the better part of the past decade pitching a game idea to publishers, only to be met by indifference and rejection. While he pitched and tried to sell his game, business executives would stare at their phones, texting. Barely paying attention. It was infuriating.
Elden Ring's Top Five Spells, According To FromSoftWare's Stats
The idea was for a successor to Wasteland, the 1988 post-apocalyptic roleplaying game that went on to inspire the popular Fallout series. Fargo had notebooks full of design concepts and mechanics for the game, which he says would be an "old school, classic roleplaying experience." But he couldn't get it off the ground without finances, and investors just didn't think it would work.
"It was just shocking to me," Fargo told me in a phone interview yesterday. "It felt like such an obvious thing to do. There was this audience, this pent-up demand... I just couldn't get it done."
G/O Media may get a commission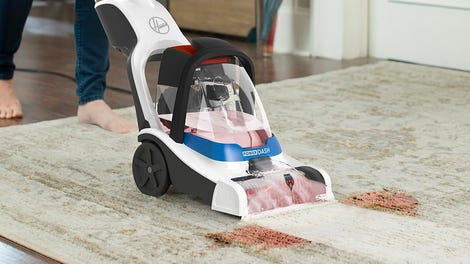 26% Off
Hoover PowerDash Pet Compact Carpet Cleaner
Even after the success of Bethesda's post-apocalyptic Fallout 3 in 2008, Fargo couldn't convince publishers to roll the dice on his Wasteland sequel. So two years ago, he gave up. It was time to move on.
"Publishers looked at me like I was a dinosaur," Fargo said.
Then Tim Schafer came along. When the Psychonauts creator launched his Kickstarter for a point-and-click adventure game last month, he showed the world that fans were interested in financially supporting the ideas and creators they love. Schafer was able to bypass traditional publishers, who would likely look at him like a dinosaur too.
Maybe Wasteland 2 could take a similar path. Like Schafer's project, maybe it could appeal to the fanbase of a genre commonly thought dead.
"Fans started emailing and talking to me on Twitter," Fargo said. "Saying, 'Now you can finally do Wasteland 2.' It was really the fans who started the whole thing."
He didn't have to mull it over for very long. After a few quick phone calls to some of his old partners—guys like Fallout co-creator Jason Anderson, Wasteland designers Alan Pavlish and Mike Stackpole; Fallout composer Mark Morgan, and designer Ken St. Andre—he'd wrangled up the Wasteland core design team. Then, on Tuesday, he launched a Kickstarter project for Wasteland 2.
Wasteland 2 raised almost $600,000 in 24 hours. It has 33 days to hit $900,000, a goal that seems well within reach. Developers like Schafer, Minecraft creator Markus "Notch" Persson, and Fallout 2 designer Chris Avellone have all publicly supported the project, posting about it on their Twitter feeds and asking fans to help donate. Fargo says he's absolutely thrilled with the reception.
Now he just has to worry about making something awesome. Fargo says Wasteland 2 will be a top-down, "party-centric" roleplaying game in a sandbox post-apocalyptic world, just like its 24-year-old predecessor. It will be developed "first and foremost" for PC and released on the Steam digital distribution platform.
In order to appeal to everybody, striking a careful balance between old-school nostalgic appeal and modern mechanical sensibility, Fargo says he's looking to the Wasteland forums for ideas and inspirations. He says fan input will be pivotal to the game's success.
"If fans are out there acting really negatively towards something, we're gonna change it," Fargo said, noting that while they "won't be writing the dialogue," they'll have a very large say in every aspect of the game's development.
"We're gonna have fans involved completely."
Yesterday, Fargo tweeted a hypothetical question. After his project's success, it might be on quite a few minds today.
"I wonder what the publishers who rejected a Wasteland 2 are thinking right now?"
Wasteland 2 [Kickstarter]