The very last thing the world needs is a $3.99 Disney app that sings "It's a Small World".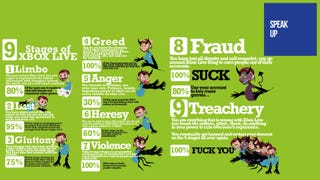 Commenter Firescorpio takes us on a (somewhat misspelled) journey through the nine circles of Xbox Live hell, a path that transforms an innocent online gamer into a foaming, frothing, enjoyment-destroying fuckwit in today's infographic-tastic edition of Speak-Up on Kotaku.
Did you ever wonder what happened to that unfortunate Koopa Trooper you left bouncing between those two pipes in Super Mario Bros.? Of course you didn't, you heartless cad. Thankfully College Humor has its ever-bouncing back.