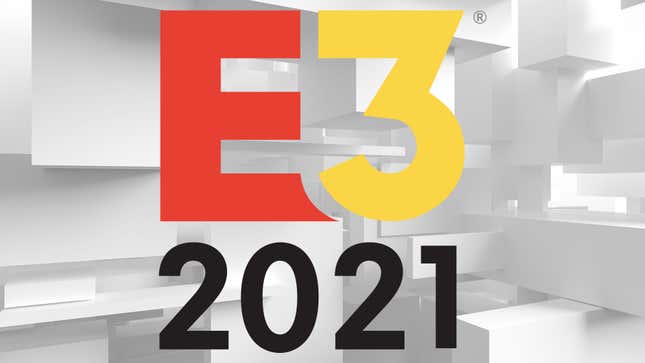 Last year, amid a mismanaged pandemic and sweeping social distancing regulations, the Entertainment Software Association called off its annual E3 event. But the stretch between late May and early November was positively littered with digital showcases and press conferences. If you followed video games closely, you tuned in to a new event on what felt like a weekly basis.

This post was originally published on April 16, 2021.
This year is shaping up similarly. E3 is back but as an all-digital event. Many of the industry's biggest players are following suit, turning to digital presentations to relay the spree of trailers, updates, reveals, and "just one more thing"s to the masses. Here's what we know is coming so far, and we'll update this post as organizers confirm details about upcoming events.
Summer Game Fest - June 2021
Last year, Geoff Keighley kicked off the inaugural Summer Game Fest, a months-long show of appreciation for the ouroboros of video game hype. For the most part, this meant slapping a Summer Game Fest logo in front of partnered streams, lending the promotional muscle of Keighley's apparatus to already existent events. (In July, Summer Game Fest made more than 70 demos of indie games available on Xbox.) The whole shebang is coming back this year. According to the Summer Game Fest website, it'll "feature a more condensed schedule of events across less than a month."
Kickoff Live! - June 10, at 2 p.m. ET
Those events start with Kickoff Live!, a digital event that Geoff Keighley described as a "world premiere showcase." Weezer (yes, that Weezer) will perform.
G/O Media may get a commission
Save all week long
Discover Samsung Event Week-Long Deals
Tribeca Games Spotlight - June 11, at 2 p.m. ET
The Tribeca Festival—formerly the Tribeca Film Festival—will show off eight smaller games in a digital showcase on Friday. Expect to see games like Kena: Bridge of Spirits, Sable, and 12 Minutes, among others. The show will also feature dev interviews. Though you can't see these games in person, as you presumably would during a typical IRL Tribeca Festival event, you can still book appointments to demo them. Or, well, try to. Bookings seem tight, as of this writing.
Koch Primetime - June 11, at 3 p.m. ET
Koch Media, the parent company of Deep Silver, will host a digital showcase at the onset of E3 weekend proper. No word yet on what the lineup comprises. Deep Silver said that Timesplitters, Dead Island, Saints Row, and Metro won't be shown.
Guerrilla Collective - June 5 and June 12, at 11 a.m. ET
Guerrilla Collective will return this year for not one but two Saturdays in June, showing off more than 80 games from studios like Innersloth, 505 Games, and All In! Games. The first showcase will be followed by the Black Voices in Gaming series, dedicated to spotlighting games made by Black creators or starring Black protagonists. The second showcase will be followed immediately by the Wholesome Direct event. You'll be able to stream it all via Guerrilla Collective's Twitch channel.
Wholesome Direct - June 12, at 1 p.m. ET
Twee indie showcase Wholesome Direct will return this spring, organizer Wholesome Games announced in March. The idea behind Wholesome Direct is simple: present a slate of chill, low-stress games as a sort of antidote to the loud, bombastic games that tend to define these affairs. Expect to see more than 75 games, including Moonglow Bay and Bear and Breakfast.
E3 - June 12 through June 15
The mother of all gaming events, the Electronic Entertainment Expo, is back after taking 2020 off as a result of the covid-19 pandemic. This year, it returns as an all-digital event that, despite what rumors suggested, will be totally free. Confirmed exhibitors include Nintendo, Xbox, Ubisoft, Capcom, Konami, Take-Two, Koch Media, Square Enix, Sega, Bandai Namco, Gearbox, XSEED, Verizon, and WB Games. At the moment, Sony, Rockstar, Activision, and EA have not confirmed attendance. Oh, yeah, and there's an awards show at the end.
Ubisoft Forward - June 12, at 3 p.m. ET
Ubisoft's big summer press conference, Ubisoft Forward, will land on the first day of the E3. So, what might the French mega-publisher reveal? At the moment, Far Cry 6, Rainbow Six Quarantine, and Rider's Republic don't have release dates. Ubisoft's big three map games from last year—Assassin's Creed Valhalla, Watch Dogs: Legion, and Immortals Fenyx Rising—all have expansions in the wings. And that's to say nothing of the other venerable franchises under Ubisoft's umbrella. Maybe this is the year we finally get a new Splinter Cell?
Devolver Digital - June 12, at 4:30 p.m. ET
The not-E3 event—which, in years past, has famously taken place in a parking lot—will go down this year directly after Ubisoft's stream. It's under Keighley's Summer Game Fest banner, so expect a stream.
Gearbox E3 Showcase - June 12, at 5 p.m. ET
The prolific publisher and Borderlands developer will air its E3 showcase Saturday, wrapping up that day's official events. Randy Pitchford, the company's eternally gregarious CEO, will host. Will we see a new Borderlands game, perhaps?
Xbox & Bethesda Games Showcase - June 13, at 1 p.m. ET
Following Microsoft's $7.5 billion-dollar purchase of Bethesda parent company Zenimax Media, the two companies—Xbox and Bethesda—will hold a joint E3 press conference. It'll last 90 minutes. Neither company shared a setlist. Microsoft, of course, has Halo Infinite scheduled for a 2021 release. And we know that Bethesda Game Studios currently has Starfield or The Elder Scrolls VI, which was first announced in 2018, in the works.
Square Enix Presents - June 13, at 3:15 p.m. ET
Square Enix will host a 40-minute showcase. Per a press release, the company will show off details about Life Is Strange: True Colors and the Life Is Strange: Remaster Collection, plus details about the Black Panther expansion for Marvel's Avengers, War for Wakanda. The company also touts a "world premiere of a new game from Eidos-Montréal." Hmm, wonder what that could be...
PC Gaming Show + Future Games Show - June 13, at 5:30 p.m. ET
This year, PC Gamer's PC Gaming Show and GamesRadar's Future Games Show will air as a double-header. The long-running PC Gaming Show will likely be what it always is (a spree of upcoming PC games), but the Future Games Show is newer to the circuit, so it's anyone's guess as to what we might see. The recent spring showcase from March showed more than 40 games over the course of two hours. (Two! Full! Hours!)
Capcom at E3 2021 - June 14, at 5:30 p.m. ET
Capcom will host a digital showcase right after E3 Weekend. Officially, the show will discuss Resident Evil Village, Monster Hunter Rise, Monster Hunter Stories 2, and The Great Ace Attorney Chronicles. There's a chance we could see details about the far-out (both in terms of release date and subject matter) Pragmata.
Nintendo Direct - June 15, at 12 p.m. ET
On the last day of E3 proper, Nintendo will air a 40-minute Nintendo Direct. The stream purportedly focuses on Switch games, but keep in mind that, as of this writing, the long-rumored 4K Switch has not yet been announced. Following the Direct, Nintendo will host a three-hour Treehouse Live session featuring "deep dives" into those games.
Nacon Connect - July 6, at 1 p.m. ET
The French publisher will host a digital showcase via its YouTube and Twitch channels. Expect to see footage of games that are a serious mouthful, including The Lord of the Rings: Gollum and Vampire: The Masquerade - Swansong.
Pax Online - July 15 through July 18
Pax East, originally scheduled to run in early June, was canceled and replaced with an all-digital event called Pax Online.
EA Play Live - July 22
EA is notably absent from E3's exhibitor list. The Battlefield and Mass Effect publisher will host a digital showcase on July 22, more than a month after gaming's biggest week officially wraps. Expect to see additional details about the recently unveiled Battlefield 2042. The Sims 4 also launches its newest "Cottage Living" Expansion Pack the same day, and who knows if the simulation game will get another announcement as part of its "Summer of Sims." Last year's event revealed the existence of a new Skate in early development. Not sure how EA tops that this year.
Game Developers Conference - July 19 through July 23
The annual Game Developers Conference will return this summer, but as an all-digital event, nonetheless featuring the same buffet of talks, panels, Q&A sessions, and networking events. Fair warning: It's not free, and it sure isn't cheap. Passes start at hundreds of dollars.
QuakeCon - August 19 through August 21
Bethesda's QuakeCon, typically held annually in Dallas, will once again take place as a digital-only event this year sometime in the middle of August. Details TBA in June. Expect peace, love, and rockets.
GamesCom Opening Night Live - August 24
GamesCom, famously held in Cologne, Germany, will be held digitally, same as it was in 2020, bucking initial plans to run as a semi-live event. The opening ceremony—a marquee event fittingly called Opening Night Live—will be streamed globally. Like last year's event, Geoff Keighley will host. Expect "world exclusives" and "world premieres."
Update: June 10, 2 p.m. ET: On the brink of E3 proper, the mother of all updates, adding details for the Tribeca, Gearbox, and Capcom events, plus timing for the PC Gaming Show and extra information about some of the showcases throughout.

Update: June 4, 2:30 p.m. ET: Big update, clarifying details about Koch's stream, plus info for Devolver's and Square Enix's events.

Update: June 2, 5:15 p.m. ET: Included info about Nacon's summer digital showcase, which does not happen during E3.

Update: June 2, 11 a.m. ET: Nintendo's turn! Added details about both Nintendo-hosted events.

Update: May 29, 4:45 p.m. ET: Added info about the Koch Media presser.
Update: May 26, 3:45 p.m. ET: The E3 press conference schedule is starting to fill in! We've added info about Microsoft and Bethesda's joint presser.

Update: May 19, 10:25 a.m. ET: Included information about the kickoff event for Summer Game Fest.
Update: May 12, 6 p.m. ET: Updated the date and time for Wholesome Games showcase, and added info for both Guerrilla Collective streams.
Update: May 11, 12:50 a.m ET: Added EA Play Live.

Update: May 11, 10:55 a.m ET: Added QuakeCon. 
Update: May 6, 9:30 a.m. ET: Added info about additional E3 exhibitors.
Update: May 5, 2:25 p.m. ET: Updated text to reflect that GamesCom pivoted from a semi-live event to a fully digital one.