The San Diego Comic-Con draws more than a hundred thousand people from around the world each year to revel in all things pop-culture. But last weekend's gathering also highlighted the strengthening connection between comic books and video games.
Half a dozen comics and two new cartoons based on video games were announced at the show and plenty of comic books were unveiled as video games. The convention itself was host to more than 40 panels about video games.
Often these crossovers serve as a sort of table setter for an upcoming game, helping to set the stage, build up the characters and explore the world of a video game before it gets into the hands of gamers.
Before the original Sci-Fi role-playing game Mass Effect hit two years ago, Del Rey published the novel Mass Effect: Revelation. The prequel, penned by the game developer's head writer, took place 35 years before the game.
This time around, the next Mass Effect game will be heralded by a comic book, not a novel. Mass Effect: Redemption is being written by Mac Walters, the person responsible for Mass Effect 2 script, and Walters promises it will change the way gamers look at the upcoming Xbox 360 sequel.
G/O Media may get a commission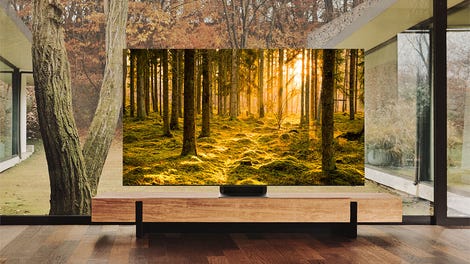 Up to 40% off
Samsung Smart TVs
Upcoming Playstation 3 and Xbox 360 game Singularity is also getting a prequel in the form of a graphic novel. And long-lived franchise Prince of Persia is getting a graphic novel prequel for the upcoming movie based on the video games.
The shift from books to comic books to tell a story set in a video game universe shouldn't be that surprising. Comic books, like video games, use both narrative art and dialog to tell a story. The two also have a very similar audience which could explain the virtual explosion of crossover titles in recent months.
While Dead Space Extraction will explore the world of the upcoming Wii-exclusive, it won't be a prequel, according to Steve Papoutsis, executive producer of Dead Space Extraction.
"There is so much more to the Dead Space universe than we could ever fit into one game and we're excited to be working with Image Comics again to extend the story in Dead Space Extraction," he said. "(Illustrator) Ben (Templesmith) and (writer) Antony (Johnston) did such a tremendous job with the original comic, we can't wait for fans to get their hands on this special issue."
Other comic crossovers seem to be more about marketing than expanding the story. For instance, at last week's convention Capcom gave away copies of a Spyborgs comic to promote the upcoming Wii game. And Sony Computer Entertainment announced a comic based on their popular God of War franchise.
The six-issues series, set to be released on a monthly schedule leading into the release of God of War III, was announced alongside a novel based on the game and a collectible copy of the anti-hero's weapon: The Blades of Chaos.
Crossovers aren't relegated to the pages of comics either, there were also two new cartoons announced at the show.
Halo Legends will be a set of animated shorts based on Microsoft and Bungie's popular first-person shooter for the Xbox 360. The seven shorts will explore some of the fictional history of the game's universe.
Dante's Inferno, an action game based on the epic Italian poem, is also getting the cartoon treatment. The collection of six shorts, each created by a different studio and director, will show some of the untold moments of the video game on a DVD set to ship around the same time as the game.
Comic books and animated movies based on video games aren't a new phenomenon. Gears of War, Resident Evil, World of Warcraft, even Sonic, all have their own comic books. But the past 18 months or so has seen a surge of interest in the pop-culture crossovers.
Perhaps that's because of the increasingly mainstream role that comics and their offshoots are taking in pop culture. Once relegated to children, comics are now recognized as an important form of expression, something that can deal with big issues and reach a broad audience.
Well Played is a weekly news and opinion column about the big stories of the week in the gaming industry and its bigger impact on things to come. Feel free to join in the discussion.