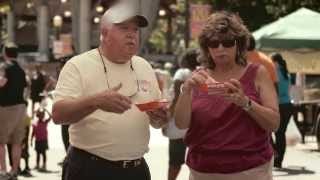 They're trying to keep it a secret, and it's much more fun and childish to imagine every beeped word in this video is "penis", but the cat is out of the bag — Popeyes Chicken Waffle Tenders arrive July 29.
The employees of peripheral maker PDP Gaming celebrated Thanksgiving yesterday with a turkey made of pastry and cream. What's in your stomach?
Kratos Valentine's Day Cookies, as made by the girlfriend of God of War III's lead combat designer. Via submission to Kotaku. Here's another shot of them wrapped.
If you know what "Pringles" means among Marvel vs. Capcom 2 players - and it's no compliment - you can win a can of the real thing autographed by the guy who coined the term.
If you've ever said to yourself, "I'm so hungry I could eat a whole God", then Namco Bandai's latest trademark filing is right up your alley.
Atlus just announced the winners of their 2008 Atlus-O-Weenie Halloween Costume Contest, which had fans of the company's games dressing themselves up as popular characters for a chance at an Atlus prize pack filled with goodies. Judging from some of the shots they received the real winner here was the folks on the…