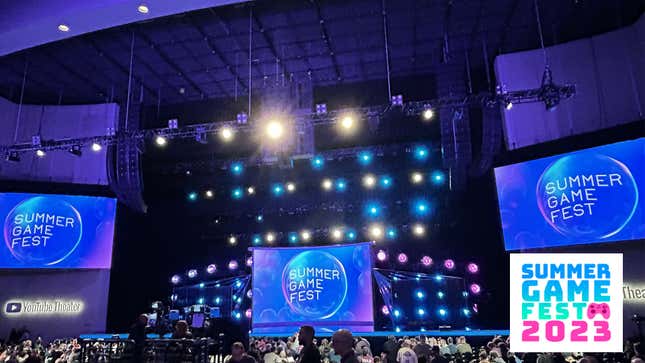 The YouTube Theater, where the first-ever in-person Summer Game Fest Event is being held, sits inside a massive structure that also houses SoFi Stadium, home of the LA Rams and Chargers. The structure looks enormous as I walk around its exterior—stark white and seemingly endless. A long line of people snake out of its entrance, many of them wearing shirts featuring their favorite games or current employers—the crowd is a mix of fans (who could buy tickets to the live show) and industry people, all politely waiting their turn to enter the building's lobby.

Once inside, everyone is exchanging excited hellos and introducing themselves (someone I don't know apologizes to me for not having any drip), as this isn't just a seminal event, it's the first time in a long time that this many game workers and enthusiasts have been together under one roof. E3 is dead after all, but Geoff Keighley continues to bring the glitz and glam of Hollywood to the gaming industry in its stead.
Summer Game Fest in the flesh
The YouTube Theater is beautiful, and the audio system is so intense I can feel the bass rumbling in my chest during the pre-show music. Two guys behind me are rapidly speaking Italian into a phone in what appears to be their Twitch stream and I jokingly wonder if I've been sat here because of my heritage. We exchange "piaceres" before we're told the show is about to begin.

Keighley walks out right on time to a round of applause, wearing a very questionable combination of brown jacket, blue t-shirt, black pants, and black sneakers. He immediately launches into his hosting schtick, a consummate professional. He talks about how he didn't expect the version of Summer Game Fest he started in a spare bedroom in 2020 to turn into this—but we know he did. During the first trailer, a surprise announcement of Prince of Persia: The Lost Crown, I catch him bopping and grooving to the hip-hop beat.

The crowd goes absolutely crazy for Ed Boon and Mortal Kombat 1, sending grossed-out echoes around the theater during the gratuitous fatality shots, providing a stereo of disgust on top of the thumping bass. A bizarre crossover between Exoprimal and Street Fighter 6 bemuses people, and when Keighley segues straight into the Nicolas Cage Dead by Daylight collaboration, everyone assumes it's just one of his clever transitions. But then, as Keighley speaks, it's clear that he's suggesting Cage himself is about to come out, and an incredulous shout escapes the lips of myself and others. It's Al Pacino at The Game Awards, again.

And then, there he is: Nicolas Cage in the flesh, his hair a little too strangely brown, but wearing a beautiful mint-green suit that starkly contrasts Keighley's Men's Wearhouse-ass fit. He hams it up for the crowd, forever the eccentric, at one point coughing and clearing his throat before blaming it on allergies. After he leaves, the energy seems to leave with him. It doesn't pick up again until Lies of P, and then only a little.

Keighley runs through a whole host of other "exclusives," with the crowd jazzed over Sam Lake (also in a fantastic suit) and Alan Wake 2, then nearly feral for a Marvel's Spider-Man 2 release date (though I loudly scoffed at Bryan Inithar's hoody and jeans), before settling one more into a quiet lull.

A Final Fantasy mobile game coupled with a cheesy ad segue from Keighley evokes a few "boos" from the crowd, before one of Keighley's tried-and-true awards show appearances (Marvel Snap's Ben Brode) walks on to up the energy once more. Brode introduces a bizarre sketch. "I don't know what the point of that was, but it was funny," someone behind me says.

A trailer for Fae Farm, a cozy game due out later this year, elicits a loud, sarcastic roar from a single attendee. A very handsome man playing the lead role in Immortals of Aveum, a game that feels so very much like a video game™, comes on stage in a very nice outfit. Internally, I beg Geoff to take notes. A trailer for the new Fortnite season gets some people hyped up, but we're all clearly waiting for something more, something better.

And then there it is, the big finale, the reason for this entire, dragged out event: A Final Fantasy VII Rebirth trailer. I don't know anything about this world, but it intrigues me, and after the show ends and we all file out, I hear some people wondering about what twists and turns it will provide.

Then I realize: Aside from the woman who is clearly the head of production rushing on-stage and whispering in Geoff's ear during trailers, there were no women highlighted at any point during this event. Not a single woman walked across the YouTube Theater's stage, as The Verge's Ash Parrish and I both tweeted within a half hour of each other. Though Keighley's Summer Game Fest is meant to highlight the future of gaming, it felt, in this sense, like a massive step backwards.

I head outside, visibly annoyed, and wait in the too-hot California sun for a Lyft. I sit in the car for too long, a victim of LA's traffic. I stumble, jetlagged, overstimulated, and with ears ringing into my hotel room. My feet hurt. Tomorrow, Summer Game Fest Playdays begins. I hope there are more women there.