"As world builders, our greatest responsibility is to inspire and invite joy," Microsoft Gaming CEO Phil Spencer said at the New York Game Awards in January. "It feels like today, seeking joy is an act of defiance." In February, Microsoft lived up to that ideal with the stealth release of Hi-Fi Rush, a beautiful rhythm-based action platformer about an aspiring rockstar who uses a robotic arm to fight back against a rogue corporation. Tango Gameworks' latest did spark joy, and also felt a bit rebellious by virtue of eschewing much of the bloat weighing down so many modern blockbusters.

But if Hi-Fi Rush showed the promise of Game Pass, where more focused and stylized games can find an audience without sanding themselves down into dust to appeal to a mass market, Redfall has done just the opposite. Arkane's vampire shooter feels incomplete and plays like mush, a far cry from the striking, precisely drawn contours of immersive sims like Prey and Dishonored: Death of the Outsider. It seems less like a big-swing experiment that failed than a heap of back-of-the-box features shoveled onto the coal fire to fuel a Netflix-style subscription service starving for big new releases. It does not spark joy and is certainly not an act of defiance. If anything, it's a capitulation.
For years now, Xbox fans and players have been waiting for Microsoft to begin delivering a steady stream of hit exclusives that can rise to the level of those found on PlayStation and Switch, and it simply hasn't. The results of an acquisition spree of new studios that began in 2018 are mixed at best, with each bright spot—Psychonauts 2, Pentiment—overshadowed by delays, missteps, and radio silence around major projects teased years ago in a premature effort to drum up hype for the Xbox Series X/S.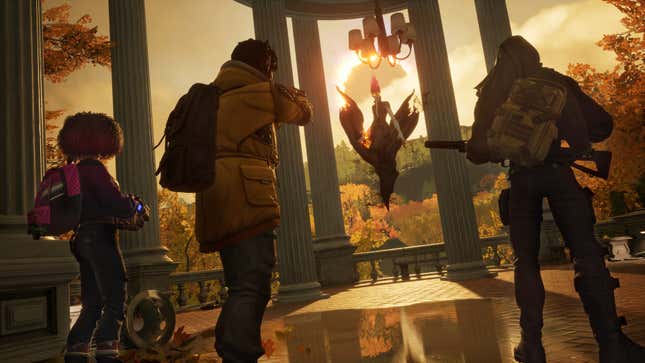 Redfall was originally supposed to ship last summer. When Microsoft announced the decision to delay it along with Starfield until 2023, hardcore Xbox fans were ready to riot. Another year with no marquee exclusives? "While I fully support giving teams time to release these great games when they are ready, we hear the feedback," Spencer tweeted at the time. "Delivering quality & consistency is expected, we will continue to work to better meet those expectations."

Read More: The Human Toll Of Fallout 76's Disastrous Launch
It's hard to imagine many people inside the company looked at Redfall's mishmash of Destiny-lite co-op elements at the start of this year and thought it passed muster. But here it is anyway, just a couple of weeks before The Legend of Zelda: Tears of the Kingdom sucks up all the oxygen in the room, pushed out into the world without a parachute because Game Pass will be there to catch it in the end. Does it matter that Redfall is Microsoft's first $70 game? Anyone who's still curious can try it for free for just $10 a month. One also wonders, however, just how long Game Pass can maintain subscribers when these are the first-party pillars holding up the service.
Xbox has felt out at sea for nearly a decade now. It began with the disastrous rollout of the Xbox One, and continued for an entire console cycle that saw major franchises like Halo stumble while others failed to pick up the slack. There were good games for sure, from Gears to Forza Horizon, but nothing close to the increasingly predictable parade of hits by competitors. Microsoft papered over these gaps with Game Pass, opening up hundreds of games for a low monthly fee to those who couldn't play Spider-Man or Breath of the Wild. It's clear that was a temporary band-aid though. Sooner or later, Microsoft needed to start churning out good games.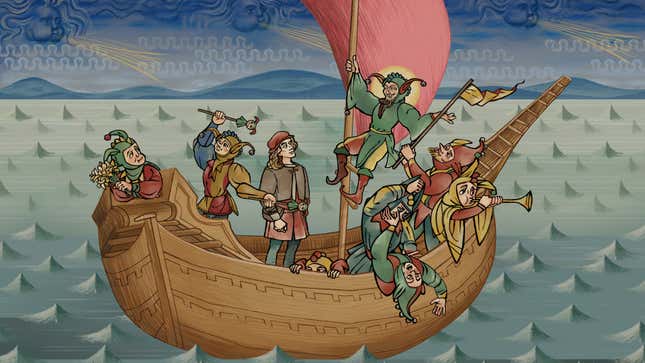 So it bought Obsidian, Ninja Theory, and a handful of other studios in 2018. In 2021 it finished its acquisition of Bethesda's parent company, Zenimax. It released the Xbox Series X which is totally fine, and the Series S which is a small and conveniently priced wonder. The Xbox controller comes in more variations and colors than you could dream of. An adaptive controller and cutting-edge accessibility options have pushed the video game industry to be more inclusive. A campaign to spearhead cross-play and cross-progression has broken down major barriers to enjoying games no matter where you play. The biggest Microsoft games are now on Steam as well as the Windows store.
But none of these things are God of War Ragnarök or Pokémon. They don't bring home Game of the Year awards or, more importantly, offset everything someone is missing by picking up an Xbox instead of a PS5 or Switch. If my Series S was the only console I owned I'd be pretty bummed.

For a moment in 2021 it seemed like Microsoft might have finally turned the corner. The corporation helped DoubleFine release the long-awaited Psychonauts 2. Forza Horizon 5 stole the show in November. Halo Infinite's multiplayer felt like a breath of fresh air and its campaign, despite some shortcomings, was the open-world soft reboot Master Chief needed. Then Microsoft tried to buy Activision Blizzard via the biggest tech merger in history. Maybe the Xbox's long odyssey out in the cold was finally over.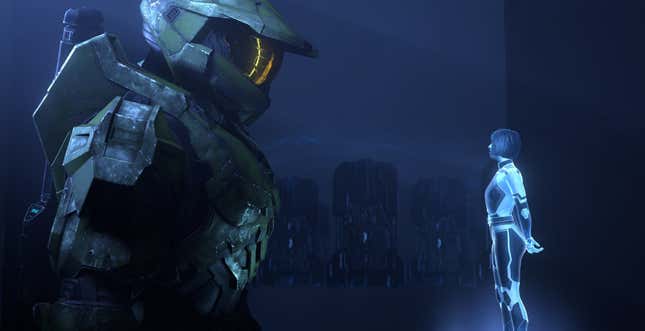 It was not. The Starfield and Redfall delays ground the momentum to a halt, while notable absences from the big summer showcase did little to inspire confidence that games like Fable, Avowed, or Hellblade 2 were anywhere close to being ready. Halo Infinite dropped features and delayed seasons. Microsoft's big fall game was Pentiment, a visual murder mystery told through medieval manuscript fonts. It was nice to see a brilliant passion project get so much time in the limelight, but it could hardly mask the elephant in the room.

Read More: After Years Of Hype, The Xbox Game Pass Burnout Is Here
In January, layoffs hit Microsoft as the tech sector seemingly raced to appease Wall Street pessimism by slashing costs and bolstering profits. 343 Industries, the Halo-sized jewel in Microsoft's first-party crown, was gutted. Many devs were taken completely by surprise, with a couple even blaming the company's own organizational decisions for Infinite's development woes. Senior leadership had been trickling out of the studio for months, and now the future of Microsoft's marquee franchise felt more uncertain than ever.
"As an industry, when I think about this year, I do think about the state of production in AAA games, and games have become really big," Spencer told IGN later that same month. "Every year, people have bigger ideas and bigger plans for the games that we're building. But ensuring that teams are set up for success in the games that we're building across the industry, that do we really have kind of the necessary skills on production to make sure that when we make commitments to our customers about when games are coming, we can deliver at the quality and the timing that we expect."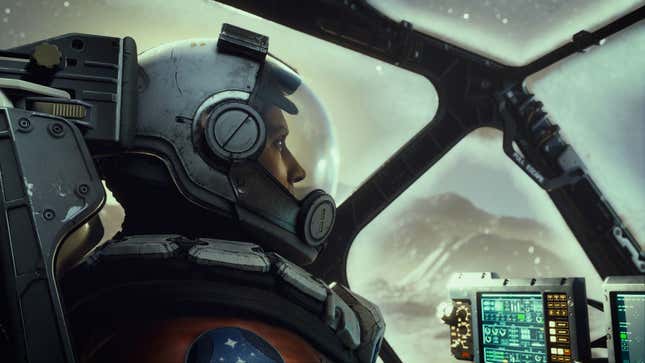 After 2022, these were open questions for Microsoft. Has the company been too timid to intervene when studios are struggling or just unwilling to provide the necessary cash and resources teams require? After Redfall, it's hard not to think that, whatever the answer is, something's wrong. That is not meant to be an insult. As fans and devs alike have become very fond of saying lately: making games is hard, and each one that ships is a minor miracle. But Xbox has been waiting for a miracle for a while now. The next potential shot at one just over the horizon is Starfield, Bethesda's sci-fi successor to the fantasy RPG sensation that was 2011's Skyrim. The expectations were already immense due to that legacy. Now it also shoulders the burdens of an entire platform in need of a reason to justify ongoing belief and investment in it. I hope Starfield is great, though I don't envy anyone currently tasked with delivering on its endless promises.

While now in-house, Microsoft acquired Starfield along with the rest of Bethesda. In some ways the game and the acquisitions have provided a potential escape hatch. Having struggled to cultivate first-party studios that could sustainably deliver great new games, it looked to buy them from others, even if it meant initially releasing those products as exclusives on rival consoles first. The Microsoft Activision deal is the culmination of this strategy; an attempt to absorb what it can't create itself. After regulators blocked the acquisition in the UK, its fate is also uncertain.
Once again, Microsoft is back in the position of having little to show for its recent efforts and everything to prove. A day after it turned Redfall into a blood sacrifice, the company announced its 2023 summer showcase on June 11, followed by a dedicated Starfield Direct. "This is the day gamers have been waiting for to see what is coming to Xbox, PC, and Game Pass," it wrote on the Xbox Wire blog. They've waited nearly a decade. What's another month?