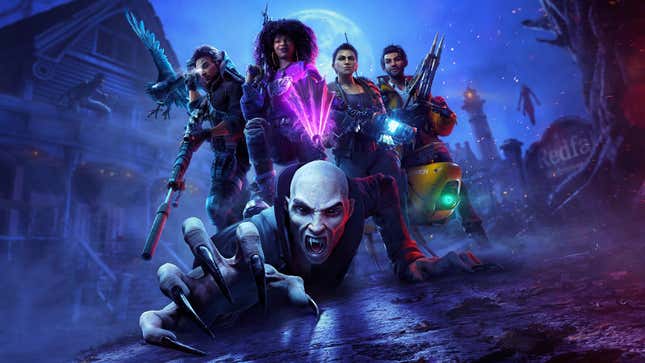 Just days after Redfall gameplay footage from IGN was lampooned across the internet for looking stiff and unimpressive, Microsoft revealed that its first big blockbuster of 2023 won't support 60fps at launch. It's another disappointing data point for a first-person shooter arriving as a new-gen exclusive at a time when higher frame rates have become the norm.
Thank You, PS Plus, For Making My Backlog Even Bigger
Developer Arkane broke the bad news to fans via the game's Twitter account, confirming Redfall would launch on Xbox consoles in May with "Quality mode only." Xbox Series X will run the game in 4K at 30fps while Series S will hit 1440p at the same framerate. "60 FPS Performance mode will be added via game update at a later date," the studio wrote. The comments were not kind, especially since Microsoft had been showing the game running at 60fps for months in its marketing.
There's a lot to break down here. First, Redfall is an immersive sim action game about fighting vampires in a creepy New England town with up to three friends in online multiplayer. There are a lot of guns and a lot of killing, two things often made much better at 60fps. Second, higher frame rate modes have been one of the few big "next-gen" perks for a new console cycle that otherwise hasn't felt spectacularly different from the last. They were a big talking point during the Xbox Series X/S and PS5 launches, and have become the default in blockbuster first-party games from Halo Infinite to God of War Ragnarök.
Redfall's framerate controversy explained
Finally, Redfall is Microsoft's first new-gen console exclusive in a while—2022 was an especially anemic year for the tech giant's first-party lineup. There were some spectacular games like Obsidian's Pentiment, but not much that helped show off why hardcore fans had recently shelled out $500 for a new console. Redfall marks the end of that drought, and is the first game raised to the new $70 price point, making the absence of a 60fps performance mode at launch all the more noticeable.
This news also comes after an IGN gameplay reveal went viral over the weekend for making Redfall look underwhelming. Some felt the game looked indistinct compared to beloved, highly-stylized Arkane games like Dishonored 2 and Prey. Others thought the UI looked ugly and the action was derivative of other four-player horde games. From there the debate descended into Xbox fans blaming the players in the footage for not making the gameplay look better, pointing to other preview footage that made Redfall look more deliberate and exciting by comparison to defend the game.
Still, the conversation around the conversation helped reinforce two important points. The first is that despite some positive previews and hands-on impressions, it's not clear if or how Redfall will manage to combine the carefully choreographed immersive sim gameplay of Arkane's past games with new multiplayer live service elements. The final game could wow everyone, but for now the skepticism and confusion remains.
The second is that people who bought Xbox Series X/S consoles are desperate for a "W" on par with what PS5 and Switch players have become accustomed to. Silly console debates aside, if you shelled out for one machine instead of another, it's understandable you'd want the games to be worth it. A 60fps performance mode isn't the end-all-be-all for determining that, but it's one of the nicest parts of playing shooters on newer hardware.
There was one big blockbuster that launched without it last year: Gotham Knights. It was also initially delayed, next-gen only, multiplayer-focused, and priced at $70. We all know how that went. Hopefully Redfall has a different course to chart, and its post-launch updates arrive sooner than later.