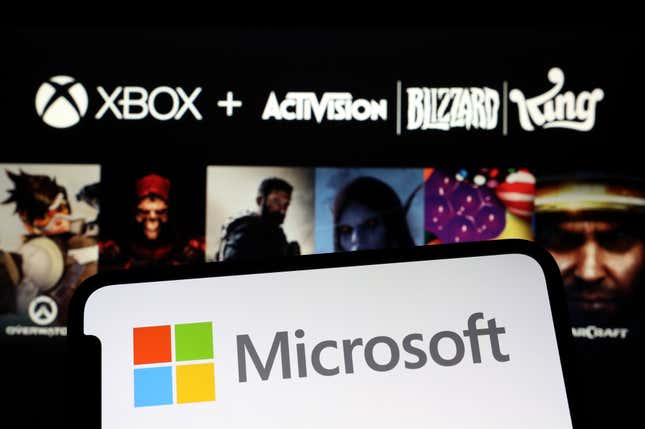 The UK's Competition and Markets Authority (CMA) announced its decision to block Microsoft's $69 billion acquisition of Activision Blizzard on Wednesday citing concerns it would hurt competition in the growing cloud gaming market where Microsoft dominates thanks to Game Pass. It's a shocking turn of events for what seemed like a mega merger that was otherwise cruising toward regulatory approval.
This Mini Sega Arcade Cabinet Packed With Retro Games Would Make A Great Gift
"We have concluded that the merger would result in the most powerful operator in the fast-developing market for cloud gaming, with a current market share of 60-70%, acquiring a portfolio of world-leading games with the incentive to withhold those games from competitors and substantially weaken competition in this important growing market," the CMA wrote in its final report. Both Microsoft and Activision Blizzard said they will appeal the decision.
One seemingly likely result of Microsoft buying Activision Blizzard would be that the latter's hit games like Overwatch 2, Diablo IV, and Call of Duty: Modern Warfare II would all get added to Game Pass. The CMA argues this would give Microsoft, already the market leader in cloud gaming, even more anti-competitive control. It also suggests that the company would then have an incentive to raise prices on cloud gaming subscription services like Game Pass, while potentially withholding certain releases from some rival platforms like Sony's PlayStation Plus.
Read More: Everything That's Happened In The Microsoft-Activision Merger Saga
Microsoft tried to assuage these concerns in recent months by signing tons of deals with smaller cloud computing providers in the UK, promising to make Activision Blizzard's games available through them alongside its own xCloud service. The CMA seemed unswayed by these overtures, however, calling Microsoft's proposed remedies too limited in scope, implying they would leave out competing services like Sony's and that enforcing the agreements would require too much ongoing regulatory oversight.
"We have already signed contracts to make Activision Blizzard's popular games available on 150 million more devices, and we remain committed to reinforcing these agreements through regulatory remedies," Brad Smith, Vice Chair and President at Microsoft, said in a statement. "We're especially disappointed that after lengthy deliberations, this decision appears to reflect a flawed understanding of this market and the way the relevant cloud technology actually works."
Activision's response to the news was more harsh. "The CMA's report contradicts the ambitions of the UK to become an attractive country to build technology businesses," a spokesperson wrote in a statement. "We will work aggressively with Microsoft to reverse this on appeal. The report's conclusions are a disservice to UK citizens, who face increasingly dire economic prospects. We will reassess our growth plans for the UK. Global innovators large and small will take note that— despite all its rhetoric—the UK is clearly closed for business."
That language echoed Activision CEO Bobby Kotick's previous claims that the UK would become "death valley" if it torpedoed the deal, which promises huge financial windfalls for him and other executives at the company. The merger is still being investigated by authorities in the European Union, who are expected to announce a decision in May, and the Federal Trade Commission is currently threatening the acquisition with an antitrust lawsuit. It's unclear how the CMA's initial surprise ruling could affect approval in the U.S. and EU as a result, since failure in any one of the regions could likely doom it.