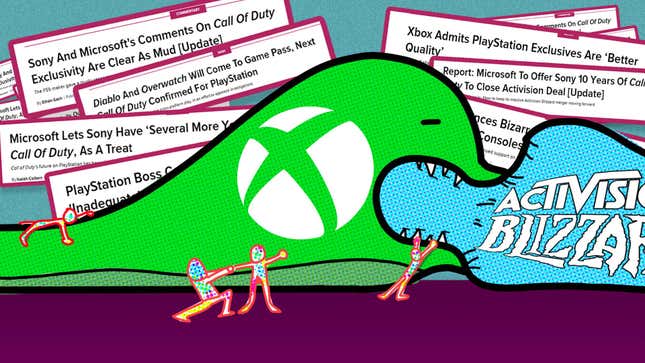 On January 18, 2022, Microsoft announced that it planned to buy Activision Blizzard King—the mega-publisher behind games like Call of Duty, World of Warcraft, and Candy Crush—in a deal worth nearly $70 billion.

This Mini Sega Arcade Cabinet Packed With Retro Games Would Make A Great Gift
Since then it's been quite a rollercoaster, as it feels like nearly every major country and corporation on Earth has in some way become involved with this mega-deal. And over a year later, Microsoft's attempt to consume Activision has yet to complete, as courts and regulatory groups continue to push back against one of the biggest mergers in recent history.

So, how did we get where? Well, it involved a lot of back and forth, court documents, interviews, opinions, lawyers, and lawsuits. Here's the complete saga of Microsoft trying to buy Activision.

---
Jan. 18, 2022: Microsoft said purchasing Activision Blizzard Inc. would make the Xbox maker the third-largest gaming company "by revenue," only behind Tencent and Sony. The WSJ says the sale is valuing Activision Blizzard at $95 a share, for a total of $68.7bn "including net cash."
---
Jan. 18, 2022: Microsoft is buying embattled Call of Duty publisher Activision Blizzard in the largest gaming industry acquisition ever. That means a lot of things, including that the head of Xbox, Phil Spencer, will soon be veteran CEO Bobby Kotick's new boss. But what that means for the man currently accused of letting sexual harassment, discrimination, and misconduct run rampant at his company for years remains unclear.
---
Jan. 18, 2022: It's as though Microsoft simply couldn't help themselves, despite the fact they are literally already the second-wealthiest company on the planet, a company that already makes video game consoles, were already a games publisher, already owned game studios and already made some of the biggest games on the planet. They couldn't help themselves because there is no rest for the rich. Corporate inertia means there is no satisfaction to be found in being big enough, or powerful enough, or wealthy enough, when there's always the possibility—and the demand from shareholders—for more.
---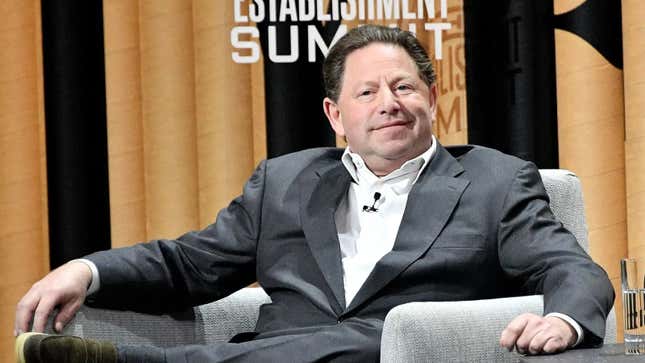 Jan. 19, 2022: According to both The Wall Street Journal and Bloomberg, Kotick is expected to leave Activision as soon as Microsoft's purchase is finalized in the next fiscal year. Kotick's reputation in the public sphere is at an all-time low following the sexual harassment lawsuit filed against Activision Blizzard by the state of California and news of Kotick's own culpability. It only makes sense that Activision's new owners would want to divorce the company from the man currently in charge.
---
Jan. 19, 2022: The FAQ—sent by Activision Blizzard to its own employees—had to be shared with the Securities And Exchange Commission (SEC) as part of the whole legal process, so you can read the whole thing here. Below, though, I'll just be touching on some of the more noteworthy topics. As you'll quickly see, the whole point of the document is to address Activision Blizzard employees who will have serious concerns they might be laid off or relocated, or what happens to their stocks, or anyone wondering what the culture is like at Microsoft.
---
Jan. 20, 2022: Will Activision Blizzard games be exclusive to Xbox after the recently announced $68.7 billion deal finally goes through? Probably. But in the meantime, both sides are saying just enough to keep all possibilities open, with Sony being the latest to add its vague comments to the growing pile.
---
Jan. 20, 2022: When asked about ongoing initiatives by the ABK Workers Alliance in a new interview, head of Xbox, Phil Spencer, who will oversee Activision Blizzard once the sale is complete, said he wasn't familiar enough with unions to comment.
---
Feb. 19, 2022: On November 16, 2021, a report was published that claimed Activision CEO Bobby Kotick was well aware of harassment happening within his company. It also alleged that he himself mistreated women, both inside and outside work. Now, new docs reveal that three days later, Xbox head Phil Spencer called Kotick and began talks that ultimately led to the massive $68 billion acquisition.
---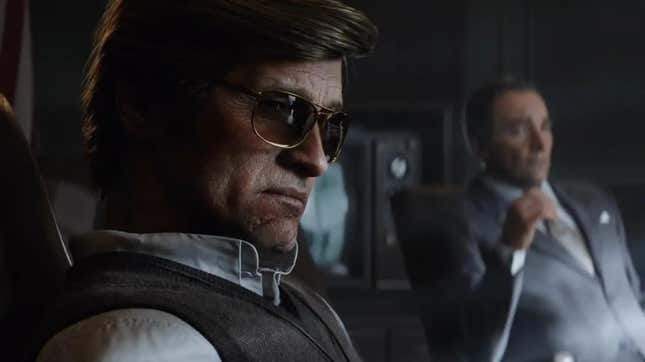 Feb. 26, 2022: Two Activision Blizzard shareholders have filed lawsuits against the Call of Duty publisher for making allegedly inadequate disclosures in its recent filings with the SEC about its deal to sell to Microsoft for $68.7 billion. The investors further alleged that big payouts for CEO Bobby Kotick and others that would result from the deal have created a massive conflict of interest.
---
Apr. 28, 2022: Shareholders at Call of Duty and Overwatch 2 publisher Activision Blizzard voted overwhelmingly on Thursday to approve a $69 billion sale to tech giant Microsoft. The deal gives golden parachutes to top execs at Activision, including embattled CEO Bobby Kotick. But despite gaming's biggest acquisition ever moving one step closer to completion, the company's weak stock price indicates Wall Street investors still think the deal could ultimately collapse.
---
May 26, 2022: In today's internal all-hands meeting with Xbox Game Studios employees, Head of Xbox Phil Spencer said that he would recognize Raven Software's union. This came after the QA testers at Raven voted to form the first labor union at a major studio.
---
Aug. 3, 2022: Microsoft, in a bid to downplay the possible ramifications of its attempted acquisition of Activision to various international regulating agencies, is arguing that the Call of Duty publisher it's spending billions of dollars on doesn't actually produce any games that could be considered "must haves." Meanwhile, Sony is pushing back and explaining that Call of Duty games are "essential" and even influence some people's console-buying decisions.
---
Aug. 11, 2022: "Microsoft's ability to continue expanding Game Pass has been hampered by Sony's desire to inhibit such growth," Microsoft claimed in an August 9 filing. "Sony pays for 'blocking rights' to prevent developers from adding content to Game Pass and other competing subscription services."
---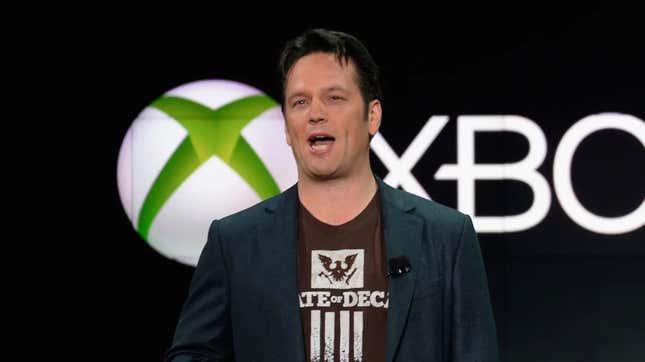 Aug. 24, 2022: He also believes that we're likely to see exclusives play "less and less" of a role in the console space moving forward. These comments come after Xbox recently acquired Bethesda Softworks—making upcoming, highly anticipated games like Starfield and The Elder Scrolls VI console-exclusive to Xbox—and seeks to finalize the aforementioned Activision deal.
---
Sep. 1, 2022: Xbox head honcho Phil Spencer has taken to his blog this morning to assuage fears that this year's Call Of Duty may not come to PlayStation, in light of Microsoft's ongoing attempted merger with Activision Blizzard. In the same breath, he says franchises like Diablo and Overwatch are headed to Game Pass, though it's unclear if this will include the upcoming new games. The language also heavily implies that CoD may be coming to the subscription service, should the overall deal go through.
---
Sep. 2, 2022: According to The Verge, earlier this year Microsoft's Xbox boss Phil Spencer made that commitment to PlayStation boss Jim Ryan in a written letter saying that Call of Duty wasn't going to disappear off the PlayStation storefront anytime soon if Microsoft's acquisition of Activision Blizzard is approved by regulators.
---
Sep. 7, 2022: Microsoft has only offered for Call of Duty to remain on PlayStation for three years after the current agreement between Activision and Sony ends. After almost 20 years of Call of Duty on PlayStation, their proposal was inadequate on many levels and failed to take account of the impact on our gamers. We want to guarantee PlayStation gamers continue to have the highest-quality Call of Duty experience, and Microsoft's proposal undermines this principle.
---
Nov. 23, 2022: Found deep in the fairly long document released yesterday on the CMA's website, Microsoft includes a section where it suggests that even if it were to make Call of Duty an Xbox-exclusive franchise (though it points out again that it has no plans too), it wouldn't matter anyway because Sony and Nintendo just have better selling, higher quality exclusives of their own. In sub-section 3.67, titled "Sony has more exclusive games than Microsoft, many of which are better quality," Xbox says that exclusivity deals are "not uncommon" in video games, and that Sony has its own great exclusive games, like The Last of Us and God of War.
---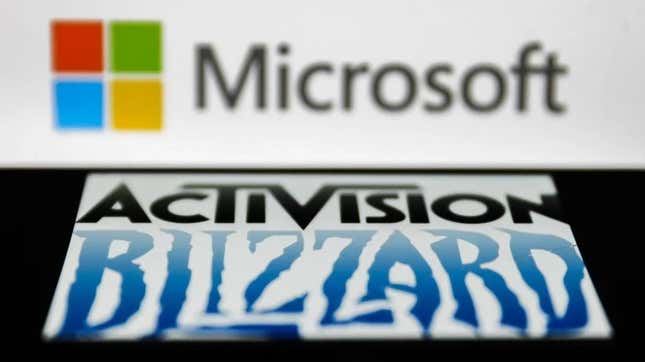 Nov. 23, 2022: Any antitrust case would have a fairly clear goal: the FTC would be arguing that allowing a major platform holder to purchase Activision Blizzard, one of the world's biggest third-party publishers, would give Microsoft an unfair advantage in the marketplace.
---
Nov. 24, 2022: To give a concrete example, Electronic Arts—one of the largest third-party developers after Activision—has tried for many years to produce a rival to Call of Duty with its Battlefield series. Despite the similarities between Call of Duty and Battlefield—and despite EA's track record in developing other successful AAA franchises (such as FIFA, Mass Effect, Need For Speed, and Star Wars: Battlefront)—the Battlefield franchise cannot keep up.
---
Nov. 28, 2022: Earlier today, Reuters reported that sources familiar with the deal and companies involved claim that Microsoft will offer a series of "concessions" to the EU's European Commission, the main one being a 10-year licensing deal with Sony. No specific details were shared by Reuters, but considering how few games Activision publishes these days outside Call of Duty, it seems likely this would keep CoD on PlayStation for 10 years, at least.
---
Dec. 6, 2022: He's making these pledges, of course, not because there's much of a market for CoD on the Switch, but because his company (Microsoft) is in the process of trying to close a deal to purchase the company that owns Call of Duty (Activision)—a deal that is coming under increasing scrutiny from governments not just in the US, but abroad as well.
---
Dec. 8, 2022: "Microsoft has already shown that it can and will withhold content from its rivals," Holly Vedova, the FTC's Bureau of Competition director said in the press release. "Today we seek to stop Microsoft from gaining control over a leading independent game studio and using it to harm competition in multiple dynamic and fast-growing markets."
---
Dec. 12, 2022: Public squabbling between two of the biggest console gaming companies has intensified. On a recent podcast appearance, Microsoft Gaming CEO Phil Spencer blasted Sony for wanting to grow by "making Xbox smaller." The accusation comes after the Federal Trade Commission decided to sue to block Microsoft's takeover of Activision because of a pattern of making recently acquired games like Starfield exclusive.
---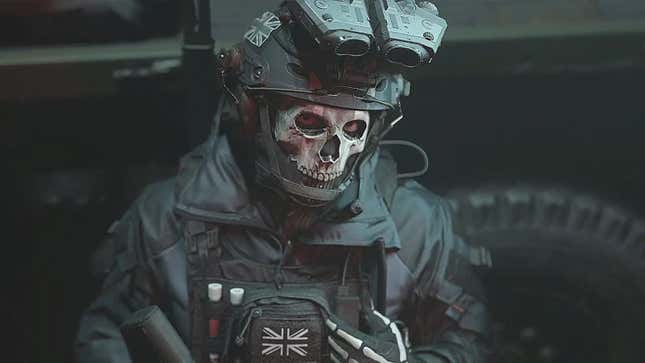 Dec. 12, 2022: Some of that frustration might be explained by this new report on Bloomberg, which says that in addition to promising that Call of Duty games would remain on PlayStation for at least the next decade as standalone retail titles (as well as arriving on the same day as they did on other systems), Microsoft also told Sony that the series could be offered on the subscription service PlayStation Plus.
---
Dec. 20, 2022: The Clayton Antitrust Act of 1914 gives Americans the right to sue companies over anticompetitive behavior, a fact which 10 self-described gamers are using to take Microsoft to court, aiming to halt the company's acquisition of Activision.
---
Jan. 5, 2023: Today, Microsoft filed a revised response to the United States Federal Trade Commission's lawsuit intended to stop the tech giant from buying up Call of Duty publisher Activision. The initial filing contained multiple arguments claiming the FTC itself and its court system were unconstitutional. But now Microsoft has yanked that language out of the doc and claimed it was all a mistake.
---
Jan. 30, 2023: "Hi FTC — did you catch last night's episode of The Last of Us?" tweeted Activision Blizzard's Executive Vice President of Corporates Affairs and Chief Communications Officer, Lulu Cheng Meservey. "It was incredible." What followed from the Call of Duty publisher's recently hired serial poster was a cringey thread about how The Last of Us TV show proves Microsoft should be allowed to acquire the company for $69 billion.
---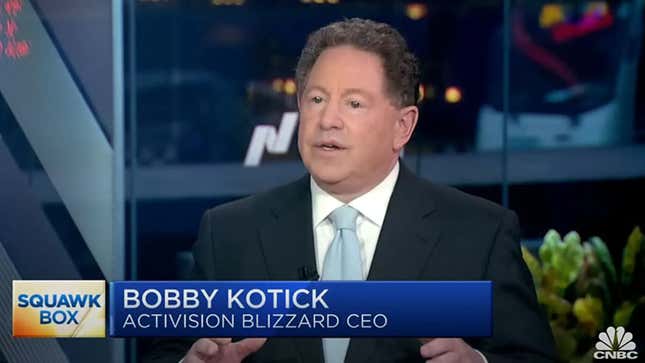 Feb. 7, 2023: Most extraordinary, though, are his comments at the end of the interview. There were reports over the weekend that the UK's Competition and Markets Authority is leaning towards saying "no" to Microsoft's purchase, which would seriously threaten the whole thing. Responding to that looming threat, Kotick simply says that should the UK try and block the deal its ambitions of becoming Europe's own Silicon Valley would be toast.
---
Feb. 8, 2023: Activision Blizzard CEO Bobby Kotick recently went on TV to say the UK would become "Death Valley" if it didn't approve his company's $69 billion sale to Microsoft. We now know why. The country's Competition and Markets Authority announced provisional findings on Wednesday that the deal would threaten competition in the gaming market, and even suggested that in order to get the merger approved, Activision Blizzard would need to sell off the Call of Duty part of its business first.
---
Feb. 8, 2023: When the CNBC interviewer asked Kotick about the competitiveness of the console market after the acquisition, the CEO pivoted deftly to the bigger problem in the room: Those darned Asian companies that have made too many dollars, pounds, and euros. How dare they!
---
Feb. 9, 2023: These particular filings are about Sony's attempts to fight the proposed sale, and that as part of their defense Microsoft is entitled to "discovery", which is basically just letting them get hold of a load of documents and emails from certain Sony executives. Both companies have been haggling over the number of executives this will include and the scope of the discovery for ages, but things took a turn earlier this month when Microsoft accused Sony of first stalling, and then not providing all the information they might need.
---
And that brings us to the present. Check back in the future, because we'll keep updating this story as the legal odyssey continues to unfold.