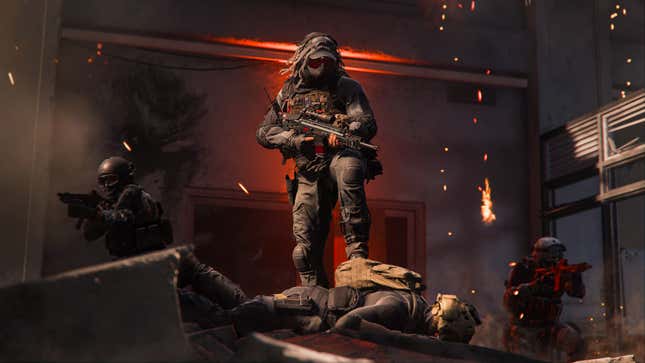 Microsoft signed another 10-year agreement to spread Activision Blizzard titles like Call of Duty—this time, to international cloud gaming service Boosteroid, the company announced in a post earlier today. The dogfight that has been Microsoft's nasty, scrutinized plan to buy Activision Blizzard has been burning on for over a year now, with Call of Duty in particular brought up several times as the reason why a merger would be both unfair and too powerful. Today's announcement is shockingly chill in comparison.
This Mini Sega Arcade Cabinet Packed With Retro Games Would Make A Great Gift
Read More: "Everything That's Happened In The Microsoft-Activision Merger Saga"

Super, super chill. Everything's fine, guys. Microsoft's agreement with Boosteroid, "the largest independent cloud gaming provider in the world" with over 4 million global users, the release claims, will bring Xbox PC games to its service. And, more quietly, Microsoft notes that "Activision Blizzard PC titles to be streamed by Boosteroid customers after Microsoft's acquisition of Activision Blizzard closes." If the deal closes.

"This means popular franchises such as 'Call of Duty' will surpass more than 150 million additional players, and make games built by Xbox Game Studios, Bethesda, and Activision Blizzard playable on multiple cloud gaming services and subscriptions," the post continues.

If the deal closes. The Federal Trade Commission is still suing to block the merger, a fact that Activision Blizzard Chief Communications Officer, Lulu Cheng Meservey, suggested rather convolutedly earlier this year would prevent a show like The Last of Us from succeeding. The merger is facing legal scrutiny in the United Kingdom and European Union, too.

Read More: "Microsoft Activision Deal Hits A Major Call Of Duty-Sized Snag"

Microsoft and Activision's legal mess needs tidying before Boosteroid, which has a Ukraine-based software development team, can move in. But for now, both the cloud gaming company and the country it could benefit seem satisfied.

"We appreciate Microsoft's ongoing commitment to Ukraine, and we will be working together on an initiative supporting our local game development community to invest further in the economic recovery of the country," Boosteroid CEO Ivan Shvaichenko said in the post.

Likewise, Ukraine's Vice Prime Minister Mykhailo Fedorov said, "Microsoft partnering with Boosteroid is welcome news and further evidence of the company's ongoing support for Ukraine."

Microsoft president Brad Smith is feeling confident, too, telling The Wall Street Journal about this Boosteroid deal that "if the only argument is that Microsoft is going to withhold Call of Duty from other platforms, and we've now entered into contracts that are going to bring this to many more devices and many more platforms, that is a pretty hard case to make to a court."

"Regulators have in fact dealt with these issues for a long time. So have we. And they have proven to be eminently manageable," he said. Yeah, but did they involve Call of Duty?