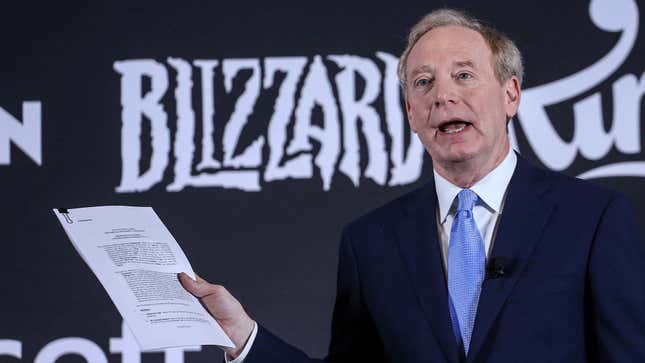 Earlier today, Microsoft President Brad Smith and Xbox boss Phil Spencer talked briefly to the media about its ongoing attempt to consume Activision Blizzard King, continuing once again to act like the larger spat is mostly about Call of Duty. At one point, Smith said he was carrying a contract with him that would keep Call of Duty on PlayStation after the sale goes through, claiming that it all came down to Sony actually signing the thing. Conveniently, he was ignoring that the hold-up on the contract was happening because, y'know, the deal itself–which could potentially have an industry-wide impact that far outstrips Call of Duty.
This Mini Sega Arcade Cabinet Packed With Retro Games Would Make A Great Gift
For those of you just tuning in, Microsoft has spent the last 12 months trying to buy Activision Blizzard for the astoundingly large amount of $69 billion. However, almost since the moment the deal was announced, regulators and governments around the world, as well as rival companies like Sony, have voiced opposition to the deal. These entities don't want the deal to go through because it could give Xbox too much power over the industry by owning many of the biggest brands in gaming, such as Starfield and Minecraft (among other issues). And Microsoft has spent the last year jumping from courtroom to courtroom and country to country, trying to convince everyone that one massive corporation buying up another massive corporation is totally good for the industry and not horrible at all. It also keeps trying to get Sony to sign a deal on Call of Duty as a part of these efforts.

So today—as part of this ongoing worldwide tour of courtrooms and regulatory councils—Microsoft execs were in Brussels, Belgium as part of a behind-closed-doors hearing with the European Commission, which (like many other groups) has concerns about the Activision deal. After that hearing, Smith and Spencer held a brief media…briefing (heh) and mostly went over the same things they've said before about how Sony is already dominating the game industry and how Microsoft needs Activision Blizzard to compete. All of these arguments were trotted out while also pointing out that Nintendo had just signed a 10-year deal with the company to bring Call of Duty to Switch, a deal that's come across as Microsoft trying to prove it won't keep some of its biggest franchises to itself should the deal go through. And if it's willing to put forth a decade-long deal on Call of Duty, the thinking goes, Microsoft is clearly not trying to build a monopoly through this deal.
Read More: Everything That's Happened In The Activision Blizzard Lawsuit
It was during this part of the briefing, as reported by GameIndustry.biz, that Smith revealed that he was actually carrying the contract for a similar deal that would keep Call of Duty on PlayStation consoles. It was in an envelope in his pocket.
"We haven't agreed on a deal with Sony, but I hope we will," Smith said, "I hope today is a day that will advance our industry and regulation in a responsible way. Sony can spend all its energy trying to block this deal, which will reduce competition and slow the evolution of the market. Or they can sit down with us, and hammer out a deal."

Of course, bringing the actual contract with you on your trip to Europe is clearly just a way to dramatically remind people that Sony isn't playing ball and is pushing back against the proposed Activision deal over concerns that it could lose access to Call of Duty, a series Sony in the past has called "essential." And to be clear: Even after signing that deal, Sony could still lose Call of Duty after the initial decade if Xbox doesn't offer up another, similar contract in 2033. ( It's also just weird to bring it with you, beyond using it as a prop, unless Smith thought Sony was going to rush the stage at that moment and sign…) And it's also another example of Microsoft acting like everyone is concerned about Call of Duty just because Sony seems to be focused mostly on that part of the deal.

In fact, at one point during the briefing, Smith literally said that the "number one concern that people have expressed about this acquisition is that Call of Duty will be less available to people."

That's a wild thing to say! And it just ignores all the other valid issues people and governments have with this deal, like how it could make the industry smaller and more susceptible to collapse, how it could position Game Pass as a more powerful force that could begin to hurt studios that don't make deals with Xbox, or just the basic reality that—historically speaking— corporate mergers are awful for consumers.
In other news involving this seemingly-never ending saga, Microsoft also confirmed it had signed a 10-year deal with NVIDIA to allow GeForce NOW players to stream Xbox PC games and Activision PC games, including the all-important CoD, if the deal is approved and happens. This, along with the Nintendo deal, is clearly being promoted heavily by Microsoft, right before today's hearing, as evidence that the company is not going to lockdown Call of Duty or other Activision Blizzard games to one platform or service.

Spencer even tweeted about the deal, adding that the company is "committed to bringing more games to more people - however they chose to play." Well, unless you want to play Bethesda's next big RPG, Starfield, on a PS5. Then uh…tough luck!