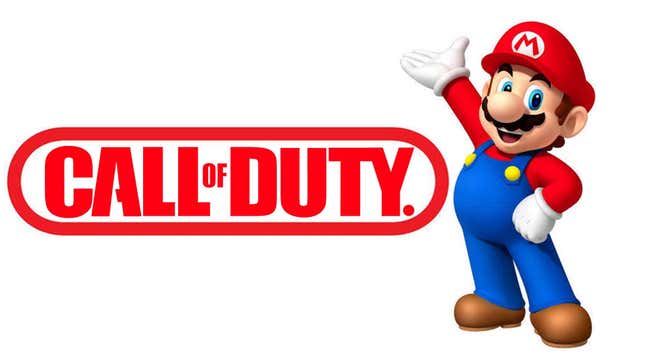 Microsoft's president and vice chairman Brad Smith announced today that the company signed a 10-year contract to bring Xbox games to Nintendo consoles.
Thank You, PS Plus, For Making My Backlog Even Bigger
Smith took to Twitter to announce the "binding" contract, promising to drop "Xbox games and Activision titles like Call of Duty" on Nintendo hardware at the same time these games hit Xbox consoles. The news comes as Microsoft's roughly $69 billion acquisition of Activision Blizzard is put under the magnifying glass by almost every regulator imaginable.
What does the Microsoft and Nintendo agreement entail?
"Microsoft and Nintendo have now negotiated and signed a binding 10-year legal agreement to bring Call of Duty to Nintendo players—the same day as Xbox, with full feature and content parity—so they can experience Call of Duty just as Xbox and PlayStation gamers enjoy Call of Duty," the statement reads. "We are committed to providing long-term equal access to Call of Duty to other gaming platforms, bringing more choice to more players and more competition to the gaming market."
Read More: Everything That's Happened In The Microsoft-Activision Merger Saga
The two companies were already in talks to secure the deal. In December 2022, Xbox boss Phil Spencer tweeted that Microsoft had "entered a 10-year commitment to bring Call of Duty to Nintendo" once the Activision Blizzard merger was complete. Spencer said Valve's PC-based storefront Steam would also continue getting Activision Blizzard titles.
Smith's latest news, though, suggests a more formal agreement has been completed, as he noted the deal has been "signed and negotiated." The mention of a binding agreement is new, as well, signaling that Activision and Microsoft have now promised Nintendo fans military shooting action.
Kotaku reached out to Microsoft and Nintendo for comment.
Will Activision Blizzard games still be available on other platforms, like PlayStation?
It's interesting, though, that this new statement from Smith further points to the idea of Microsoft "bringing more choice to more players" and giving "more competition to the gaming market" when one of the largest console manufacturers is preparing to buy one of the biggest game publishers. Industry consolidation doesn't lead to more choice, but we'll see if Microsoft makes good on its promise to Nintendo and Sony.
Read More: Microsoft Announces Bizarre Pledge To Bring Call of Duty To Nintendo Consoles
What the future of ActiBlizz multiplatform titles looks like in the wake of the company getting scooped up by Microsoft always hung in the balance. Many see the buyout as anti-competitive, with governmental bodies like the FTC and even a group of gamers attempting to block the acquisition. Call of Duty, Activision's hugely popular and successful first-person military shooter, has been at the heart of the debate, as Sony has called the series "essential" for the industry. Microsoft agreed to offer Call of Duty to Sony for at least 10 years.
Has Call of Duty been on Nintendo consoles before?
You know, it's been a minute since Call of Duty was even on a Nintendo console. If you can believe it, it's actually been almost 10 years since 2013's Call of Duty: Ghosts was the last one to hit the Wii U. Every other entry since has skipped over the family-friendly systems. However, with this inked deal, maybe we'll see a The Legend of Zelda-themed weapon or Super Mario Bros. operator skin or something along those lines.