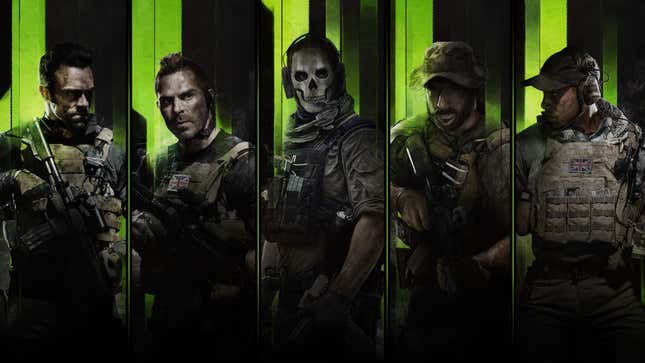 In new documents, Sony seems worried and more paranoid than ever about the prospect of Microsoft owning Call of Duty should that company's deal to consume Activision Blizzard go through. It goes so far as suggesting that Microsoft could raise the price on future Call of Duty installments or potentially release a buggier, lower-quality port of the game on Sony's PlayStation consoles.
Hollow Knight: Silksong's New Gameplay Trailer Is Living Rent-Free In Our Brains
A quick recap: Microsoft has spent the last 12 months trying to buy Activision Blizzard for $69 billion. But many regulators, governments, and rival companies around the world have opposed the merger. These entities have concerns, fearing the deal would give Xbox too much power over the video game industry. In response, Xbox execs and lawyers have spent the last year or so trying to convince everyone that a massive corporation buying up another massive corporation is totally fine, devoid of any negative repercussions. In an effort to appease lawmakers and regulators, it also keeps trying to get Sony to sign a deal that would keep Call of Duty on PlayStation consoles. (Microsoft struck a similar deal with Nintendo last month.) And now Sony sounds worried that even after signing the suggested deal, there still might be some problems.

Read More: Everything That's Happened In The Microsoft-Activision Merger Saga

In new documents submitted to the UK's Competition and Markets Authority (CMA), Sony lays out some hypothetical ways in which Microsoft could circumvent the proposed 10-year deal (or any future deal) it is offering PlayStation. Among these possibilities, Sony posits a situation in which a new Call of Duty game debuts but is buggier on PlayStation, which it says could lead to gamers choosing to buy the shooter on Xbox in the future.

Microsoft might release a PlayStation version of Call of Duty where bugs and errors emerge only on the game's final level or after later updates. Even if such degradations could be swiftly detected, any remedy would likely come too late, by which time the gaming community would have lost confidence in PlayStation as a go-to venue to play Call of Duty. Indeed, as Modern Warfare II attests, Call of Duty is most often purchased in just the first few weeks of release. If it became known that the game's performance on PlayStation was worse than on Xbox, Call of Duty gamers could decide to switch to Xbox, for fear of playing their favourite game at a second-class or less competitive venue.
Sony doesn't go as far as to say Microsoft and Activision would purposely release a worse, buggier port of CoD on PlayStation consoles. But the broader point the company is trying to make is that Microsoft could still figure out ways to hurt the PlayStation brand through its stewardship over Call of Duty, even if a fair deal was figured out and approved by the CMA and other regulators. For example, in another section of the doc, Sony further suggests that Microsoft could choose to "ignore PlayStation-specific features" like the DualSense controller's fancy haptic triggers, or not invest as much money or time into CoD's multiplayer experience on PS5 or PS4.

Kotaku contacted Microsoft and Activision for comment.

It's unlikely Microsoft will ship a buggier Call of Duty on PS5
Of course, all of this is starting to sound very paranoid on Sony's part. While Microsoft certainly wants people to buy Xbox consoles and purchase Call of Duty installments on them rather than elsewhere, I find it very hard to believe that the company would purposely release a worse version of a game on PS5.
Sure, that could hurt Sony a bit, but it would also look bad for the franchise, and Activision and would likely end up hurting its Call of Duty brand more in the long run.

These docs, which were filed originally in late February and released today, come after the CMA announced provisional findings that the proposed merger would threaten competition in the gaming market, and even suggested that in order to get the deal approved, Activision Blizzard would need to sell off the Call of Duty brand first. That's unlikely to happen, so expect more wheeling and dealing and complaining from all involved parties.

Update 3/8/2023 7:00 p.m.: A Microsoft spokesperson pointed Kotaku to a specific section—3.11—in the company's own response to the UK's CMA:
By ensuring parity between Sony, as the largest console platform, and Microsoft, the proposed remedy will ensure that CoD is, in fact, made available on "equal terms" (which has not been the case for the past 20 years), benefitting Xbox and PC gamers, as well as PlayStation gamers. Moreover, the proposed remedy will allow Sony to place CoD in its own subscription service PlayStation Plus.
The company also sent over this statement in response to the CMA's provisional findings that suggest the deal would threaten competition:

Since the CMA issued its Provisional Findings, we have offered solutions which address its concerns and increase the deal's benefits to UK players and game developers.

These include a guarantee of parity between Xbox and PlayStation on access to Call of Duty and legally binding commitments to ensure that Call of Duty is available to at least 150 million more players on other consoles and cloud streaming platforms once the deal closes. The decision now lies with the CMA on whether it will block this deal and protect Sony, the dominant market leader, or consider solutions that make more games available to more players.
Update 3/9/2023 11:00 a.m.: Activision sent Kotaku a statement about Sony's CMA response:
Microsoft has shown its commitment to making more games available on more platforms, across console, PC, cloud and mobile. The solutions presented are legally binding, and beyond that, our passionate player community would hold Microsoft accountable for keeping its promises.

It's unfortunate for consumers that Sony continues to deny the opportunity for a long-term agreement and is undermining the deal to protect its two-decade dominance in video games. In an industry dominated by growing competitors from protected markets - who have massive talent pools and strong libraries of IP - this merger will allow us to continue to create incredible games and make sure those games reach more people, however they want to play.