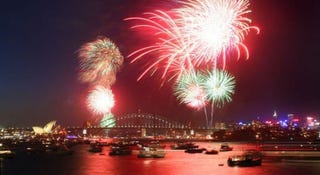 We've said goodbye to a decade that really had no name, but I haven't heard much consensus on what we're gonna call this one. The Tens? Tweens? Twenty-teens? We've got another 9 years and 364 days to figure it out.
Quick programming note: Like Christmas weekend, this too will be one of abbreviated coverage as your erstwhile weekend writer finishes his holiday observances two days behind schedule. Don't worry, the next time we have a shortened weekend will be in May. All standing features will run at their regular times, including weekend coupons.
And with that, here is the week - and the end of the year - in original coverage.
Reviews, Previews, Hands-On and Impressions
0 Day: Attack on Earth Micro-Review: Where's Will Smith When You Need Him?
N.O.V.A. Micro-Review: Say "Halo" to iPhone's New Shooter
Avatar: The Game Micro-Review: Palm-size Pandora
Need For Speed: SHIFT Micro-Review: Changing Gears
Features
The 2009 eBay Holiday Video Game Grey Market Report
A Frag Without the Fest: If Chess Was a Shooter
Can the West Cosplay with the Best of Them?
Holidays and 2009
Happy Holidays From Kotaku
Kotaku's Most Popular Posts Of 2009
Paradox Interactive's Holiday Greeting Is Certainly Majestic
Columns
Stick Jockey:The Sports Video Games of the Year
Well Played: Terror at 30,000 Feet: Game-Free Transcontinental Flights?
News
Hori's DSi Play Stand + Stylus: Why?
Something Modern Warfare 2 Got Wrong About Pakistan
New Fist of The North Star Screens/Art Already Dead
CES 2010: A Special Programming Note
Japanese Arcade Themed Like China's Back Streets
South Korea's First Person Shooting In 3D World
Sports
NCAA Football - Where My High School's Name is in the Game
Cosplay
Comiket's Sexy Pikachu Girl And Friends
The Cosplayers of Kotaku
Zelda Wedding
The Legend of Zelda: The Wedding: The Video
It's The Little Touches That Make A Legend Of Zelda Themed Wedding This Great
Contests
Win An Autographed copy of Zelda: Spirit Tracks and More
iPhone
So Now I Have My Own iPhone - What Games Should I Get?
iPhone Chart Toppers: Zombies Versus Marines in Spaaaaaace