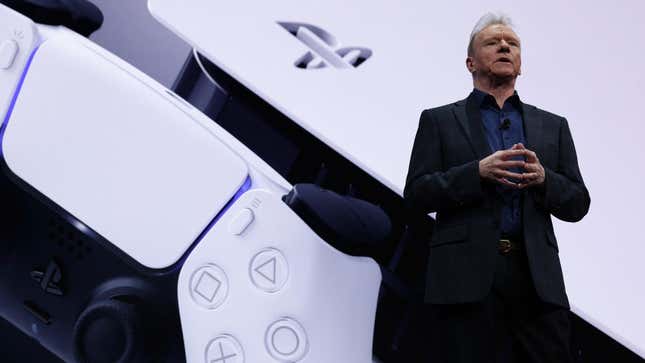 Over a year after it was first announced, Microsoft's $69 billion Activision Blizzard deal is being picked apart under a microscope by regulators. It still appears to be crawling towards its inexorable conclusion, but things are getting very messy, and incredibly silly, in the process.
Thank You, PS Plus, For Making My Backlog Even Bigger
The latest stunt? Activision's chief communications officer accused Sony Interactive Entertainment CEO Jim Ryan of refusing to even consider an agreement that would keep Call of Duty on PlayStation for 10 years, apparently in the hopes of sabotaging the biggest tech merger in history.
"I don't want a new Call of Duty deal," Ryan reportedly said in a close-door meeting in Brussels, Belgium last month. "I want to block your merger."
That's according to Activision's Lulu Cheng Meservey, who you may remember from past Twitter threads such as Elon Musk critics need not apply, unions are bad actually, and "Sony is 'the first of us.'" Responding to a follow-up question by The Verge's Tom Warren, she confirmed the comment was made on February 21, the day Microsoft and Sony met for closed door hearings with EU regulators.
The comment, which Sony has yet to confirm or deny, is at once both obvious and an unusual breach of the hyper secrecy around everything that's become standard operating procedure in the video game industry. Microsoft Gaming CEO Phil Spencer propped the door open last fall when he told The Verge that his company had previously presented a proposal to Sony to extend its current contract to bring Call of Duty to PlayStation. "I hadn't intended to comment on what I understood to be a private business discussion," Ryan responded at the time. Meservey's tweet yesterday was the equivalent of kicking that door down.
Read More: Everything That's Happened In The Microsoft-Activision Merger Saga
It's also just the latest chess move in an absurd game of two tech behemoths jockeying for position in the global gaming market by trying to work the refs. The UK's Competition and Markets Authority, which Microsoft has accused of being in Sony's pocket, suggested last month that it simply buy every part of Activision Blizzard except the Call of Duty one.
Microsoft recently responded with proposed deals to put the blockbuster franchise on Switch and keep it on PlayStation for at least 10 years. Sony countered that there was nothing to stop Call of Duty from being buggier on PlayStation than Xbox if Microsoft owns it. Microsoft said nuh uh. Activision Blizzard CEO Bobby Kotick said the UK would become "death valley" if it messes the deal up.
Meanwhile in the EU, Reuters recently reported that Microsoft seems poised to prevail, while in the U.S. the Federal Trade Commission is still preparing its antitrust lawsuit that seems engineered more to extract concessions than to completely scuttle the merger. And Microsoft has already prevailed in other large markets like Brazil.
This entire process has been enlightening and useful in so far as it's forced companies to reveal things they never would have otherwise, including that Game Pass does cannibalize some sales on Xbox, and that Sony doesn't think Electronic Arts' Battlefield will ever truly be able to compete with Call of Duty. But it's also been a ridiculous sideshow in how much it's revolved around a single game and a few metrics like console market share.
Last year's Modern Warfare II proved the multiplayer shooter series remains incredibly popular and profitable. At the same time, video games have shown time and again how foolhardy and perilous it is to try and predict what players will want five years out. The Xbox 360 ate the PS3's lunch. Sony returned the favor with the PS4. Everyone thought Nintendo would go out of business after the Wii U. The Switch is now the best thing it's ever made. Hey, wait, I've got an idea. What if instead of buying Activision Blizzard, Microsoft just made the Switch 2?
Sony, Microsoft, and Activision did not immediately respond to requests for comment.
Correction 3/10/23 11:58 a.m. ET: The Elon Musk thread wasn't deleted, just the part of it referencing "context collapse."