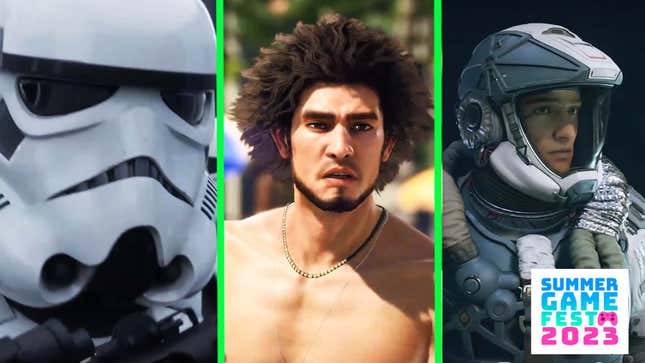 Today, June 11, Xbox took the stage during Geoff Keighley's big, not-E3 Summer Game Fest 2023 extravaganza to show off the future of Xbox and Game Pass. Microsoft has struggled in recent years to release big hits and this year's Redfall flop didn't help right the ship. So today was a big deal for the company as it tried to convince everyone that Xbox's future was filled with big games—like Fable, Halo, Forza, and more—that you'll want to play.

Hollow Knight: Silksong's New Gameplay Trailer Is Living Rent-Free In Our Brains
You can continue on for our round-up of everything Xbox revealed, announced, and presented. Or you can also watch the entire presentation here:
---
Fable
In a "funny" and "quirky" trailer, we met Dave (played by Richard Ayoade) who explained that the age of heroes is over and is then revealed to be a giant who attacks the main player character. We also saw a few seconds of what looked like gameplay before we almost got an F-bomb. No release date, but it will be on Game Pass on day one.
---
South of Midnight
Compulsion Games, the studio behind We Happy Few and Contrast, has revealed its next game: South of Midnight. In the CG trailer, an undead-like guitar player is interrupted by a woman looking for a big ol' monster. Looks neat, but no release date was given.
---
Star Wars Outlaws
Ubisoft and Massive Entertainment's Star Wars game was revealed during today's Xbox showcase. In a CG trailer, we meet a group of non-Jedi scoundrels who mention a "Syndicate" and "criminal underworld." We also see what appears to be the main character playing Sabaac before she is attacked in a very Star Wars-y catina and escapes using a speeder bike. She also has a cute creature as a pet, which almost distracted me from the 2024 release date. Ubisoft will have more to share about this game during its own Summer Game Fest Event.
---
33 Immortals
Want a game that sort of looks and plays like Hades but that can be played with 32 other players? Well, that's a weirdly specific request, but developer Thunder Lotus has you covered with its upcoming 33 Immortals. It's out in 2024 and will be a Game Pass day one release.
---
Payday 3
It's time to rob some more banks in the upcoming Payday 3. The co-op FPS is out September 21 and—like so many other games shown today—will also be a Game Pass day-one launch.
---
Avowed
Today, we saw our first gameplay of Obsidian's next big RPG: Avowed. Apparently, a deadly plague is ravaging the lands of this fantasy world and the empire's lazy emperor has sent you, a tough-as-nails warrior, to fix the situation. How do you fix such a problem? Well, duh, you run around killing everything and using magic in gameplay that looks a lot like a modded version of Skyrim. Microsoft says this is out in 2024 and will be on Game Pass at launch.
---
Sea of Thieves x Monkey Island crossover
Usually, IP crossover stuff feels forced or out of place. But Microsoft's Monkey Island and Sea of Thieves update, which adds a whole new story campaign to the online pirate sim, feels like a perfect combo. It also sounds like all the original voice actors are back to play characters like Guybrush and Stan S. Salesman. Maybe I'll reinstall Sea of Thieves to check out this free update on July 20.
---
Microsoft Flight Simulator 2024
The next entry in Microsoft's rebooted flight sim franchise is coming out next year, and it features a whole ton of aerial-related careers, including fire fighting, search and rescue, cargo delivery, and crop dusting. Microsoft also revealed a new Dune-themed expansion coming to Microsoft Flight Sim in November.
---
Senua's Saga: Hellblade II
Ninja Theory says all this footage was captured on an actual Xbox Series, and if so, it looks very good! No specific release date yet for this sequel, but it's out in 2024 and will be on Game Pass day one. (Like nearly everything shown today.)
---
Like A Dragon: Infinite Wealth
Ichiban Kasuga wakes up nude on a beach in what looks like...Hawaii? Interesting! Also, this reveal trailer features a lot of good gags where objects or people hide Ichiban's penis like a 2005-era Austin Powers movie. This next entry in the Yakuza/Like A Dragon franchise is out "early 2024" on PC and Xbox.
---
Fallout 76 goes to Atlantic City
A whopping 15 million players have apparently played Fallout 76. And good news for them, it seems Atlantic City will soon be explorable in a future update.
Kunitsu-Gami: Path of the Goddess
Capcom's upcoming Path of the Goddess has a bit of a demon problem...I assume swords and magic will help with that.
---
Forza Motorsport launches this October
It's been a long time coming, after radio silence and multiple Forza Horizons, but Turn 10's next main entry in the Forza Motorsport franchise is coming out on October 10. In the new gameplay trailer shown during the event, we got a look at some new GM vehicles, including the Corvette E-Ray.
---
Persona 5 Tactica
The Persona 5 universe is expanding with a new stylish, anime-ass tactical game. And you won't have to wait long. It's out on November 25 of this year.
---
New Starfield gameplay trailer
It was a bit odd to get a whole new trailer for Bethesda's big space RPG during this event when they already announced a whole show dedicated to Starfield was coming after the Xbox showcase. But hey, I'm not in charge of their event planning.
---
Jusant
There aren't enough mountain climbing video games. I've been saying this for years! Thankfully, Jusant is here with some nice-looking rock climbing and magic. Neat! Jusant is out in the fall of this year.
---
Still Wakes The Deep
A very short trailer for this one, but The Chinese Room's next game appears to be a creepy first-person horror game set on an oil rig. Not many other details were revealed beyond a 2024 release.
---
Dungeons of Hinterberg
I remember seeing some gameplay for this modern-fantasy exploration RPG on Twitter a few years ago and thinking back then, "Huh, I'd like to play more of this!" Well, good news for me, Dungeons of Hinterberg is coming in 2024 and will launch on Game Pass on day one.
---
Keanu Reeves appears to show off Cyberpunk 2077's new expansion
The first big expansion for CD Projekt Red's Cyberpunk 2077, Phantom Liberty, brings Johnny Silverhand back and also stars Idris Elba as special agent Solomon Reed. Reeves commented that it was "cool" to be a part of this game with the actor. This big expansion is out September 26.
---
Cities Skylines II
Sure roads are nice. But do you know what's more important than roads or buildings? You! Yes, you are very important in Cities Skylines II, a new city builder sequel coming to Xbox and PC on October 24.
---
Metaphor: ReFantazio
This new JRPG is from Studio Zero, which is made up of some of the creators behind Persona 3 and Persona 4. The trailer definitely has a Persona look and feel to it, which isn't a bad thing at all! Metaphor is out in 2024 and is coming to Game Pass on day one.
---
Towerborne
Towerborne comes from the creators behind The Banner Saga trilogy and features an evil destroying humanity. It's always something with evil fantasy forces! Thankfully, you'll be able to fight and explore alongside friends in Towerborne when it launches in 2024.
---
Clockwork Revolution
Bioshock Infinite isn't a great game and has some problems. But boy, was it an interesting world to explore and look at. And Inexile's next big game, Clockwork Revolution, looks very inspired by Infinite, with Steampunk-esque aesthetic and first-person shooting. The game will also let you manipulate time and the future, which will definitely not cause any problems at all! Sadly, no release date beyond a cheeky "in due time." Get it? Like time?
---
A new Xbox console
At the very end of the event, Phil Spencer re-capped everything but also announced a new Xbox Series S console that will include a 1TB SSD and will be all black. This new version will cost $350 and launches September 1.
---
Kotaku is covering everything Summer Game Fest, from the main show on Thursday to other events happening throughout the next week. Whether you're into larger-than-life triple-A games or intimate, offbeat indies, you can keep up with all things SGF here.