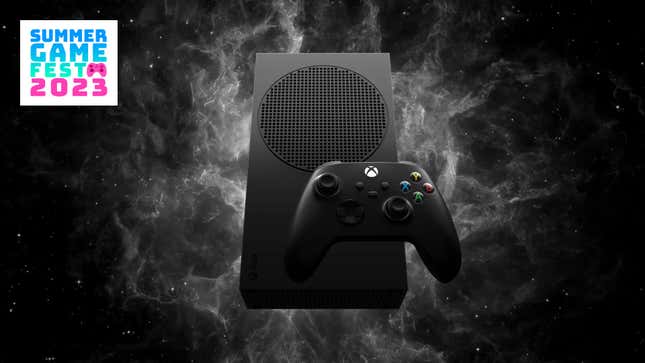 It's not an all-out hardware refresh, but the Xbox Series X/S family is growing. Microsoft announced a new Carbon Black Xbox Series S with 1TB of SSD storage for $350. It arrives September 1, just in time for Starfield and the beginning of a steady stream of big new Game Pass releases.

Thank You, PS Plus, For Making My Backlog Even Bigger
That's basically double the SSD storage on the base Xbox Series S for just $50 more. I actually prefer the white of the existing model, which is very clean, sleek, and plays into its refined inconspicuousness. Still, I'm sure many will be interested in swapping out for the Carbon Black design. I still wish we were getting a Starfield special edition Series S though.
Meanwhile, the Carbon Black model won't have a faster processor or better GPU, so it will still play most games at lower resolution or framerates. But the 1TB storage will make it an ideal and affordable Game Pass machine. The size of modern games, from Call of Duty: Modern Warfare 2 to Star Wars Jedi: Survivor, means only a few blockbusters can monopolize all the space on a console.
This leads to what I call Game Pass Jenga, where making room for each week's new additions to the Netflix-like subscription service means figuring out which other games to abandon and, in all likelihood, never return to. The Carbon Black model will make that process a little less stressful (and for everyone else you can still pick up a relatively cheap storage expansion card instead).
In the third year of the Xbox Series X/S and PlayStation 5, it's normally the time when we'd be getting Slim or Pro versions of these "next-gen" consoles. Whether it's because of the shortages and delays associated with the pandemic years or the rising costs of development and diminishing returns of hardware upgrades, it doesn't seem like we'll be getting dramatic re-works of the consoles anytime soon. Whether the Series S can keep up with the latest games developed for more powerful machines in the meantime will be the main question.
---
Kotaku is covering everything Summer Game Fest, from the main show on Thursday to other events happening throughout the next week. Whether you're into larger-than-life triple-A games or intimate, offbeat indies, you can keep up with all things SGF here.