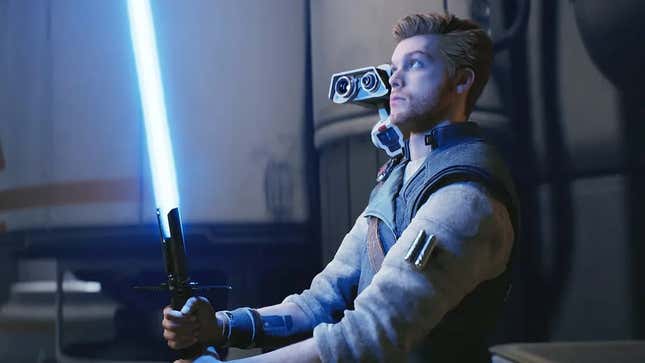 The next big Star Wars game is nearly here and it sounds way too big for the Blu-ray disc it's copied on. Jedi: Survivor requires 155 GB of available space to install on PC, and a warning on the front of the box indicates at least some of the data will have to be downloaded, whether you own a physical version of the game or not.
Thank You, PS Plus, For Making My Backlog Even Bigger
The New Zealand retailer Mighty Ape Games shared a photograph on Twitter of hard copies of Star Wars Jedi: Survivor arriving in advance of its April 28 release. Users on Reddit (via VGC) quickly noticed a warning on the PS5 case that read "download required." That means the disc alone wouldn't be enough to play the game. Instead, an online connection would be required to finish its installation.
EA confirmed as much on its website, stating a day-one patch would be required to play the game. DoesItPlay, which tracks which games work just off the disc, claims players can begin Jedi: Survivor but can't proceed after the first mission until the patch is installed. That puts it in the same boat as Hogwarts Legacy, which lets players complete the tutorial but locks the rest of the game behind a day-one patch.
Exactly how much data would need to be downloaded to make the game playable is unclear. While the total size of the game on PS5 isn't yet confirmed, the Xbox landing page states players on Microsoft's platform will need up to 133.97 GB for the Xbox Series X version. Still, even if the online installation size was minimal, it would still mean the game can't function offline, at least not at first.
While players have become used to that requirement for online multiplayer games, it still remains rare for single-player ones. 2021's Halo Infinite (96.43 GB) was one of the more notable blockbuster releases to be incomplete on the disc version of the game, despite its multiplayer being a separate free-to-play mode. Call of Duty: Modern Warfare II, meanwhile, didn't bother to put any data on the disc, essentially being just an authentication key to begin the over 200 GB download process.
Though understandable in some situations, making some big games digital-only can have huge consequences for game preservation down the road. In the event that companies go under, or server support for old platforms eventually goes offline, games like Jedi: Survivor would become inaccessible, despite not actually requiring any online connection to play the game itself.
Some games have gotten around Blu-ray data limits by adding data discs to the physical versions. Red Dead Redemption 2 and Cyberpunk 2077 both have those, letting players access the 1.00 versions of the game with the discs alone. But as the new-gen console push for 4K graphics increases file sizes, that might not be a practical solution either, at least for companies looking to cut manufacturing costs wherever possible.
Locking some content behind a digital download is also potentially one way to prevent players from accessing leaked copies of the game early. Jedi: Survivor is the latest blockbuster release that appears to have made it out into the wild ahead of its official release, and EA is currently asking players to restrain from sharing spoilers.