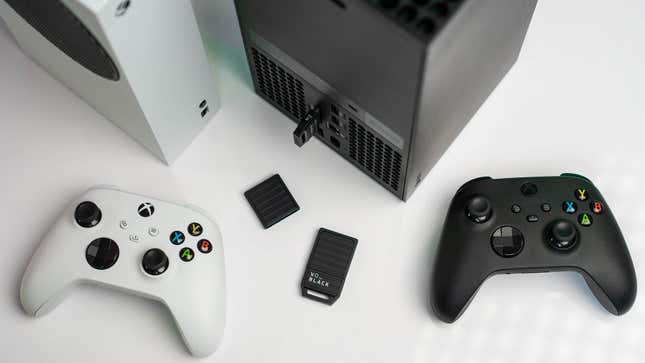 The market for Xbox Series X/S storage expansion cards just got a little more competitive. Electronics maker Western Digital just announced a new line of memory cards starting at 500GB that are $10 less than the existing options from Seagate, just in time for the onslaught of big 2023 releases and upcoming Game Pass announcements.

Thank You, PS Plus, For Making My Backlog Even Bigger
The new WD_BLACK C50 cards start at $80 for the 500GB option and $150 for the 1TB option. By comparison, Seagate's cards are $90 and $150. That's a slim savings at the low end that nevertheless probably wouldn't exist if Seagate hadn't slashed prices in anticipation of Western Digital's long rumored entry into the Xbox storage card market.
It's part of a steady trend of Microsoft's proprietary expandable storage accessories slowly coming down in price. When the Xbox Series X/S first launched in 2020, Seagate was charging $220 for the 1TB option. By Christmas 2021, the 500GB option was still $140, while a deluxe 2TB option was even more expensive than the Xbox Series S itself.
The cheaper option comes at just the right time to considering game install sizes continue to get bigger and bigger, and a recent flood of great games—Star Wars Jedi: Survivor, Street Fighter 6, Diablo IV—means the Xbox Series X/S base storage will struggle to keep, especially with Final Fantasy XVI and Starfield on the horizon. Western Digital's $80 storage card even comes with a free month of Game Pass Ultimate.
Xbox Series X/S storage expansion is still generally more expensive than on PlayStation 5. Western Digital also announced a new line of SSD cards for Sony's console, where there are a lot more options in general because of the lack of a proprietary format. The only downside is that installation is slightly more involved than just pushing the card into a dedicated external slot. Now if only there was a Starfield storage card to go along with the recently leaked controller and headset.