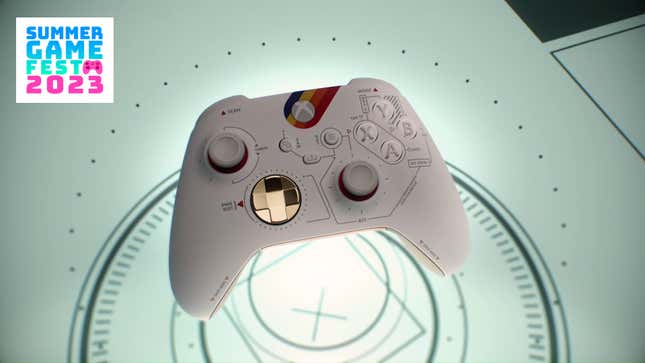 The saga of the Starfield Xbox controller has been going on for months, but we now have our first official look at the sleek retro-sci-fi-style gamepad and its corresponding headset from the extended Starfield direct at Microsoft's Xbox showcase. They might just be my favorite-looking Xbox accessories yet.

The Xbox Series X/S controller is $80 while the gaming headset is $125. That's about $10 more than the standard special design gamepad and $25 more than the standard wireless Xbox headset. But if you already pay for Game Pass, then Starfield won't cost you a thing, so now you have something else to throw your pocket money at. There's also a $300 version of Starfield that comes with a watch like the one players get in the game and early access to the open-world space RPG starting on September 1.
Here they are straight from creative director Todd Howard himself:
The special edition peripheral was first spotted back in April via photographs uploaded to Imgur that seemed linked to a user in China, possibly someone close to the manufacturing or shipping operation responsible for making it. Then in late May, dataminer and product leaker billbil-kun reported that the Starfield controller would be priced at $80 and announced alongside a similarly-themed headset at the June 11 Xbox Showcase (via VGC).

That brings us to June 2, when an image of a finished, boxed unit appeared on Reddit and was later shared on Twitter by Xbox gaming news account Idle Sloth.

Some fans were still skeptical that it might all be an elaborate fake, in part because it just looks too damn good. At the same time, Microsoft has a history of going all out on special controller designs for its blockbuster exclusives. The Forza Horizon 5 limited edition gamepad was especially inspired and I'm still kicking myself for having never bought one.
I'm not going to make the same mistake with the Starfield one. It's much subtler and I love the grey flight UI overlay and retro rainbow colorway. As I wrote on Twitter, it doesn't matter if Biden restarts student loan payments or my kids need new sneakers—I'm finding room in the budget. I'm also curious to see if the matching headset has a similar aesthetic.
Starfield, meanwhile, arrives on September 6. Unless it gets delayed again, of course.
Update 6/2/2023 2:57 p.m. ET: Some more images of the box that the controller comes in have seemingly leaked, including descriptions on the back.
Update 6/6/2023 11:09 a.m. ET: The leaks just keep coming. Fans are now discovering the controller on store shelves ahead of Microsoft's showcase:

And here's the headset:
Update 6/6/2023 12:59 p.m. ET: Keep 'em coming:
Update 6/7/2023 4:01 p.m. ET: Starfield Xbox controller watch continues and oh my god it's shipping with a goddamn Duracell battery instead of a rechargeable one (which is normal, but still).
Update 6/11/2023 2:42 p.m. ET: Added new information about the controller from the official Xbox Showcase reveal.
---
Kotaku is covering everything Summer Game Fest, from the main show on Thursday to other events happening throughout the next week. Whether you're into larger-than-life triple-A games or intimate, offbeat indies, you can keep up with all things SGF here.