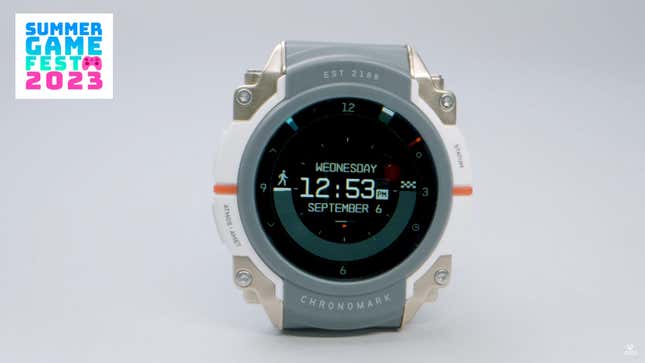 During the Starfield Direct at Summer Game Fest, executive producer Todd Howard interrupted the 437 hours of game footage to ask if anyone fancied buying one of these 'ere watches he had for sale. Surreptitiously opening his coat, while furtively looking around for cops, he said not to worry if the real gold straps left green marks on your arm. Wait, that's a lie. He in fact pointed out how these neat-looking devices match the ones used for UI in-game, and come in a presentation box that looks like it's recently arrived back from space.
It's pretty sweet-looking, right? It features a circular screen and, as you'd expect from a modern watch in these modern times, connects to your phone. It also provides you with the sort of information you need for space travel—things like the local pressure, temperature, and your acceleration. And probably the time.
I love the detail of "EST 2188" up top, and the color and pattern is pleasingly subdued, matching Starfield's 1970s-influenced palette, but without the game's pseudo-rainbow pattern that would have overwhelmed the face.
Not a great deal of information about the watch was revealed. No price has been announced, nor whether you can buy it independently of the special edition version of the game it comes with. However, all the way back at the beginning of 2022, the existence of this watch was leaked, along with its manual, meaning that unless there have been dramatic changes, we at least know it's running Android. It'll also have a flashlight mode, all sorts of fancy graphs for weather data, and of course provide you notifications from your phone. Oh, and it's made by The Wand Company.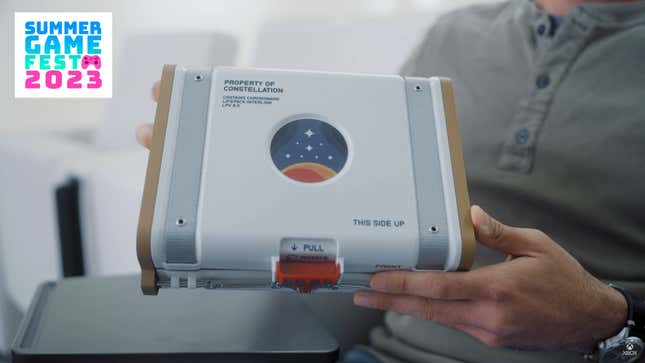 The other intriguing aspect is its case. It was, Bethesda says, inspired by the cases the astronauts used during the Apollo era to bring back samples from the moon. Moon samples. It comes complete with a really awesome-looking catch that requires a hefty clunk-n-click, and a strap and patch inside so you can feel like a real, proper, grown-up astronaut too.

You'll likely be able to get your hands on one come September 6 when the game releases, although peculiarly, Starfield's pre-order page is currently lacking a button or a price for this most expensive way to buy the game.