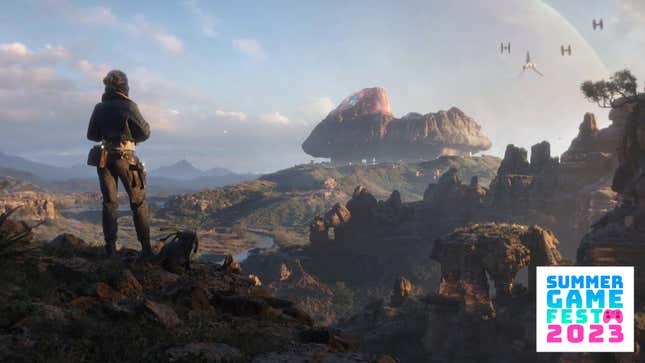 Is Ubisoft making a massive new blockbuster that actually has a great story and interesting characters? Star Wars Outlaws certainly makes it look that way. The open-world sci-fi game from the publisher's Division 2 studio revealed itself to the world at Microsoft's Xbox Showcase, and it looks incredible so far.

A Foe From The Next Team Ninja Game Is Giving Me Sekiro PTSD
The trailer follows a rogue-ish character named Kay as she navigates the criminal underworld of the Star Wars universe. There are spaceships, blasters, and Clone Troopers. Perhaps most surprisingly, the PlayStation 5, Xbox Series X/S, and PC release's debut doesn't look like just another Star Wars game. Take a look for yourself:
While the trailer doesn't offer any real details on how the game will play—is it a third-person action-RPG or a more cinematic over-the-shoulder adventure game—it does make Star Wars Outlaws look like it will be centered on characters rather than mechanics and a barrage of systems Ubisoft's map games have become infamous for. At least that's what I'm hoping.

When does Outlaws fall in the Star Wars timeline?
The game is set between Star Wars: The Empire Strikes Back and Star Wars: Return of the Jedi, with Kay preparing to pull off one of the "biggest heists the Outer Rim has ever seen" as the war between the Empire and the Rebel Alliance enters its end game. She'll have the help of the creature Nix who hangs out on her shoulder and the steely brawn of the trench-coat wearing BX-Commando Droid. 
We've known Ubisoft has been working on a Star Wars game for a couple of years now, but as Kotaku recently reported, the game is farther along in development than some fans might have previously suspected. Last we heard, the game is targeting a March 2024 release date, though some within Ubisoft think that date is still unrealistic, despite the game's promising progress.
The Assassin's Creed publisher is desperate for a win after years of delays, projects stuck in development hell, and disappointing earnings. If the final version of Star Wars Outlaws is as good as its first trailer looks, it could mark the start of that turnaround.
---
Kotaku is covering everything Summer Game Fest, from the main show on Thursday to other events happening throughout the next week. Whether you're into larger-than-life triple-A games or intimate, offbeat indies, you can keep up with all things SGF here.