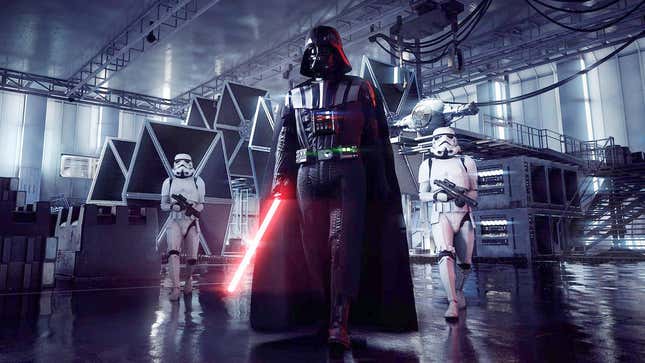 Star Wars takes place in a galaxy far, far away. But Ubisoft's first video game adaptation of the beloved sci-fi franchise could be just around the corner. Kotaku has learned the French publisher's open-world game is currently targeting a projected release date in early 2024 as the company scrambles for a major win after a year of delays and projects trapped in development hell.
This Stylish Noir-Punk Side-Scroller Is Like Celeste With Guns
The Assassin's Creed maker announced its largest operating loss in history on May 16, but promised investors a healthy slate of big upcoming releases for the upcoming fiscal year which runs through March 2024. In addition to the release of Assassin's Creed Mirage, Avatar: Frontiers of Pandora, and the perennially missing-in-action pirate blockbuster, Skull and Bones, Ubsioft said "another large game" would also release within the next 12 months. According to sources familiar with the company's plans, who wished to remain anonymous because they were not authorized to speak to press, that additional game is Ubisoft's open-world Star Wars game.
First revealed back in early 2021, Project Helix as it's known internally is being developed with Massive as the lead studio. Best known for The Division 1 and 2 military loot shooters, creative director Julian Gerighty said at the time that the Star Wars game would be a big departure from that series and "totally different" from the sorts of games Massive had worked on in the past.
Two sources tell Kotaku that development on Project Helix, which seems likely to include some form of interplanetary space travel, has been progressing well and hopes are high internally that the game could be Ubisoft's first non-Assassin's Creed blockbuster hit in some time. But they also say the company's goal to release the game within the current fiscal year is probably too ambitious. They still expect it to ultimately slip to sometime in the following fiscal year (which runs from April 2024 through March 2025).
"We don't comment on rumors or speculation," a spokesperson for Ubisoft said when asked to comment.
Delays and canceled games have left Ubisoft struggling to fill massive holes in its release pipeline. Mario + Rabbids Sparks of Hope and Just Dance 2023 were its only major games last year, an unsustainable rhythm for a company of nearly 20,000 employees. Skull and Bones originally went gold last fall before going back to being indefinitely delayed, while Avatar was supposed to come out last year but was eventually pushed into 2023. Assassin's Creed Mirage, meanwhile, grew out of an expansion for Assassin's Creed Valhalla after Ubisoft realized other major games in development wouldn't be done anytime soon.
The company is expected to reveal more details about its upcoming release schedule at its big summer showcase on June 12. Mobile and free-to-play spin-offs for Rainbow Six Siege and The Division are also in the works, as are a ton of new Assassin's Creed games. Amid hundreds of millions in new cost-cutting measures, Ubisoft said it would still pivot an additional 800 developers to work on the stealth action series.