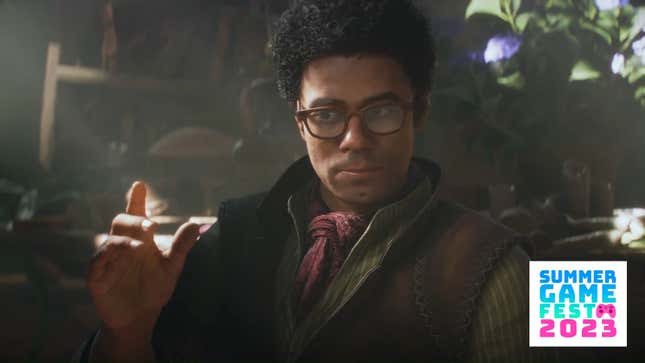 Today, during Summer Game Fest 2023, we got a very brief look at the next big Fable game via newly released CG, featuring The IT Crowd's Richard Ayoade, plus a blink-and-you'll-miss-it glimpse of in-game footage. The latest reveal of this much-delayed upcoming RPG happened during today's Xbox and Bethesda Not-E3 video game showcase.

This New Fantasy Beat 'Em Up Is Like Dragon's Crown With Druids
This new Fable is developed by Playground Games, the same team behind the incredibly popular open-world Forza spin-off series, Forza Horizon. At this point, Horizon has replaced the main series, with most players more excited about it than the original Motorsport franchise.
While the majority of the short trailer showed Ayoade as a giant called Dave, scattered within were a scant few seconds of a female lead character chopping at people with a sword, and blasting others with fireballs. It looked nice! Then it was gone.
Interestingly, as we learned in 2021, this new Fable game is being built using the tech that Playground developed for Forza Horizon. Considering how fantastic the Horizon games are and how big and detailed its open-world maps have been, it's not surprising to hear that Playground is leveraging those tools and that engine to help it build a big new fantasy RPG.
This fresh video is the first real look at Fable since we last saw it in 2020 when Xbox first announced its plan to bring back the franchise via a short, silly CGI teaser trailer featuring a frog and a princess.
It's been over a decade since Fable III landed on Xbox 360, leaving fans to make do with spin-offs like the Kinect-focused Fable: The Journey and 2017's free-to-play card game Fable Fortune in the years since. The franchise's original developer, Lionhead Studios, shuttered shortly after the cancelation of the multiplayer Fable Legends project in 2016.
This new Fable is planned to launch on Xbox Series X/S and PC. And like all first-party Xbox games, the reboot will be available on Xbox Game Pass the same day it launches. That could help Game Pass, which has suffered some bad press recently as some players have become disappointed over the slow pace at which big exclusives and AAA games have been added to the catalog.
---
Kotaku is covering everything Summer Game Fest, from the main show on Thursday to other events happening throughout the next week. Whether you're into larger-than-life triple-A games or intimate, offbeat indies, you can keep up with all things SGF here.