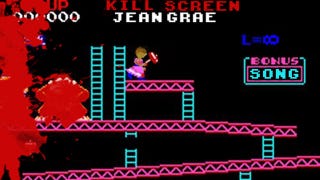 The high score battle between Donkey Kong pros Steve Wiebe and Billy Mitchell was immortalized in 2007's The King of Kong: A Fistful of Quarters. And for the past four years, there's been talk of that movie being remade, further fictionalized in a film adaptation of a film.
The notorious arcade champion Billy Mitchell was certified as the new world record holder in Donkey Kong Jr. at his induction to the International Video Game Hall of Fame last month. But Mark Kiehl had already beaten his score.
This week's episode of crime procedural Bones tells the tale of Billy and Steve, competitive gamers vying for the "perfect score" on a classic arcade game. But unlike documentary The King of Kong, one of these gamers winds up... murdered!
If you thought The King of Kong was story of a desperate man out to protect his record, wait until you get a load of K2: The King, The Kong, and the Ugly, a G4 original production.