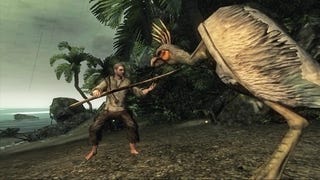 The people who showed me the upcoming Xbox 360 port of role-playing game Risen this week told me their game could be sped through in 30 hours, savored in 90. But to check it out early, I only had one.
Piranha Byte's latest single-player action RPG Risen hits store shelves this week, with the PC version dropping in North America on October 2nd, and the Xbox 360 scheduled for sometime in the beginning of next year. The title refers to a series of ancient ruins that have recently risen from beneath the tropical island…
But nope. All you get is some guy saying the name of the game right at the end. I guess that's why they call it a "teaser" trailer.
It's a Lord of the Rings reunion on the PC and Xbox 360, as Andy Serkis and John Rhys Davies join the voice cast of Piranha Byte's next big role-playing game, Risen.
I'm sure there's a large symphonic/gothic metal band scene that I am completely unaware of. In fact, the comments section could potentially fill up with arguments on which of those bands is the most successful, but as far as Deep Silver is concerned, Nightwish here is the end all and be all. Listening to it a few…
Piranha Bytes' latest RPG for the Xbox 360 and PC is gearing up for an October release, with three separate quality assurance teams assuring Risen's quality as we speak.
Piranha Byte's latest roleplaying game might not have made it to E3 this year, but that doesn't mean Risen can't join the asset explosion with a slew of new screenshots.
First they set the mood with the more wild areas of the volcanic island on which Risen takes place, and now the developers take us into the more populated areas. Children play and adults go about their business in a stone city that looks like something straight out of Bethesda's Oblivion. That's not a bad thing, of…
Risen takes place on a volcanic tropical island, which explains why one could easily confuse the opening of this "Mood" trailer with an old Far Cry video. The similarities soon end, however, as Far Cry didn't have those birds they keep showing off or those mutant porcupine things. It certainly didn't have little…
The team behind the Gothic series have picked a winning batch of screenshots to represent their upcoming PC and Xbox 360 role-playing game, Risen.
Publisher Deep Silver is teaming up partners GSC Game World, Ascaron Entertainment, and Game Life to form a rather impressive presence at the Games Convention 2008 next week. On the more hardcore side of things we'll see a definite slant towards PC gaming, with the adventure game Secret Files 2 - Puritas Cordis,…
A violent storm leaves you shipwrecked on a mysterious volcanic island, filled with ancient temple ruins and swarming with bizarre creatures. What do you do? This is the question asked by developer Piranha Bytes in their upcoming RPG project, Risen. Formerly known only as Project RPB, the team has just announced the…