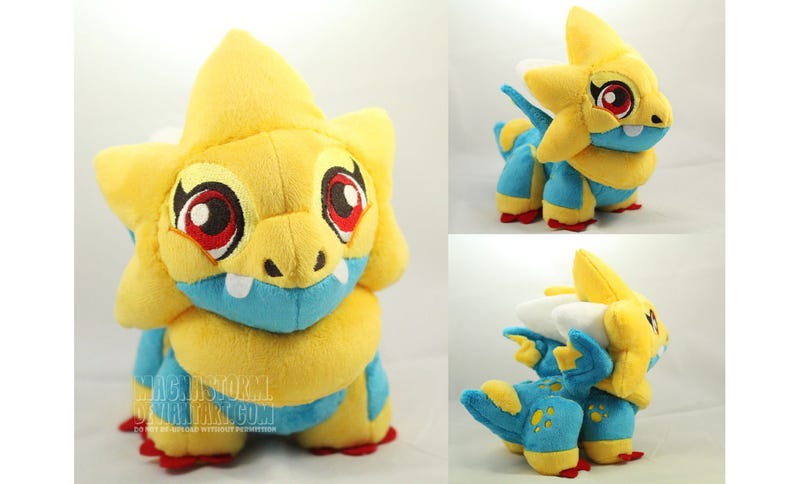 Behold, a baby Star Dragon from MagnaStorm, a Canadian plush artist. Star Dragons hail from the breeding game Dragon City, and they're especially cute in plushie form—though that's not to say that MagnaStorm's other plushies are slacking in that department. You can find them here.

Netch are basically giant land jellyfish, domesticated in the region of Morrowind for their hide and jelly. They also have huge, strong tentacles, and are quite vicious when you come at them with a sword. So why wouldn't you want one?
Spyro the Dragon in adorable plushie form. Created by Chibi-pets, it measures 18 inches by 25 inches—it's fairly big, as the two real-world photos show. Those are below, along with a hi-res image showing a couple more angles. There's also a lot more plushies to check out at Chibi-pets' deviantART and Facebook…
What this cuddly pack guar will do is carry your burdens better than Lydia ever could. Pack guars have been around for way longer than Skyrim housecarls, so they've gotten good at this kind of thing.
As seen on Holtsman's Flickr page.
Atlus fans are also big fans of Atlus swag, and you cannot get much more swaggy than the Persona 4 Social Link Expansion Pack. This limited edition bundle, available for pre-order now via Amazon.com or Amazon.ca for our brave Canadian Ice Spider Assault Teams, features four choice bits of Persona 4 memorabilia for…
Atlus, the company desperately trying to bring every quirky Japanese game they can to North America, wants you to join their cause. The Atlus Faithful is the Atlus fan service mailing list, that delivers news on upcoming games, special deals, screenshots, and other goodness to fans around the globe. They're really…