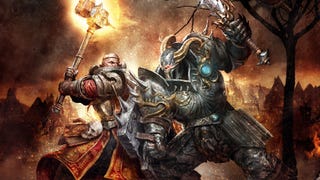 Warhammer Online: Age of Reckoning closed down on Wednesday when the licensing agreement Electronic Arts had with Games Workshop ended. A developer who worked on the game says there is a way to preserve its world in a kind of museum-exhibit way, should EA choose to release it.
As co-founder and former president/CEO of Mythic Entertainment. Mark Jacobs introduced the online multiplayer world to the concept of realm-vs.-realm combat with 1999's Darkness Falls. That MUD-style game paved the way for Dark Age of Camelot, a massively multiplayer online role-playing game that focused on the…
More than 200 artists, many from the games industry, have rallied to support one of their own - the girlfriend of a Mythic Entertainment artist who has faced down breast cancer and is looking at a long, expensive recovery.
The Warhammer Online "open" is in full swing (sorry about the mess, Europe), though while getting an early look at the game is certainly nice and all, the retail head start is where the real action is at. Mythic Entertainment today reveals that folks who pre-ordered Warhammer Online will get a chance to start…
It's a press release twofer! Mythic Entertainment has announced that Warhammer Online: Age of Reckoning has gone gold, with the game shipping to stores in time for servers to go live on September 18th, and the gold farmers are ready for it! "Internet gaming service" SwagVault has announced that they'll be giving away…
The good news? Warhammer Online just launched its Guild Beta. The bad news? There's a bit less game for the Guilds to beta. In an interview with MMORPG.com, Mythic Entertainment VP and General Manager Mark Jacobs explains that in order for the game to be ready for launch, certain sacrifices had to be made, including…