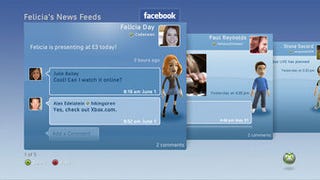 Xbox Live users under 18 outside of North America may now use the social networking tools Facebook, Twitter and Last.fm on Xbox Live. Minors in the U.S. get access Dec. 15.
Social networking hits the Xbox 360 full-force on Tuesday when the next dashboard update goes live. bringing Facebook, Twitter, and Last.FM to the masses.
Thank you for your kind letters and tips, informing us that those lucky enough to gain entry into the Xbox 360 fall update preview program have indeed been blessed with said updates. But save your keystrokes! We hear you!
In case you missed them earlier today, our own Stephen Totilo spent some time with the preview for the next Xbox 360 Dahboard update, putting Facebook, Twitter, Last.FM, and streaming HD video to the test.
Microsoft announced the addition of Last.fm, Facebook and Twitter at E3 2009, much to the dismay of ornery antisocialites, promising a 2009 release for those services. With a beta reported to hit this month, it seems things are on schedule.
Microsoft have announced that they're working on a streaming music service, similar to Europe's Spotify, which should be ready to go by the end of this month. We're interested because it could hit the Xbox 360.
Last.fm is coming to the Xbox 360, sticking another multimedia feather in the little beige box's hat. But we're left with two burning questions: how much will it cost, and can we stream the music in our games?