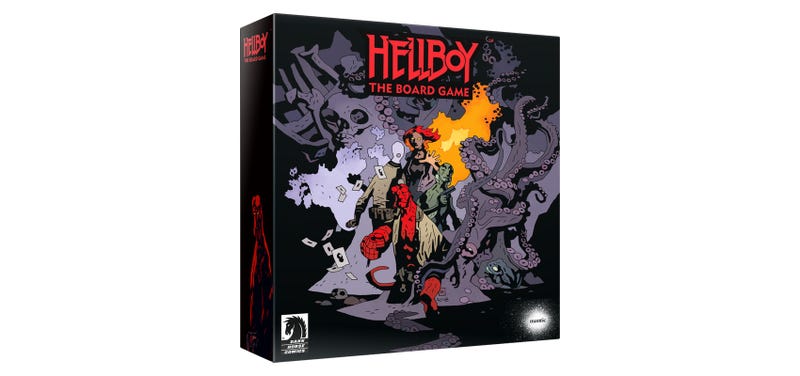 A miniatures board game based on Hellboy—the comic, mercifully, not the movies—has launched on Kickstarter, and is already 6x over its funding target.

The inclusion of Mike Mignola's Hellboy as a guest character in the second wave of Injustice 2 DLC fighters was one of this year's nicest surprises. What's no surprise is how much ass the stone-fisted hellspawn is going to kick when he arrives on November 14. Check out our boy in action.
Custom Hellboy figure by NECA artist Geoff Trapp. for this weekned's upcoming Hellboy tribute show at Hero Complex in Los Angeles. See more sculptures, nesting dolls, and illustrations from the show below.
Hellboy by Drew Wise, who has created many video game t-shirt designs, including one celebrating Twitch Plays Pokemon:
March 22, 2014 has been declared Hellboy Day by Dark Horse Comics. That's because it's been 20 years since Mike Mignola's signature creation first appeared in print. It's been a long, awesome existence for Anung Un Rama. Let's celebrate it by picking the brain of Hellboy's daddy.
Spicy Horse Games' (Alice: The Madness Returns) browser-based online shooter Big Head Bash is a game about toys shooting each other right in their over-sized heads. The competition heats up today, as Hellboy and four friends from Mike Mignola's supernatural comic series join the likes of Mitt Romney and Barack Obama…