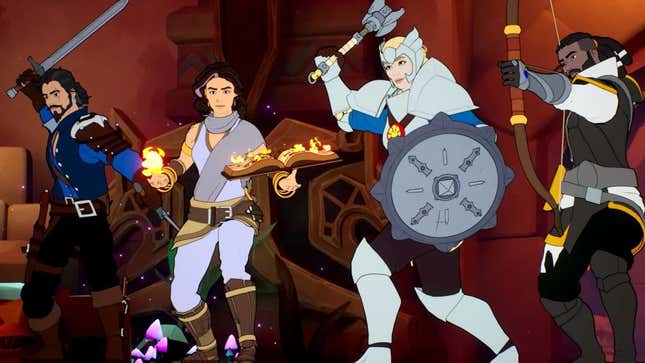 We're in a bit of a lull between big games right now, which makes it the perfect time to focus on some smaller releases that don't often get much time in the limelight. Microsoft's summer ID@Xbox livestream just did exactly that, highlighting a bunch of cool indie games coming to Xbox One and Series X/S in the months and year ahead.
The Top 10 Most-Played Games On Steam Deck: July 2023 Edition
The 10th annual ID@Xbox Showcase (hosted by IGN) was a good reminder of a bunch of neat-looking games that are either in-development or already out on PC and about to come to Xbox and other consoles. We didn't get to see more of Silksong, the long-awaited sequel to crowd-favorite Metroidvania Hollow Knight, despite the fact that it continues to dominate every Xbox livestream chat even after the game was officially delayed.
But we did get a surprise reveal of a remaster of Prince of Persia designer Jordan Mechner's first game, Karateka, as well as word that the excellent Axiom Verge 2 is finally on Xbox starting July 11. Plus, you can try out a bunch of new indie games for free thanks to the ongoing Demo Fest running through July 17. Here are nine other games that got world premiers, new gameplay trailers, or release dates today.
---
Birth - July 28
Birth is an action adventure puzzle game about constructing creatures out of old bones and spare organs. It's a quiet and macabre point-and-click meditation on comfort and loneliness. It hit Steam earlier this year and is one of 2023's best and least-expected cozy games.
Everspace 2 - August 15
Everspace 2 is probably one of the best games of the year so far that you likely haven't gotten around to trying, mostly because it's only been on PC. A space shooter with RPG and loot mechanics, it's all about outfitting your starfighter and exploring space, like Star Fox mixed with Diablo. Right? Right?? And now we finally know it's coming to Game Pass and PlayStation 5 just in time to avoid the Starfield blackout.
Mythforce - September 12
MythForce is a four-player co-op roguelike adventure in the vein of a Saturday morning cartoon. It kind of reminds me of Gauntlet, but in first-person, and it apparently draws inspiration from Baldur's Gate and Neverwinter Nights. I'm looking forward to giving it a try.
Dreamers - September 1
Out of everything shown at the ID@Xbox Showcase, Dreamers was the most intriguing-looking. Its low-poly 3D world focuses on the adventures of a young boy, a girl, and their robot as they complete side quests and upgrade their vehicles. Their journey looks like it will take them from snowy roads to seaside beaches, filled with puzzles along the way.
Solace State - Summer 2023
Solace State is a hacker visual novel about fighting a corporate biotech conspiracy. It stars Chloe as she confronts political oppression and old romantic flings.
Worldless - Fall 2023
This one's an ethereal adventure game that swaps between the physical and astral planes "within a shapeless world." Worldless sports turn-based combat and is promising a "mind-bending" narrative. I'm skeptical, but the vibes seem chill and enticing.
Roman Sands Re:Build - Winter
The newest surreal thriller from the studio behind Paratopic, Roman Sands has you manage a decaying zoological research facility while listening to a strange voice on the radio. The flashy presentation reminds me a bit of Neon White, and the UI looks sick. If the final game can be half as stylish as the trailer, it could be a really good time.
Scarlet Deer Inn - TBD
Are you ready for the takeover of embroidery-core? Scarlet Deer Inn took over the internet earlier this year and it looks utterly delightful. The hand-painted backgrounds are inspired by "Studio Ghibli movies, Slavic folklore, and medieval Europe," while the game itself will take place across monster-filled dungeons and optional character backstories.
Hellboy Web of Wyrd - TBD

What if a Dark Horse Hellboy comic was a roguelite brawler? That's the pitch from Hellboy Web of Wyrd, and we finally got to see it (briefly) in action in the latest trailer. While there's still no release date, it looks like the action will stay pretty cinematic and over-the-shoulder, with timed-dodges, heavy-punches, and gun blasts slowly whittling away at foes. Big Red is the late actor Lance Reddick's last video game performance.