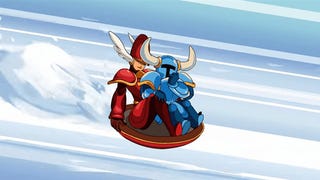 Sometimes you love a game so much you've just gotta create a short animated holiday special based on it, and so we have Wind-up Dog Animation's short but sweet Shovel Knight Animated Holiday Special.
Chinese bootleg Transformers are a dime a dozen. The "robots in disguise" are so popular here that we can seldom go a few months without another Chinese fan making a legion of the robots, and now we have a set that's so bad, they're slightly good!
Well, at the very least, this fan-made The Secret World trailer is impressive in and of itself. But this isn't the first time we've seen a fan take content from a game and create a fantastically appropriate trailer, sometimes to greater success than the game's own developers.
"Hey, you ever feel just a little strange? That we're hopping around all these planets and humans are the only intelligent life forms out here?" Halo: Helljumper, the fan-made web series centered on marine culture in the Halo universe, begins before contact with the Covenant. These greenhorns won't be finishing the…
I don't know about you, but when I have slingshot-paintball-fights with my friends, I generally wish they could be a touch more video-gamey. Filmmaker Andrew McMurry agrees, putting together this a live action film that that weaves normalcy with a convincing digital overlay to give things a distinctly video game…
This Mega Man 9 fan tribute is a real work of art. Paper cut-outs are stop-motioned across real world objects arranged to form Mega Man-esque levels. Actually, watching it back again it reminds me of a particularly creative LittleBigPlanet creation. The Oreo Cookie 'boss battle' is genius. Maybe this would be a…