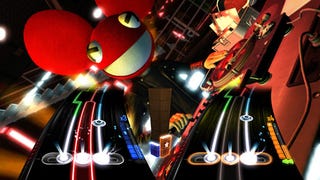 What does DJ Hero 2 and RPG series Suikoden have in common? Both feature 108 stars, though while Suikoden's stars represent demonic overlords from an ancient Chinese story, DJ Hero 2's stars simply represent. Check out the full list below.
DJ Hero's track lineup expands by three this Thursday with the JAY-Z vs. Eminem Pack. Bear witness as I mutter through an exciting mashup of "Can I Get A…" by JAY-Z mixed With "Lose Yourself" by Eminem.
Not all rap stars can be video game experts as well. In a recent interview, controversial white rapper Eminem explains that today's games are just too complicated for his old-school tastes.
Activision gave Rolling Stone first dibs on the Renegade Edition tracklist for DJ Hero, featuring 12 cuts each from Jay-Z and Eminem - who recently endorsed the game by saying "the s—t is dope."
Eminem, one of two big names on DJ Hero's Renegade Edition, stopped by DJ Whoo Kid's show to flack the limited series, and declare "the s—t is dope." See, when the kids say "s—t," they really mean "cool."