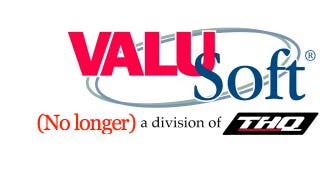 Continuing an internal reorganization that has seen casual titles tossed out in favor of a focus on more core video gaming titles, THQ has jettisoned its ValuSoft division. ValuSoft, per its name, was the publisher's "value" label, which is a polite term for shovelware that grandmas bought from Walmart for their…
Publisher THQ had some good news and bad news to deliver today, starting with the not-so-great results from its last financial year. The publisher lost a cool $136 million USD. But it had some good news for fans of Metro 2033, Homefront and the very successful uDraw gaming tablet that hit the Wii last year.
THQ's recent Martian hit Red Faction Guerrilla will get a sequel sooner than you may have expected, with the publisher's CEO announcing that a follow-up is in the works. And you'll get a look at it at this year's E3.
Get used to referring to Sony's forthcoming motion controller for the PlayStation 3 as Arc. That's how THQ president and CEO Brian Farrell referred to the still unofficially named, PlayStation Eye-powered controller, previously known as "Gem," in today's investor call.
Sony Computer Entertainment and Microsoft both showed off new motion control at E3 2009 and both appear to have designs on launching those offerings in 2010. And some third party publishers already have Project Natal dev kits.
If the asking price for Sony's PlayStation 3 is currently too rich for your blood, you may have to wait until later this year for a price drop. Or so thinks THQ boss Brian Farrell.