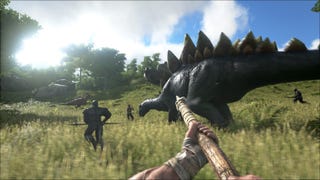 Ark: Survival Evolved launches on PlayStation 4 December 6. The PS4 version includes both the base version of Wildcard Studios dino-survival hit and the desert-themed Scorched Earth expansion for $54.99. Hit up the Ark website for more info.

Ark: Survival of the Fittest will come to PS4 on July 19, developer Studio Wildcard said today. This is an arena survival spinoff of the popular dinosaur game Ark: Survival Evolved. It's in Early Access on PC right now, and the PS4 version will also launch in beta.
Despite reports that Ark: Survival Evolved runs crappy on Xbox One, the developers have announced it's getting split-screen support, which is cool! It's not clear when split-screen will be patched into the game, but hopefully it comes alongside some other performance improvements. More split-screen!
Having somehow avoided playing surprise Early Access hit Ark: Survival Evolved since its Steam release back in June, this weekend I got my first taste of life among the dinosaurs on the Xbox One. It only hurt a little.
Greg Rucka doesn't seem like somebody who needs help making his dreams come true. This is, after all, a man who wrote Superman, Batman and Wonder Woman comics all at the same time. He's also managed to craft incredibly tense dramas in creator-owned series like Queen & Country, Whiteout and Stumptown. But the…