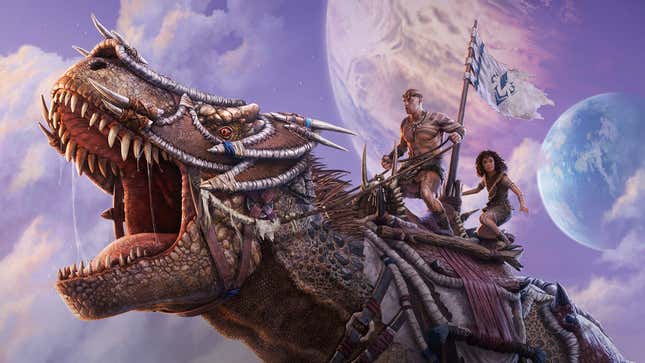 Ark: Survival Evolved was humming along mostly fine until, just like that, the open-world survival crafting game was thrown into chaos with delays, server shutdowns, and an incredibly confusing "next-gen" upgrade bundle. Now fans will basically have to purchase the game all over again if they want to stay current with its development and keep playing on official servers.
The Witcher 3 Meets Tense Roguelike PvE Card-Battling In Rogue Mage
Developer Studio Wildcard dropped the surprise news late last week in a March 31 community update that raised as many questions as it answered. It started by announcing that Ark 2, a sequel to the online prehistoric base-building sim l, wouldn't arrive this year as previously planned. Instead, the upcoming Game Pass launch exclusive starring Vin Diesel was delayed until the end of 2024, with Wildcard citing a learning curve on getting used to Unreal Engine 5.
"As we learn more about the engine and develop the sequel, we have adapted our workflows and adjusted our pipelines to accommodate this new next-generation paradigm, and because of everything that involves, we need more time for development," the studio wrote. While disappointing for players, it was one of the easiest delays of the year to see coming.
Ark: Survival Ascended is a paid 'next-gen' upgrade
In the meantime, however, Wildcard will also launch an upgraded version of Ark: Survival Evolved for PS5, Xbox Series X/S, and PC. And here's where things begin to get really weird. The "next-generation remaster" is called Ark: Survival Ascended and will see the game ported to Unreal Engine 5 by the end of August. But it will cost players, and the old version's official servers will be shut down.
Read More: A Rare Opportunity To See The Huge Money Spent To Keep Game Pass, PS Plus Bursting With Games
"Xbox Series S/X and PC players will only be able to get it via an ultimate-value bundle known as the ARK Respawned Bundle," the studio revealed. "This bundle includes ownership of both ARK: Survival Ascended AND ARK 2 and will be priced at $49.99." On PS5 the game will only cost $40, but not include the sequel, which isn't even releasing gameplay footage until 2024. There will also be two DLC expansion packs each priced at $20.
At the end of August, the original version of the game will then go into stasis. "With the launch of ASA at the end of August, we will be taking down all Official Servers on Xbox, PlayStation, and PC for ARK: Survival Evolved – at that time, the final save-datas from the ARK: Survival Evolved Official Servers will be uploaded for players to re-host on their own servers or play in singleplayer/non-dedi, as well as slightly earlier snapshots," the studio announced. Ascended will continue to get new content though, and eventually live alongside Ark 2 as separate ongoing live-service games, and many players feel like they're essentially being forced to buy back into a game they've already poured thousands of hours into since it launched back in 2015.
Official Ark ervers shutdown in August
The community update already has over 400 comments, and a tweet announcing the upcoming Ark roadmap was ratio'd as well. A few players were so confused they wondered if it was an early April Fool's joke. Others threatened to sever their relationship with the game entirely. Some just wanted a follow-up message from the studio to try and explain the sudden shift, or at least make the DLC part of the next-gen bundle to soften the blow. Wildcard did not immediately respond to a request for comment.
Ark: Survival, like No Man's Sky and Minecraft, is a game about finding community and building memories together as much as it's about whatever the mechanics actually have you doing—in this case riding dinosaurs and shooting monsters. In light of the news, many papers are trying to come to grips with leaving that behind.
"I've played for a year on official pve and it hurts to lose just a year's work, but I have met some lovely people along the way and seen a lot of cool creations," wrote one player in the comments. "It's years of our effort," wrote another. "Our successes, failures, memories attached to them. Year of connections, too - sure, I never interacted much with other players, but even I have a few near whose bases I'm happy to fly and see they're still standing, meaning their owners are still there."