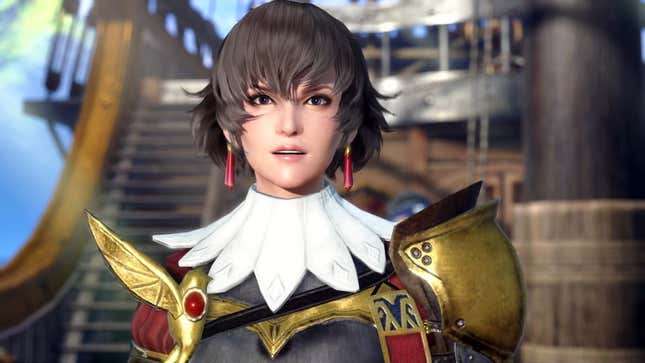 Today Capcom streamed a new "Capcom Spotlight" event on Twitch and YouTube. While the cat was already out of the bag on its biggest news—a Resident Evil 4 demo, out today—there was plenty more to see, too.

Hopefully Street Fighter 6's New Open-World Won't Mean Capcom Skimps On The Fighting
If you'd like to watch it yourself, you can find the stream archived here. That said, here's everything we saw in today's Capcom Spotlight stream.

---
Mega Man Battle Network Legacy Collection
Capcom commenced by showing off Mega Man Battle Network Legacy Collection again, which includes all 10 mainline entries in the Game Boy Advance's fun strategy-tinged, chip-collecting RPG series. Director Masakazu Eguchi, presenting himself in the guise of "Mr. Famous," explained the new Buster "MAX" mode and how the collection will include digital versions of the 499 previously physical "Patch" cards that interact with the later games in the series. The online play sounds robust, too.

This Legacy Collection, split into two volumes, is hitting Switch, PS4, and Windows on April 14.

---
Street Fighter 6
Street Fighter 6 made its customary appearance and revealed its fourth and final in-match commentator, Japanese actress Hikaru Takahashi. With her addition we now have two Japanese and two English announcers. (We also saw muscled helmet enthusiast Marisa beating the crap out of my main grappler, Zangief. She seems cool.) Street Fighter 6 is due June 2.

---
Capcom Town and Capcom ID
Apparently Capcom is working on a "digital theme park," called Capcom Town. Let's let the video explain. It also announced "Capcom ID," a login that will be required for online play in some future games. Hooray.

---
Exoprimal
The team-based dino-battling online shooter Exoprimal appeared again, this time showing more story scenes. Looks cool. Despite apparently not being a live-service game, the game seems riddled with optional extras, including a season pass, pre-order bonuses, copious character costumes, weapon skins, etc. It'll be interesting to see if the fatigue for this sort of cruft we've just seen with Suicide Squad: Kill the Justice League will surface here too.

Anyway, it's coming to all the major platforms but Switch on July 14, and will be on Xbox Game Pass day one. A two-day open beta test will start on March 17.

---
Ghost Trick: Phantom Detective
We got another peek at the HD remaster of the Nintendo DS cult hit Ghost Trick: Phantom Detective. I'm sure fans will dig all the little bonuses it's getting, and it's coming June 30 for Switch, PS4, Xbox One, and Windows.
---
Monster Hunter Rise: Sunbreak
Monster Hunter Rise's Sunbreak expansion has a PS4, PS5, Xbox One, and Xbox Series S/X release date: April 28, 2023. Love that iconic theme music. Capcom will also be holding another digital event in April to talk about the next major update, ver. 1.5.

---
Resident Evil: Death Island (CG movie)
Finally, Resident Evil time. A brief glimpse of the upcoming CG film Resident Evil: Death Island looked suitably creepy; it turns out I don't care for undead swimming crawly things. Not ashamed to say it. Hopefully I'll be prepared come its summer release. Jill's in it too, by the way.

---
Resident Evil 4 Chainsaw Demo 
Ah, the main event. The big news? Resident Evil 4's demo is out today. Unlike many modern game demos, the Resident Evil 4 Chainsaw Demo will not be time- or launch-limited, so you can go nuts in that iconic starting village scene as much as you like. The demo's out on PS4, PS5, Xbox One, Xbox Series S/X, and Steam.

Read More: Capcom Just Dropped A Resident Evil 4 Remake Demo
---
And that's everything. My take? Nothing mind-blowing, but a pleasant showing for sure. I'm looking forward to some of these, though none on the level of Dragon's Dogma 2. What did you think?